Crop Trust and the Plant Treaty Launch Lifeline for Genebanks to Secure the Future of Crop Diversity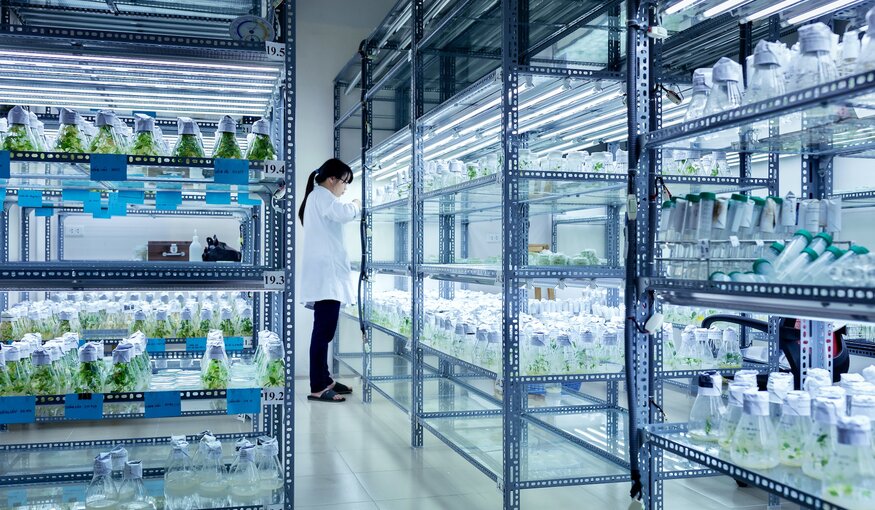 Climate change, the global pandemic, pest and pathogen outbreaks, and political instability are posing ever-increasing threats to genebanks around the world
In response, the Crop Trust and the Secretariat of the International Treaty on Plant Genetic Resources for Food and Agriculture (Plant Treaty) have launched the world's first facility to provide financial support to genebanks under imminent threat
The Emergency Reserve will provide urgent funding for genebanks to ensure they can respond swiftly to emergency situations
The Crop Trust and the Plant Treaty Secretariat have today launched an Emergency Reserve to provide a financial lifeline to genebanks facing urgent threats to their precious contents. The Reserve, which is the first of its kind, will respond to urgent requests from genebanks in low- and middle-income countries to prevent catastrophic loss of their collections.
The less crop diversity there is within the global food system, the more our food is vulnerable to the impacts of climate change and other challenges. Genebanks, where thousands of crop varieties are stored for the future, contain the diversity required to build a climate-resilient food system.
However, many genebanks around the world are increasingly facing crises from the global pandemic, natural disasters, pest and disease outbreaks, equipment failures and political instability. The Emergency Reserve will provide vital short-term funding to genebanks to respond to imminent threats.
Since 2005, the Crop Trust has stepped in on a number of occasions to help genebanks around the world facing emergency situations. This has included contributing to international efforts to preserve thousands of seeds whose survival was threatened by the civil war in Syria in 2011, as well as providing funds to the Philippines national genebank in 2019 to restore its seed-drying facility and to the national genebank in Yemen to replace its generator.
The Plant Treaty, which currently has 149 Contracting Parties, establishes a multilateral mechanism to exchange plant diversity for food security and sustainable agriculture around the world. Since 2007, more than 5.4 million samples of plant material have been transferred from national and international genebanks through the Treaty's Multilateral System of Access and Benefit-sharing, including to adapt crops to climate change.
This new Reserve will provide a specific pot of funding to allow this work to continue reaching at-risk genebanks, specifically targeting those in low- and middle-income countries.
The Emergency Reserve was announced during the event "It Starts With A Seed: Adapting Agriculture to Climate Change", part of the Global Landscapes Forum Climate Conference occurring alongside COP26. It comes just days before international leaders will meet to discuss the damage being caused by climate change, and how to mitigate and adapt to it, at the COP26 summit in Glasgow. Protecting crop diversity and supporting genebanks is key to ensuring our food system can adapt to climate change.
Two donors have come forward already to support the initiative: the governments of Italy and Norway. A significant part of the initial capitalization of the Emergency Reserve was made possible through financial support provided by the Government of Norway for the Crop Trust's 10-year project, "Biodiversity for Opportunities, Livelihoods and Development" (BOLD). This project aims to strengthen food and nutritional security worldwide by supporting the conservation of crop diversity in genebanks and its use in farmers' fields.
"The launch of the Emergency Reserve is a major step forward in our fight for a climate-resilient future for food. Genebanks around the world are facing crises on multiple fronts, from extreme weather events to the global pandemic and political instability. It is clear that further action is needed to prevent these forces from causing the devastating impact of permanently losing invaluable crop diversity. The Emergency Reserve provides a solution to this and will be a lifeline for genebanks," says Stefan Schmitz, Executive Director of the Crop Trust.
"We live in an interconnected world. Losing a unique collection of plant genetic diversity in one country today means losing future opportunities of breeding a plant variety that will be adapted to changing environments and needs. Genebanks, which hold the key to our agricultural future, contain a treasure trove of traits we can harness to build more resilient crops, are themselves under threat. The launch of the Emergency Reserve is an example of how the agricultural community is establishing concrete mechanisms to help secure our food systems and adapt to the rising challenges of climate change and other environmental threats, such as the global pandemic," says Kent Nnadozie, Plant Treaty Secretary.
Contact
For media inquiries, please contact either media@croptrust.org or Jade Pallister jade.pallister@plmr.co.uk.
For all other enquiries, including to inquire about grant eligibility, send an email to info@croptrust.org with the subject line "Emergency Reserve".
Learn more about the Emergency Reserve for Genebanks:
Categories: For The Press, Press Releases