Ghana Genebank Becomes 100th Depositor to Safeguard Food Crops in the Seed Vault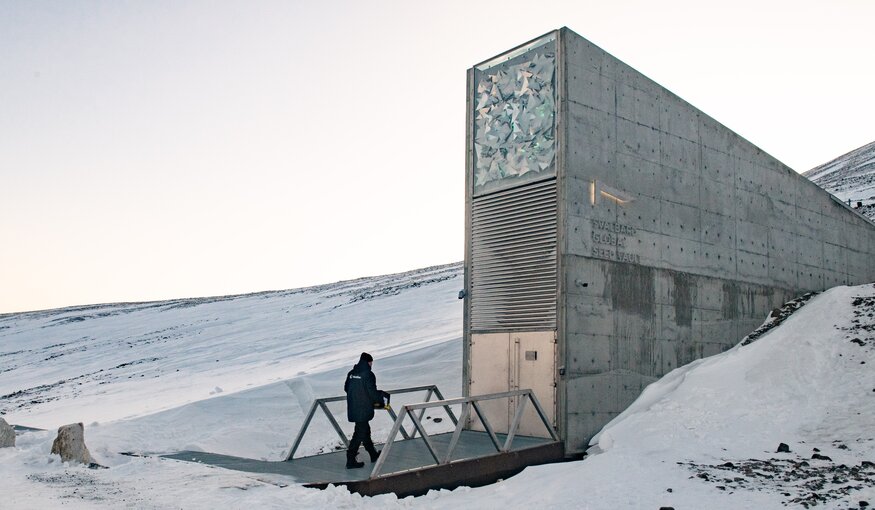 Svalbard deposit. (Photo: Cierra Martin/Crop Trust)
Longyearbyen, Norway, October 24, 2023 – Today, Ghana becomes the 100th depositor to deposit seeds in the Svalbard Global Seed Vault, an important step towards ensuring the long-term protection of the country's major food crops. Ghana joins 15 other institutions, including one other first-time depositor – the Bonn University Botanic Gardens (Germany) – in safeguarding duplicates of their seed collections inside the Vault.
Nestled in an Arctic mountain on the remote island of Spitsbergen, the Svalbard Global Seed Vault safeguards over 1.2 million seed samples, making it the world's largest collection of crop diversity at a single location. For 15 years, the Seed Vault has welcomed genebanks from across the world to conserve copies of their seed diversity. Following this latest deposit, the Seed Vault now holds 'copies' of seeds safeguarded in genebanks located in 74 countries. This diversity is needed to adapt agrifood systems to a rapidly changing climate and other environmental challenges.
The Ghanaian deposit comes from the Plant Genetic Resources Research Institute of the Council for Scientific and Industrial Research (CSIR-PGRRI). It includes maize, rice, eggplant and cowpea varieties, key crops for the country's food security, health, and culinary culture.
"This, our very first safety back-up, provides a sense of relief that our collections of crop diversity are on the path to being secured in perpetuity for the benefit of all humanity. The backup also highlights the hard work of the current and past staff members of the Ghana genebank and the farmers from whom the seeds were originally collected," said Daniel Kotey, Senior Research Scientist at CSIR-PGRRI. "We are very grateful to everyone who helped make this happen."
CSIR-PGRRI is a partner of the Crop Trust's five-year Seeds for Resilience project, funded by the Federal Government of Germany (BMZ), through the German Development Bank (KfW), along with the national genebanks of Ethiopia, Kenya, Nigeria and Zambia. This October, genebanks in Kenya, Nigeria and Zambia are also sending back-ups of their collections.
"Today's deposits mark a very significant moment in our commitment to safeguard global food supplies, and we are very proud to be working alongside so many excellent partners in this joint mission," said Stefan Schmitz, Executive Director of the Crop Trust. "We are extremely grateful to all of our partners, particularly the Seeds for Resilience project genebanks, as well as our donors from Germany and Norway, for supporting this vital work. Conserving the world's crop diversity must continue."
Representatives from Nigeria and Zambia will attend the deposit. "Kudos to Crop Trust and KfW for providing this support, which has allowed us to deposit our seeds in the Seed Vault, and for helping us take our national genebanks to international standards," said Mayowa Olubiyi, Technical Assistant Director, representing the National Centre for Genetic Resources and Biotechnology (NACGRAB), Nigeria.
Joining the Seeds for Resilience African delegation in the Arctic Circle was Maximilian Weigend, Director of the Bonn University Botanic Gardens, which made its first deposit, including frost-hardy varieties of lettuce and savoy cabbage and tomato.
"Some of the seeds we are now placing in the Seed Vault represent very high-quality varieties ideally suited to local, low-energy, low-input production in Germany," Weigend said. "The world needs to grow varieties such as these in order to maintain and increase both food production and food quality, sustainably." ​​
The USA Ambassador to Norway, Marc Nathanson, visiting the Seed Vault this week, says: "The United States is proud to support the Svalbard Global Seed Vault. I'm very pleased to see what the Crop Trust is doing to safeguard crop diversity, and it is an honor for me to deposit these seeds representing 113 species and subspecies of crops vital to feeding our world."
Seeds have also arrived from Uruguay and Thailand to Albania and the Czech Republic. "Some of these seeds may hold characteristics that could aid farmers and researchers in developing improved crop varieties, ones that are better suited to the changing climate, for example, being able to withstand heat, drought, and new pests and diseases," said Kuldeep Singh, the genebank manager at the International Crops Research Institute for the Semi-Arid Tropics (ICRISAT). "Caring for a plant genetic resource collection is a labor of love; it's a responsibility that assures humanity preserves the rich heritage of crop diversity for generations to come. And safety duplication is an important part of that responsibility."
The ICRISAT genebank, based in India, is one of the international genebanks that conserve and make available crop diversity under the FAO's International Plant Treaty. This latest deposit has seen the genebank contribute 1400 samples of chickpea diversity from 47 different countries around the world.
As the climate crisis wreaks increasing havoc on food systems, and natural disasters and conflict compound the damage, protecting the world's crops has never been more urgent.
"We at NordGen feel honored that the world's genebanks have shown such trust and support for our work with the Seed Vault. The fact that 100 different institutions have now decided to back up their valuable collections in Svalbard is great news for global food security, and we look forward to welcoming many more depositors in the future," said Lise Lykke Steffensen, CEO of NordGen.
"In this critical time of global food security, securing important crop diversity is more important than ever", says Geir Pollestad the Norwegian Minister of Agriculture and Food. "I would like to welcome all the gene banks that take part in the October 2023 seed deposit and will congratulate the Plant Genetic Resource Institute of Ghana as the hundredth depositor to the Svalbard Global Seed Vault" says the Norwegian Minister.
For interview requests and media inquiries, please visit our Press page or contact:
Notes to the Editor
The full list of the genebank depositors who are delivering rare seed varieties to Longyearbyen for the occasion of its 15th anniversary can be found below:
Seed deposits October 2023

Country

Accessions

Boxes

crops

Notes

SADC Plant Genetic Resources Centre

Zambia

386

7

9 species, Sorghum, Vigna, maize, etc.

Incl. ZARI-NPGRC, which will be represented

NRSSL

Thailand

241

3

Rice

CIAT

Colombia

872

4

100 different species, 2/3rds are beans

Crop Research Institute

Czech Republic

515

4

91 species/subsp. Cereals, vegetables, herbs etc.

INIAV

Portugal

458

5

Phaseolus beans, Vigna beans and maize

Seed Savers Exchange

USA

111

1

31 species, mainly vegetables

Agricultural University of Tirana

Albania

760

12

Wheat and maize

USDA

USA

1410

8

113 species/subs., maize, Sorghum, Abelmoschus, Amaranthus, Cucurbita, Vigna etc.

ICRISAT

India

1400

8

Chickpea

Represented

INIA

Uruguay

1570

5

Barley, rice and maize

Botanical Garden, University of Bonn

Germany

12

1

8 species, vegetables

First time depositor, represented

World Agroforestry Centre ICRAF

Kenya

222

1

21 tree species

Gerri

Kenya

2644

2

Sorghum and finger millet

CSIR-PGRRI

Ghana

422

4

Rice, Solanum, Vigna and maize

First time depositor

NACGRAB

Nigeria

650

2

6 species, Sorghum, Vigna, Pennisetum and Abelmoscus

Represented

Totals

11673

67
Learn more from the Seed Vault official website: www.seedvault.no
---
About the Crop Trust
The Crop Trust is an international organization working to conserve crop diversity and thus protect global food and nutrition security. At the core of Crop Trust is an endowment fund dedicated to providing guaranteed long-term financial support to key genebanks worldwide. The Crop Trust supports the Svalbard Global Seed Vault and coordinates large-scale projects worldwide to secure crop diversity and make it available for use, globally forever and for the benefit of everyone. The Crop Trust is recognized as an essential element of the funding strategy of the International Treaty on Plant Genetic Resources for Food and Agriculture. Learn more at www.croptrust.org.
About NordGen
NordGen is the Nordic countries' genebank and knowledge center for genetic resources. As the operational manager of the Seed Vault, NordGen is responsible for handling the seeds inside the Seed Vault; communicating with genebanks; and maintaining a publicly accessible online database with information on the seed samples stored in the Seed Vault (seedvault.nordgen.org). Read more about Nordgen at www.nordgen.org/en
About the Norwegian Ministry of Agriculture and Food
The Norwegian Ministry of Agriculture and Food is the legal and administrative body of the Seed Vault and has the overall responsibility for its management, security and funding. The Ministry has assigned Statsbygg, the key adviser on construction and property to the Norwegian Government to be responsible for the construction and maintenance of the Seed Vault. For more information see www.regjeringen.no.
Categories: For The Press, Press Releases