Éliane
Ubalijoro
Former Executive Board Member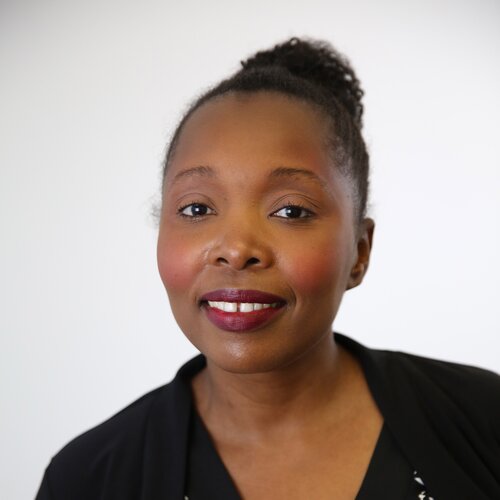 Éliane Ubalijoro, PhD, is the Executive Director of Sustainability in the Digital Age and the Future Earth Montreal Hub. She is a Professor of Practice for Public-Private Sector Partnerships at McGill University's Institute for the Study of International Development. Her research focuses on innovation, gender, and sustainable development for prosperity creation, and her teachings have focused on facilitating leadership development. She is also a research professor at Concordia University in the Department of Geography, Planning and Environment.
She is a member of Rwanda's National Science and Technology Council, and has been a member of the Presidential Advisory Council for Rwandan President Paul Kagame since its inception in September 2007. Eliane is a member of the Impact Advisory Board of the Global Alliance for a Sustainable Planet, of the Expert Consultation Group on the Post COVID-19 Implications on Collaborative Governance of Genomics Research, Innovation, and Genetic Diversity, and the African Development Bank's Expert Global Community of Practice on COVID-19 Response Strategies in Africa.
She is a member of the Capitals Coalition Supervisory Board, the Global Crop Diversity Trust Executive Board, Genome Canada's board, and the China Council for International Cooperation on Environment and Development (CCICED) Special Policy Study on Post 2020: Global Biodiversity Conservation. She is a member of the Ducere Global faculty.
Through McGill, Eliane has facilitated leadership experience modules in The Duke of Edinburgh's Emerging Leaders' Dialogues program. She has been a final paper advisor through six cohorts of the International Masters for Health Leadership pioneered by Professor Henry Mintzberg. Eliane is a member of the Advisory Board of the Earth Leadership Program, and a former member of WWF International's Board of Trustees, and also was a facilitator in the International Health Leadership Development Programme (IHLDP) commissioned by the Kenya Red Cross and the International HIV/AIDS Alliance offered by Lancaster University's Management School. She has taught leadership in the International Parliamentary Executive Education program run by McGill University (in English) and by Université Laval (in French) in conjunction with the World Bank Institute. She has also facilitated the UNAIDS Leadership Programme for Women at the United Nation System Staff College. Eliane is a fellow of the African Academy of Sciences. She was the Deputy Executive Director for Programs at Global Open Data in Agriculture and Nutrition (GODAN).
Eliane founded C.L.E.A.R. International Development Inc., a consulting group harnessing global networks for sustainable systems development. She was the principal investigator on a Gates Grand Challenges Phase I grant, looking at Innovations in Feedback & Accountability Systems for Agricultural Development. She is a past member of FemStep, a research network highlighting rural girls' and women's perspectives for engendering poverty reduction strategies in Rwanda, South Africa, Tanzania, DR Congo and Ethiopia using art-based methodologies. Previously, she was an expert consultant for the non-profit group, The Innovation Partnership (TIP). Eliane was the project manager and an investigator on a Gates Foundation Grand Challenges in Global Health project led by Professor Timothy Geary, the director of McGill's Institute of Parasitology from 2009 to 2014. As a result of this work, she has been a reviewer for the Grand Challenges Canada Stars in the Global Health program since 2012. Eliane chaired the International Advisory Board of the African Institute of Biomedical Science & Technology.
Prior to going back to Academia, she was a scientific director in a Montreal-based biotechnology company for five years in charge of molecular diagnostic and bioinformatics discovery programs. This work led Eliane to undertake consulting in Haiti and in Africa related to sustainable climate resilient economic growth. She is a contributor to the 2012 released book, The Transforming Leader: New Approaches to Leadership for the 21st Century, by Berrett-Koehler Publishers. Eliane chaired the 15th ILA Annual Global Conference, bringing close to a thousand leadership scholars and practitioners to Montreal in 2013. She is a former board member of ILA. In 2014, Eliane gave a TEDx talk on "Reimaging the World from Scarcity to Prosperity." She is a Founding Signatory of the Fuji Declaration that was launched in Japan in May 2015. Eliane contributed a book chapter with Dr. John Baugher to the 2015 ebook, Becoming A Better Leader. In December 2015, she contributed a piece to the Leading Thoughts section of the New York Times in Education on Leadership online platform on Leadership lessons from experiences of innovation, trauma and grief. She contributed to the 2016 book Creative Social Change: Leadership for a Healthy World. Eliane is a co-editor of the 2021 book Building Resilient African Food Systems after COVID-19. In 2016, Eliane co-led a scoping exercise on Current and Future Science Leadership Development Needs for the Alliance for Accelerating Excellence in Science in Africa. In 2018, she co-facilitated the second Global Women in Science Leadership Workshop in Rwanda with support from the Canadian Institute for Advanced Research. Eliane is also a member of the Advisory Boards of ShEquity and Orango Investment Corporation.