GLF Africa
GLF Africa Digital Conference: Restoring Africa's Drylands - Accelerating Action from the Ground
June 2 - 3, 2021
GLF will host the first-ever digital conference focused entirely on Africa's drylands and how integrative...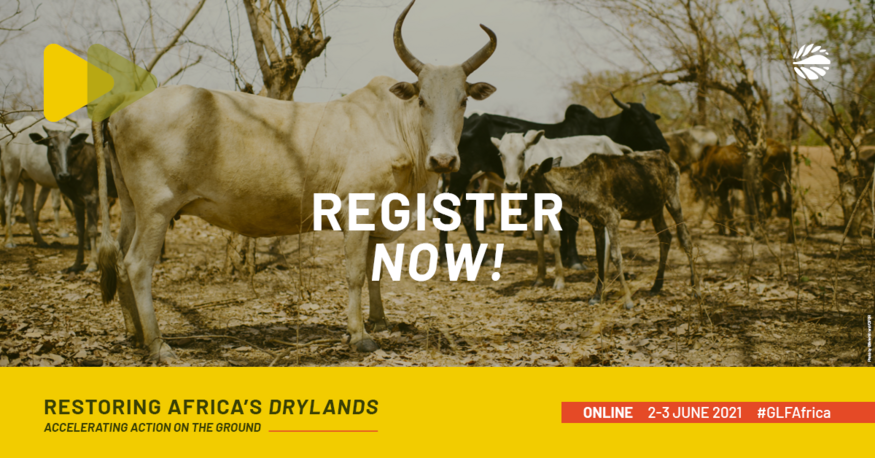 GLF Africa Digital Conference: Restoring Africa's Drylands - Accelerating Action from the Ground
June 2 - 3, 2021
GLF will host the first-ever digital conference focused entirely on Africa's drylands and how integrative restoration practices can see them flourish once again. Join in for inspiring speakers, the latest science, concerts, film screenings, virtual tours, networking, and the unexpected discoveries that always form part of a Global Landscapes Forum event.
Crop Trust Sessions
2 June 2021, 13:00-13:45 GMT+3
Untapped potential: The importance of African genebanks in ensuring food security across the continent
The focus of this GLF launchpad event is to highlight the critical importance of genebanks in Africa, their role in ensuring food security, and the challenges they currently face.
COVID-19 has exposed how vulnerable and interconnected we are. Without international cooperation, effective safeguarding of plant genetic resources to secure the world's food supply is simply not possible. Genebanks are full of untapped potential in the incredible wealth of crop diversity they hold, and many are unable to live up to their promise due to an array of challenges, including being under-resourced. By making seeds available to breeders and farmers to develop and use crop varieties adapted to current and future climates, genebanks are fundamental in combatting the effects of climate change, and are of critical importance for sustainable farming and the livelihoods of smallholder farmers.
Using crop varieties that are nutrient-rich, tolerant to environmental stresses like drought and extreme heat and are resistant to pests and diseases helps smallholder farmers to ensure their food security while putting less pressure on fragile ecosystems. And these varieties are essential factors in securing future food and nutrition across the continent.
Session Speakers:
Stefan Schmitz
Executive Director
Global Crop Diversity Trust
Éliane Ubalijoro
Executive Board Member
Global Crop Diversity Trust
Agnes Kalibata
President, UN Special Envoy
The Alliance for a Green Revolution in Africa (AGRA), 2021 Food Systems Summit
Damaris Achieng Odeny
Global Cluster Leader, Genomics, Pre-breeding and Bioinformatics
ICRISAT
Susan Bragdon
Policy Advisor
Oxfam Novib
Tony Simons
Director General, World Agroforestry (ICRAF) and
Executive Director, CIFOR-ICRAF
2 June 2021, 14:00-15:30 GMT+3
Biodiversity for Resilience: Harnessing crops' potential for drylands restoration and climate change adaptation
The session will explore the power of crop diversity through two lenses: the scientific lens and the gastronomic lens. Two panels will include experts working on resilient, drought-resistant crops on the African continent, as well as under-utilized crops, tropical forages, and food trees with the potential to restore drylands (predominantly in the Sahel). The session will also include chefs and entrepreneurs harnessing the potential of these crops to promote more delicious, nutritious, and climate-friendly options around food.
In the first panel, the experts will look into key crops and food trees that present an astounding potential to tackle the main challenges associated with climate change and land degradation in the region and will explore ways to foster greater conservation and sustainable use of these crops to enhance breeding programs and farmers' livelihoods. The second panel will gather organizations and individuals working on the ground to create nature-based solutions around agrobiodiversity and sustainable agriculture in Africa's drylands.
Session Speakers:
Ismahane Elouafi
Chief Scientist
FAO
Kent Nnadozie
Secretary
International Plant Treaty
Alice Muchugi
Forage Genebank Manager
ILRI
Éliane Ubalijoro
Executive Board Member
Global Crop Diversity Trust
Selassie Atadika
Chef, Founder
Midunu
Ndidi Nwuneli
Founder
Sahel Consulting
Salima Mahamoudou
Research Associate
WRI
Join us online on 2 June, 2021 to learn how scientists, environmental practitioners, policymakers, investors, private corporations, Indigenous Peoples, local communities can "build back better" to restore Africa's Drylands.