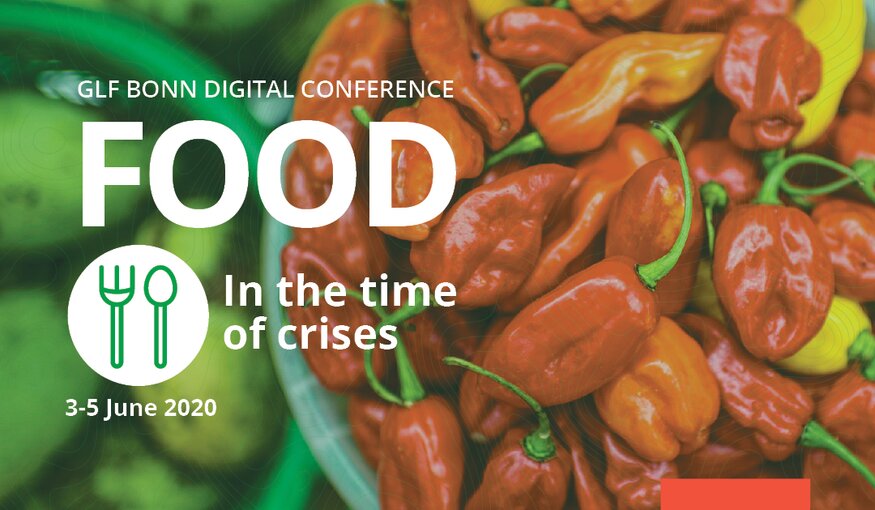 GLF Bonn Digital Conference 2020: Food in the time of crises
Human health and livelihoods depend on planetary health. So, how can we feed a growing global population without eating the planet? The 2020 theme of GLF is "Food and Livelihoods." Today, food systems are one of the largest sources of greenhouse gas emissions, a main driver of deforestation and the greatest threat to biodiversity. We need to transform the way we produce food and, as the COVID-19 pandemic is showing, we need to start now.
Crop Trust Sessions
Inspirational talk with Stefan Schmitz, Crop Trust Executive Director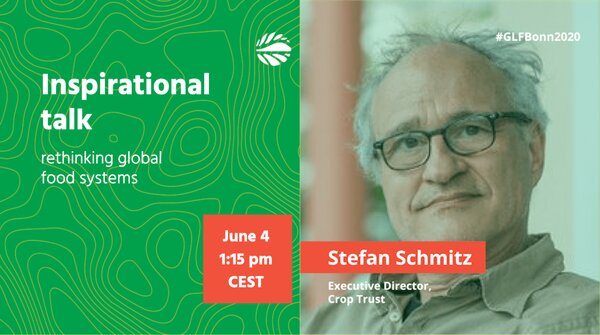 What happens in one corner of the world has implications in another. The present global pandemic makes this clear. We live in an interdependent world. And if we want to change our food system, we, as a global community, must work together. We face several challenges with our current food system, but for the Crop Trust, safeguarding and using crop diversity is at its core. As our climate changes and as we lose crop diversity, our food systems become less resilient to environmental and other shocks. Learn more when Stefan discusses why we need to rethink our food systems.
"Catalan Arroz Rabbit" with Chef Ada Parellada & live talk on food culture with Crop Trust - Spanish Edition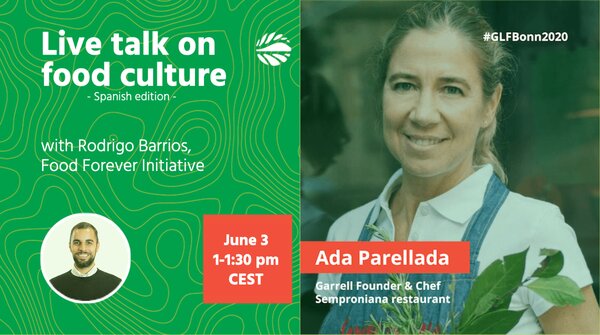 Chef Ada Parellada, Founder & Chef of Semproniana restaurant was born in an ancient "fonda", a popular restaurant and hotel, run by a family, typical in Catalonia. The Fonda Europa has been run by Ada's family since 1771. So, Ada grew up in between pans and sea-bass. She opened her first restaurant when she was 25 years old and has owned seven in total. Ada is a big supporter of local food from local producers. She has transformed her many restaurants over the years to adopt practices to end food waste. On June 3, learn how to cook an ancestral dish called 'arroz con conejo' with Ada followed by a live discussion with Chef Ada and Crop Trusts' Rodrigo Barrios, a Peruvian economist and current campaign manager for the Food Forever Initiative, a global campaign to raise awareness on the importance of safeguarding and using agricultural biodiversity for food and nutrition security. Join the session to receive Chef Ada's 'arroz con conejo' recipe!
"Lesotho Likhobe" with Chef Ska & live conversation on sustainable food in the African Mountains with Crop Trust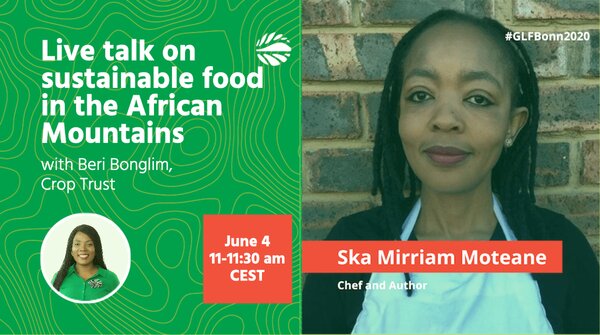 Chef Ska Moteane, chef and author was born in the Thaba-Tseka district of Lesotho. Ska, having inherited her mother's passion for cooking, studied culinary arts in Johannesburg. Her book "Cuisine of the Mountain Kingdom'' was named as the Best African Cookbook in the World at the Gourmand World Cookbook Awards in 2012. When designing her menus, Ska bases everything on what she can source locally. On June 4, learn how to cook "Lesotho Likhobe" with Ska followed by a live discussion with both Ska and Beri Bonglim, a technical specialist at the Crop Trust who works closely on crop wild relatives and the Svalbard Global Seed Vault. Together, they will discuss sorghum and other drought-tolerant crops included in Chef Ska's dish, highlighting the importance of biodiversity in adapting our food crops to climate change.
Register now: