Second International Agrobiodiversity Congress
2nd International Agrobiodiversity Congress November 15 – 18, 2021
Agrobiodiversity is the foundation of our lives. Increasing its sustainable use in production and consumption systems can help address some of today's most...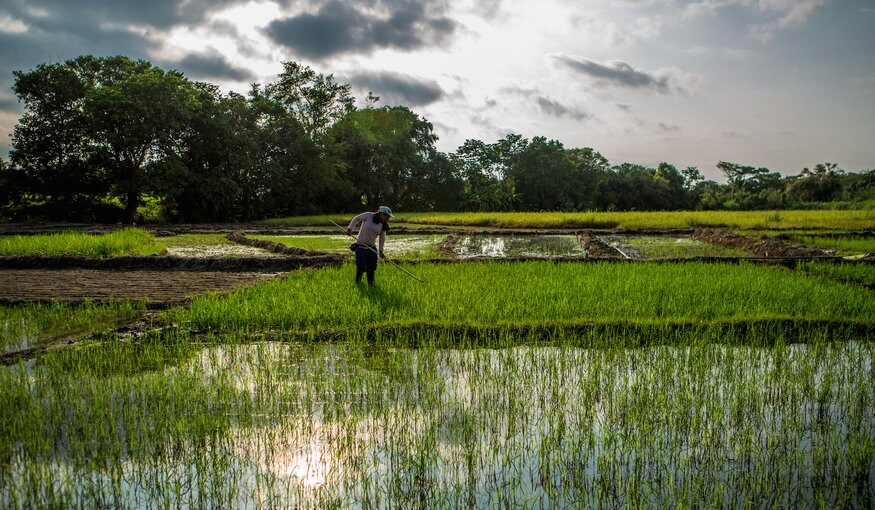 A farmer tends to rice paddies at the Maname experimental farm in Tolima, where different varieties of exotic rice destined for Colombian restaurants are tested under local conditions. Over 90% of rice fields in the country are planted with modern varieties, usually bred with a very mixed ancestry from other regions of the world. Resistance to the destructive Latin American virus hoja blanca, for example, has been found in a variety from Taiwan and a few African lines.
2nd International Agrobiodiversity Congress November 15 – 18, 2021
Agrobiodiversity is the foundation of our lives. Increasing its sustainable use in production and consumption systems can help address some of today's most pressing challenges: malnutrition, climate change, and environmental degradation.
But to use this underutilized global common good, it must be safeguarded long-term and made available.
The Crop Trust is proud to be a partner for the 2nd International Agrobiodiversity Congress, which will be hosted by the Italian Government and the Alliance of Bioversity International and CIAT. This four-day event will be held virtually from November 15 to 18, 2021.
Join us as we work to transform food systems and deliver on the 2030 Agenda for Sustainable Development through the use and conservation of agrobiodiversity.
The Congress will convene experts, practitioners, and policymakers, including Crop Trust Executive Director Stefan Schmitz, to boost dialogue among relevant stakeholders and better understand the role that we all can play in agrobiodiversity management and conservation. It will showcase scientific findings and innovative nature-based solutions, policies, and practices using agrobiodiversity that can make our food systems more sustainable.
CROP TRUST EVENT
The Crop Trust will be hosting a virtual side event to the Agrobiodiversity Congress, a "Genebanks: Hedging bets for tomorrow's agri-food economies" on Tuesday, November 18th at 18:00 CET.
The webinar will include presentations by:
Martin Paul Tabe-Ojong (Cameroon) from the University of Bonn, Germany, on "The contribution of ICRISAT genebank to improved groundnut varieties and poverty reduction in Malawi."
Sophia Lüttringhaus (Germany) of Humboldt University, Germany, on "The revival and survival of CIP potato landraces in the Andes."
Yuji Enriquez (Philippines) from the International Rice Research Institute (IRRI), Philippines on "the Contribution of the CGIAR Germplasm Health Units (GHUs) to international agricultural research."
Nicholas Tyack (USA) from the Graduate Institute, Switzerland with Rachidi Aboudou from AfricaRice on "An experimental approach to farmer valuation of African rice genetic resources."
Abel-Gautier Kouakou (Côte d'Ivoire) from Osnabrück University, Germany on "The contribution of IITA's genebank to on-farm cowpea diversity and farmers' welfare in Nigeria."
The discussion moderators will be: Nelissa Jamora of the Crop Trust and Melinda Smale from Michigan State University.
FURTHER DETAILS ABOUT THE CONGRESS
The 2nd International Agrobiodiversity Congress will build upon the work initiated by the 1st International Agrobiodiversity Congress (India, 2016) co-hosted by the Crop Trust.
Pre-pandemic, one in 10 people globally was food insecure. That number is expected to rise by 150 million, particularly impacting vulnerable groups and communities. Agrobiodiversity can transform our current food systems.
Each day of the conference will highlight one of three Congress commitments to agrobiodiversity: Eat (Consumption), Grow (Production), and Save (Conservation).
The Congress will also include a marketplace and a food exhibition to display healthy and biodiversity-rich diets. As a tribute to the host country, the Congress will provide space to feature the Mediterranean diet as an example of traditional, healthy, diversified, and sustainable nutrition.
Also, in the lead-up to the Congress, a series of agrobiodiversity dialogues will shape the development of the Rome Declaration on Agrobiodiversity for Food Systems Transformation, which will complement commitments arising from the 2021 international events on food systems.
Learn More
Website: https://www.eatgrowsave.org
Contact: iac-secretariat@cgiar.org
Share on social media: Follow the latest news on Twitter and Instagram and spread the word: #EatGrowSave
Conveners: Italian Ministry of Foreign Affairs and International Cooperation
CGIAR / Alliance Bioversity International and CIAT
Partners: Crop Trust, CBD, CIHEAM, CNR, CREA, ENEA, FAO, FAO GACSA, FAO Global Soil Partnership, FAO ITPGRFA, FAO Mountain Partnership, IFAD, IFOAM, IISD, ISPGR, ISPRA, Slow Food, The Lexicon, UNCCD, UNIDO ITPO, WWF