NatGeo: Can Preserving Crop Biodiversity Save the World?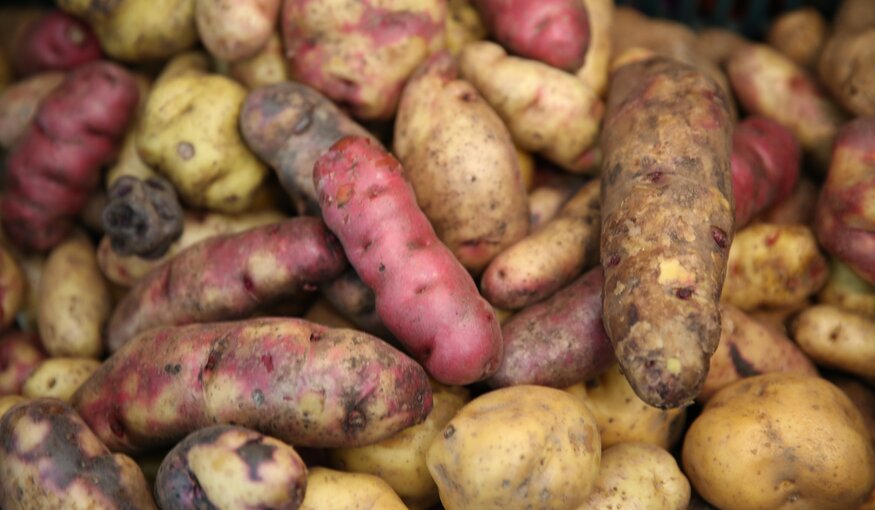 Potato diversity
22 April 2015
Saving seeds is not as sexy as say, saving the dolphins, and it doesn't attract nearly as many Hollywood types to its cause. But preserving plant biodiversity is critical if we want to figure out how to feed nine billion people and grow our food in what is likely to be a hotter, drier, climate in the future. So on Earth Day (April 22), we decided to take a closer look, writes National Geographic.
Marie Haga of the Global Crop Diversity Trust is not exactly a household name, except maybe in Norway, where she's served since the 1990s in various diplomatic posts; nor is the non-profit organization she heads. But her job is to safeguard as much of the world's plant materials as possible. She also needs to secure a steady stream of funding for thousands of plant gene banks so they can withstand drought, famine, and war. She knows it is not an easy task.
"Many years in politics have taught me that the importance of an issue is seldom proportionate to the attention it gets," she tells The Plate. This week, she is using those political skills to talk to members of the U.S. Congress about the nonprofit Crop Trust's work and secure some more funding for its efforts. "If we make use of our diversity of crops, we can, with natural breeding methods, produce the food the world needs on less land with less water, less fertilizer, less pesticides and we can even develop plants that are resistant to new disease and pests that we know will come," Haga says.
Protecting diverse crops for future study faces some major challenges in the present. One of the most important international gene banks is in Aleppo, Syria. It's known as ICARDA. It happens to hold the most important collection of wheat in the world, says Haga–nearly 200,000 varieties of it. I think I can name about five, but keeping them all is important because somewhere among those varieties, the genetic key to growing more in a dry climate may be hidden. That could be important in the dry areas of the world, where nearly 2.5 billion people live, but also to California, where the four-year drought is burning a hole in America's produce basket and forcing farmers and consumers to rethink what we're growing.
Sadly, Aleppo has become a symbol of the damage the Syrian conflict has wrought, because ancient relics there are being destroyed on a regular basis. ICARDA is safe for now, but "obviously anything can happen there any day," she says.
If something does happen there, ICARDA says it has duplicated and transported more than 80 percent of the bank's material to safer areas, including a cache deep in a mountain in an island off the coast of Norway called the Svalbard Global Seed Vault. The vault looks like some kind of leftover from the filming of Star Wars' scenes on the fictional frozen planet of Hoth. But that's on purpose. Because it is nestled in the permafrost, the vault is able to keep up to 2.5 million seeds at an ideal minus 18 degrees Celsius without refrigeration.
Plants have always adapted to new climates, and they will continue to do so without human intervention. "The main challenge now is that our plants are not able to adapt as fast to a change in the climate as the climate is changing," Haga says.
However, the biggest challenge to preserving crop biodiversity is funding, Haga says. A steady stream of funding–and more attention to the cause–would be nice, she says.
To that end, Crop Trust is teaming up with the Slow Food organization at the United Nations tonight in New York for a sold-out event called Plating the Planet. It features top chefs creating diverse dishes involving American Rye whiskey, wild ramps and candied beach plums. I suggest to Haga that it sounds like she's going for sexy.
She laughs. "Seeds might not be sexy but they are extremely fascinating. They have the potential to be the gamechanger agriculture is looking for to feed the world in the future."