Terra Mundo: Semillas Sirias Contribuyen a Bóveda para Proteger Cultivos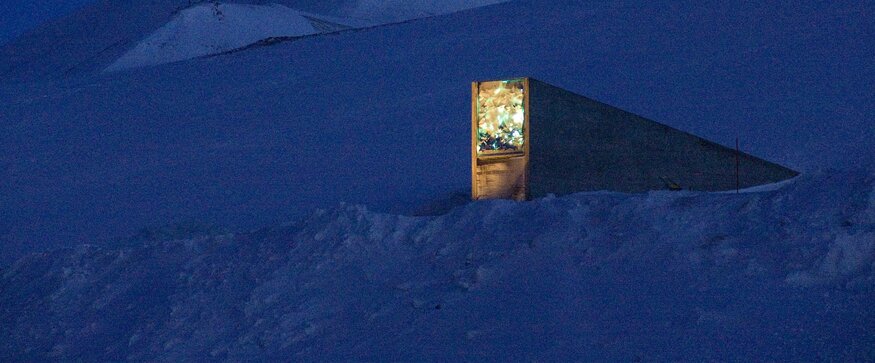 28 February 2012
Terra Mundo in Spain reports on the Svalbard Global Seed Vault.
Los garbanzos, las habas y otras semillas de un centro agrícola sirio se encuentran entre las 25.000 muestras nuevas depositadas esta semana en una bóveda construida para proteger los cultivos alimentarios de las guerras y los desastres naturales, dijeron funcionarios el martes.
Las adiciones más recientes significan que la Bóveda Mundial de Semillas Svalbard tiene ya más de 740.000 muestras desde que se inauguró en un remoto archipiélago noruego en el 2008.
Eso representa unas tres cuartas partes de la diversidad biológica de los principales cultivos del mundo, dijo Cary Fowler, director ejecutivo del Fondo Mundial de Diversidad de Cultivos, que mantiene la bóveda junto con el gobierno noruego y el Centro Nórdico de Recursos Genéticos.
Con el embarque procedente del Centro de Investigación Agrícola en Zonas Secas, de Siria, casi toda su colección está presente ahora en Svalbard, dijo Fowler a The Associated Press.
"Creo que los acontecimientos en Siria subrayan la importancia de tener una duplicación segura fuera de un país", opinó, y agregó que la instalación siria no ha resultado dañada durante la represión militar al levantamiento.
Agregó que las guerras destruyeron bancos de semillas en Irak y Afganistán. Otro en Egipto fue saqueado durante el levantamiento del año pasado.
La bóveda de Svalbard está diseñada para soportar el calentamiento global, los terremotos y aun posibles ataques nucleares.
Las muestras recibidas este año incluyen trigo de una variedad de climas y condiciones en Armenia y en las montañas del Pamir en Tayikistán, las primeras que recibe de las dos ex repúblicas soviéticas.
Los cultivos silvestres —precursores de los cultivos domesticados— son de particular interés debido a su resistencia a las condiciones climáticas severas.
"Son muy resistentes; tienen que sobrevivir", explicó Fowler. "Tienen condiciones como tolerancia a la sequía o habilidad para resistir pestes y enfermedades, que creemos serán muy valiosas en el futuro para producir variedades listas para determinadas condiciones climáticas".
El banco de semillas de Estados Unidos es el mayor contribuyente nacional a la bóveda noruega. Este año envía 12.801 muestras, incluso amaranto, que fue un grano nutritivo para aztecas e incas.