The Economist: Banking Against Doomsday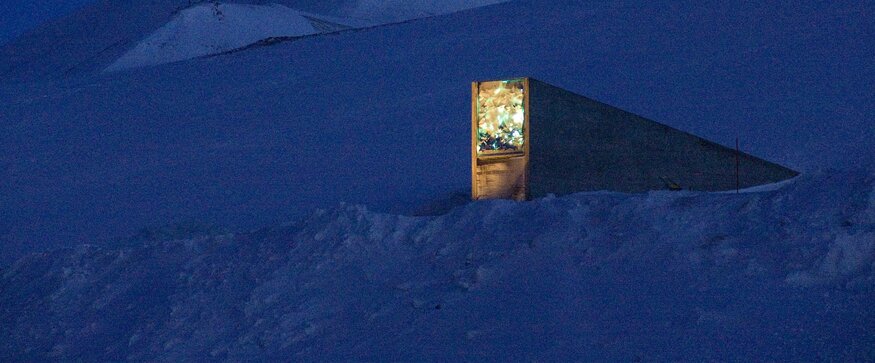 10 March 2012
The Economist reports on the Svalbard Global Seed Vault in its print edition in March 2012.
With a heavy clunk, the steel outer doors of the Svalbard Global Seed Vault closed on February 28th, shutting out a howling Arctic gale and entombing a tonne of new arrivals: 25,000 seed samples from America, Colombia, Costa Rica, Tajikistan, Armenia and Syria. For Cary Fowler, the vault's American architect, the Syrian chickpeas and fava beans were especially welcome.
Opened in 2008, the Svalbard vault is a backup for the world's 1,750 seed banks, storehouses of agricultural biodiversity. To illustrate the need for it, the Philippines' national seed bank was destroyed by fire in January, six years after it was damaged by flooding. Those of Afghanistan and Iraq were destroyed in recent wars. Should the conflict in Syria reach that country's richest store, in Aleppo, the damage would now be less. Some 110,000 Syrian seed samples are now in the Svalbard vault, out of around 750,000 samples in all. "When I see this," says Mr Fowler, looking lovingly at his latest consignment, "I just think, 'thank goodness, they're safe.'"
The Svalbard vault is protected by two airlocks, at the end of a tunnel sunk 160 metres into the permafrost of Norway's Arctic archipelago, outside the village of Longyearbyen, one of the world's most northerly habitations. It is maintained at a constant temperature of -18°C. This is serious disaster preparedness: if its electricity were cut, Mr Fowler reckons the vault would take two centuries to warm to freezing point. He also enthusiastically points to its concave tunnel-head, designed to deflect the force of a missile strike. Such precautions have spawned the facility's nickname: the Doomsday Vault.
Mr Fowler, who manages it on behalf of Norway's government, an association of Nordic gene banks and an international body, the Global Crop Diversity Trust, reckons the vault contains samples of around two-thirds of the world's stored crop biodiversity. To augment this, he will also soon embark on a project, funded with $50m from Norway, to collect the seeds of many crops' wild ancestors.
A seedy business
Most seed banks were created in the 1970s and 1980s, towards the end of a global surge in crop yields, wrought largely through the adoption of hybridised seed varieties, known as the Green Revolution. The idea was born of a realisation that a vast amount of agricultural biodiversity was being lost, as farmers abandoned old seeds, often locally developed over centuries, for the new hybrids.
The extent of the loss, which continues today, is poorly documented. The extinction of non-human species is generally better studied than the loss of the genetic material that sustains humanity. Yet, largely on the basis of named crop varieties that are no longer extant, the UN's Food and Agriculture Organisation estimates that 75% of crop biodiversity has been lost from the world's fields. India is reckoned to have had over 100,000 varieties of rice a century ago; it now has only a few thousand. America once had around 5,000 apple varieties, and now has a few hundred. Such measures probably underestimate the scale of the losses, because a single traditional seed variety often contains a lot of genetic diversity.
It is hard to quantify how much this matters; but the long-term risks are potentially huge. Agricultural biodiversity is the best hedge against future blights, including pests, diseases and climate change. That is why plant breeders, from poor smallholders to the world's biggest biotech firms, masters of the genetically modified organism (GMO), continuously update their genetic stock, often from obscure sources.
"If we ignore genetic diversity while we develop GMO products, we risk a disease or pest emerging that will wipe those types out," says John Soper, head of crop genetics research at Pioneer Hi-Bred, the seed division of DuPont, a chemicals giant. He says the firm has drawn genetic material from its stock of wild American sunflower seeds three or four times in the past decade, in a bid to make its commercial varieties resistant to broomrape, a parasitic blight of southern Europe. It also has plans to cope with climate change, having recently opened a research outfit in chilly western Canada. It is trying to develop local varieties of maize (corn) and soyabean, which are not grown there commercially, but may be as the temperature climbs.
Yet biotech firms cannot be relied upon to look after crop biodiversity. Their gene banks are too small and too concentrated on a handful of commercial crops. Their urge to make profits is not necessarily aligned with the wider cause of feeding mankind. Hence a recent push to boost national gene banks, of which the Svalbard vault is a product.
It is a heartening display of international co-operation. In the vault's frozen sanctum, North Korean seeds, in neat brown wooden boxes, sit alongside stocks from South Korea—and from Congo, Bangladesh and Peru. In many such developing countries, gene banks are impoverished and badly managed, which is another threat to their stocks. Pondering one of the risks, Mr Fowler warns "a millennium of agricultural activity can disappear one night in a bowl of porridge."
Let them wither on the vine
Yet seed banks are not the only answer to saving crop biodiversity: it also needs conserving in fields. This is because seed banks rarely store varieties of crop that do not produce seeds, including cassava, bananas and many other fruits and berries. They also rarely record local knowledge of their deposits, which can be almost as important as the seeds themselves. Unlike seed banks, moreover, nature is anything but ossified: it is gloriously adaptable. Over the past 15 years in West Africa, for example, populations of traditional sorghum varieties have been observed shortening their growth cycle by two weeks in response to a curtailed rainy season. The best way to harness this adaptability is simply to let nature get on with it.
Farmers' eagerness to jettison their wily old landraces is understandable. Improved varieties of seed are estimated to have boosted yields by 21-43%, independently of fertilisers and other inputs. To conserve crop biodiversity amid the inevitable rush for hybrids, seed banks have an important role. But another solution—as to many climate-related problems—is to make drastic improvements in land-use planning, and then encourage strategically placed farmers to dedicate a small area to traditional crops. Ways of doing this include developing niche markets for their endearingly old-school vegetables and grains or even, as in Nepal, with the national equivalent of a harvest festival. Its government regularly dishes out prizes to those farmers with the most biodiverse land.
Such measures are less glamorous and more troublesome than depositing seeds in an Arctic bunker kindly paid for by Norwegian taxpayers. That is why they are too rarely taken, which is a great shame. If the world did a better job of tending crop biodiversity in its fields, the feared Doomsday after which the vault is nicknamed would be even less likely to come.