Tim Fischer Finds Aussie Meat Pie in Germany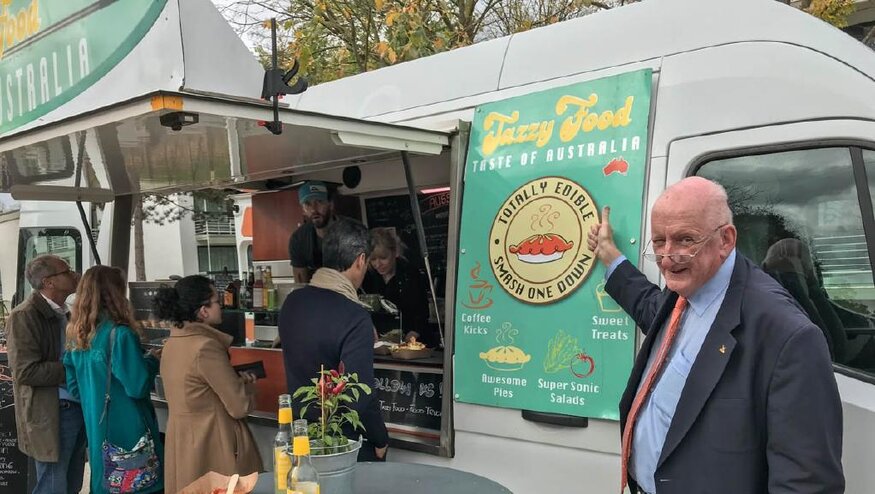 6 November 2017
7 November 2017 - the Weekly Times covers the visit of Former Australian Deputy Prime Minister, Tim Fischer, to Bonn for our Executive Board Meetings. Tim Fischer is the Crop Trust's newly appointed Executive Board Chair and will officially assume his new role on January 1, 2018.
Like any good Aussie travelling overseas, former deputy PM Tim Fischer misses a good old Aussie meat pie. But not this time on a recent trip to Germany.
In Bonn to take up his new role as chairman of Crop Trust, the international organisation dedicated to safeguarding crop biodiversity, Tim was amazed to find a food truck flogging Tasmanian meat pies.
The Tazzy Food truck run by Tasmanian Gareth Patterson does a roaring trade in Australian gourmet food.
"It was uplifting and energising to enjoy great 'Tazzy Food' on the left bank of the Rhine in Bonn," Tim said.
"As a former trade minister, I was delighted to indulge and to spread the word about Tasmania and Australia — something I have been doing since 1996 when I had to eat a Tasmanian oyster in Tokyo at 6am at a key fish market."
Once a trade minister, always a trade minister.