A Cathedral for Crop Diversity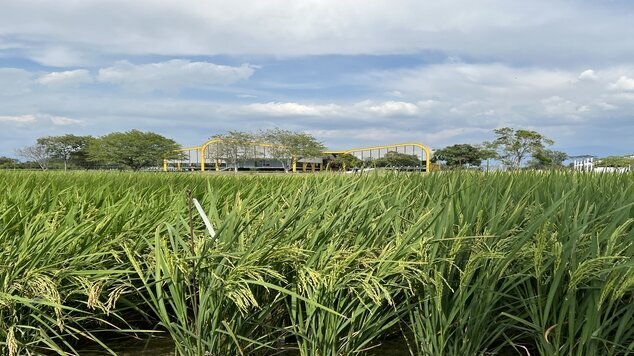 15 March 2022
The world's most cutting-edge genebank opened its doors on Tuesday in a high-profile inauguration ceremony in Palmira, Colombia.
Part of the Alliance of Bioversity International and CIAT, an international research-for-development organization, the genebank – dubbed Future Seeds – is part of a global effort to safeguard crop diversity and use it to enhance food and nutrition security. It hosts the largest collections of beans, cassava and tropical forages in the world, with more than 67,000 distinct heirloom varieties and crop wild relatives in its collection, held as seed samples or as plantlets in test tubes.
"Genebanks play a critical role in preserving plant biodiversity and making it available to crop breeders so they can adapt our food crops to climate change," said Juan Lucas Restrepo, Director-General, Alliance of Bioversity International and CIAT and Global Director of Partnerships and Advocacy, CGIAR, the world's largest agricultural research partnership. "Future Seeds represents a step-change in our ability to climate-proof and shock-proof global food systems."
Along with performing core tasks like conserving and sharing crop diversity, the futuristic facility will improve conservation methods, serve as a hub to train the next generations of scientists and will be open to the public to raise awareness of the essential role agricultural biodiversity plays in our lives.
It replaces an old building, which was originally designed as a meat quality lab, including a slaughterhouse that was never used. After almost half a century of unexpected use as a genebank, it was time for an overhaul that better meets both current and future demands.
The new Future Seeds facility, with its soaring arched ceilings, is like a "cathedral for crop diversity," says Peter Wenzl, who manages the genebank. The space allows staff to conserve 30 percent more crop diversity than before. It offers state-of-the-art biotechnology and bioinformatics resources to identify useful traits in crop varieties. A greater breadth of diversity, and better research tools, will significantly enhance the ability of scientists, breeders and farmers to develop new crop varieties that can withstand drought, extreme temperatures, pests and diseases.
Colombian President Iván Duque Márquez attended the inauguration, which included a lunch, hosted by the Chefs' Manifesto, featuring beans, rice and cassava sourced from the Future Seeds genebank.
"The launch of Future Seeds is an incredible achievement – for both the staff who have worked tirelessly throughout the pandemic to bring it to fruition and to the global community, which will benefit from greater food and nutritional security," said Crop Trust Executive Director Stefan Schmitz, who also attended the inauguration ceremony.

"When we think of the value of crop diversity, we often focus on the utility in adapting agriculture to climate change. But it is also something to enjoy, to share with one another. Food is what connects us all: it's our culture, it's our history."
The Crop Trust provides financial support to the genebank through its endowment fund, and it is set to increase its funding through a long-term partnership agreement, only the second of its kind after the one concluded with the International Rice Research Institute in 2018. The Crop Trust intends to match a USD 17 million grant from the Bezos Earth Fund over the next 10 years.