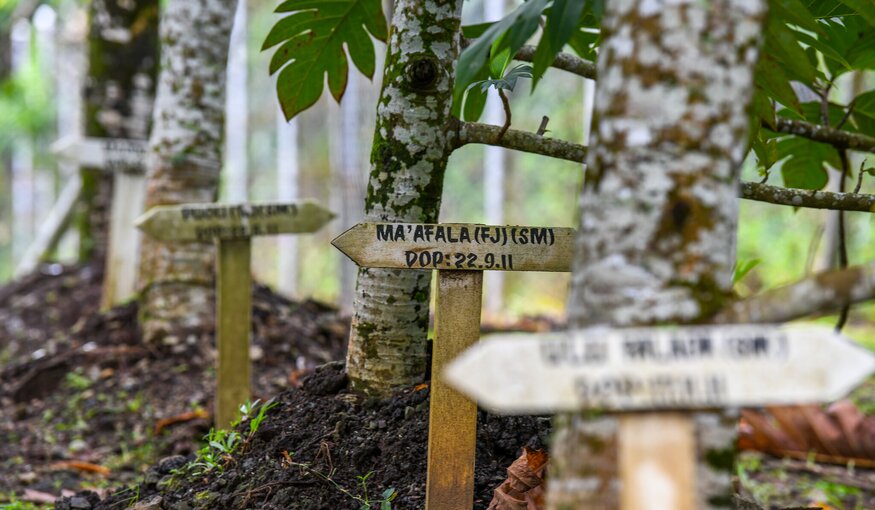 28 June 2020
For International Day of the Tropics, we're taking a look at a genebank for pacific crops and trees. When we talk about the Svalbard Global Seed Vault being the tip of the iceberg of a global system of crop conservation, the tropical islands of Fiji might not immediately spring to mind. This South Pacific nation around 1,000km from New Zealand is located in a globally important region of diversity for some key crops that can't be backed up in the Arctic.
The Centre for Pacific Crops and Trees (CePaCT), near the capital Suva, looks after more than 2,000 unique samples of banana, breadfruit, yam, sweetpotato, cassava, and the world's largest collection of the starchy staple, taro. It will soon expand its conservation work to include another iconic crop in the region: coconut. CePaCT works mainly with countries and territories in the region, but freely distributes thousands of samples to requestors all around the world, particularly in developing countries, every year.
All of the plants in the CePaCT genebank are vegetatively propagated, meaning they are not best conserved by freezing their seeds. Instead, they are maintained as living plantlets in test tubes and jars (called in vitro conservation), or as mature plants and trees in special fields.
This kind of permanent life support system requires much more daily care and attention than dry, frozen seeds. Plants in field collections are also more prone to the vagaries of the weather, as Cyclone Winston demonstrated when it struck the region in 2016.
As CePaCT's genebank manager and head of genetic resources at SPC Michel Ghanem says, "We may not be managing as many accessions as other genebanks, but we are dealing with some quite challenging crops. There is no low-hanging fruit in the CePaCT collection: each and every accession requires painstaking attention to ensure they are safely conserved, free of pests and diseases, and available for use."
The plants in CePaCT's collection could help farmers and scientists respond to a range of challenges facing the region and beyond, including drought, saltwater intrusion, and unhealthy diets.
The Crop Trust provides long-term financial backing to CePaCT's taro and yam collections, and has supported work to move material from the field to its in vitro genebank. Past projects also include the evaluation of CePaCT's core taro collection in Papua New Guinea to see how the plants fare under drought conditions and in atoll environments, and the center's work to put together a comprehensive collection of Pacific bananas.
"There is no low-hanging fruit in the CePaCT collection: each and every accession requires painstaking attention to ensure they are safely conserved, free of pests and diseases, and available for use."
Taro leaf blight
Taro is an important staple found all over the Pacific island countries, as well as parts of Asia, the Americas, and Africa. Nigeria is the largest producer, with a global share of 32%, followed by China, Cameroon, Ghana, and Papua New Guinea.
Taro was the second largest export earner for Samoa in 1993, when it was struck by an outbreak of taro leaf blight (TLB) – the most severe disease of taro, causing huge yield losses and post-harvest decay of the edible corms. The disease affected all 11 types of taro grown in the country. Work to collect taro diversity from the Pacific region and beyond resulted in the establishment of a collection of 196 taro accessions at CePaCT, and the discovery of a source of resistance to TLB.
Partners at the University of the South Pacific in Samoa and elsewhere used TLB-tolerant varieties to breed new taro plants that were both tolerant and tasty. These new varieties are also conserved at CePaCT.
Following more recent outbreaks of TLB in West Africa, CePaCT provided 50 different kinds of taro to 15 countries in Africa (Burkina Faso, Ghana, Kenya, Madagascar, Nigeria, and South Africa), Latin America (Costa Rica, Nicaragua), the Caribbean (Cuba, Trinidad and Tobago), Asia (India, Indonesia, and the Philippines) and the Pacific (Papua New Guinea and Vanuatu).
Cyclone Winston
When Cyclone Winston made landfall in Fiji in February 2016, it caused significant damage to homes, infrastructure, and agriculture. It also affected CePaCT's genebank, uprooting many of the breadfruit trees in its field collection, and leaving leaking air-conditioning units, a buildup of moisture in the walls of the facility, and prolonged power cuts in its wake.
This put CePaCT's globally-important crop collections at risk. With financial support from Australia's Department of Foreign Affairs and Trade, the Crop Trust was able to help CePaCT recover from the cyclone. This included restoring its breadfruit field collection and installing measures to protect them against extreme weather in the future. The project also funded the purchase of air conditioning units and dehumidifiers to ensure optimal conditions for conservation inside the facility. In addition, a new building is under construction at the site, to house duplicate plant samples as part of a backup system.
CePaCT was established in 1998 with funding from the Australian government and the European Union and is part of the Land Resources Division of the Pacific Community (SPC). It aims to assist Pacific Island Communities and Territories in the process of conservation and sustainable use of plant genetic resources. Its core aim is to assist Pacific Island countries and territories (PICTs) to conserve the region's genetic resources, and to provide access to that diversity when they need it. SPC is keen to transform CePaCT into a globally recognized Centre of Excellence within its Land Resources Division.
Originally published in the Crop Trust Magazine.