African Genebanks Move from Strength to Strength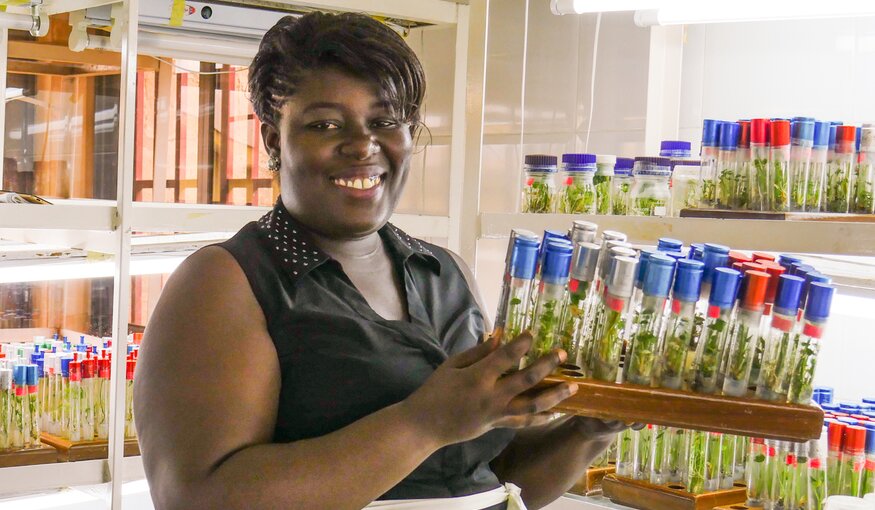 The Ghana National Genebank is one of the five genebanks in Africa taking part in the Seeds4Resilience Project. Photo: Nora Castaneda-Alvarez/Crop Trust
13 January 2021
Dr. Janny van Beem, the Crop Trust's Quality Management Systems expert, uses the image of a staircase to illustrate how quality management is a gradual and continuous process: you build your way up, one step at a time, creating and implementing plans for improvement. "Quality management allows an organization to showcase how good they are now and how much better they plan to be in future," she says.
In her role, Janny helps genebanks improve how they manage and share their collections. Janny works most closely with CGIAR's 11 international genebanks, but she has supported national genebanks, too. "We have worked in Latin America and in Southeast Asia with the Crawford Fund," she says. "But I hadn't had the opportunity to work with national genebanks in Africa until this project."
Now, as part of the Seeds for Resilience (SfR) project, Janny works on quality management with the national genebanks of Ethiopia, Ghana, Kenya, Nigeria and Zambia. She talked with the Crop Trust about what she and her African partners have accomplished in 2020, despite COVID-19.
What is special about the Seeds for Resilience project?
The Crop Trust has always worked with national genebanks but mainly on very specific, relatively short-term projects. This project aims for long-term impact. Personally, I am thrilled to be able to contribute to these national conservation efforts. These genebanks already deliver quality; they are all very passionate and knowledgeable about what they do. And they are proud of their role safeguarding their genetic resources. That makes my job easier, which is to support them in finding the best way to manage their operations. We are here to provide them with resources that can strengthen their methods for safeguarding and sharing their collections, in alignment with international standards.
How do you achieve that?
By helping build their capacity and challenging them to think outside the box. We review standards and best practices that they have not implemented or considered before. We discuss these in different ways—through open conversations and lectures, by inviting guest speakers, sharing information resources, whatever works best. Once the staff have the necessary knowledge about the policies, data and the science behind their standard operating procedures (SOPs), then they can implement them much more confidently and securely. Everything then unfolds as planned in the genebank, with fewer surprises. And, if there are surprises, the staff will know how to deal with them.
Your involvement in the SfR project started in January 2020. What have you and the partners accomplished since then?
We looked at the overall procedures carried out in each bank to develop a precise operations map—this key task is sometimes overlooked. Then, our partners decided how many separate SOPs were needed to cover the entire genebank operation. That is quite an accomplishment, especially given that we are collaborating at a distance. So far, our partners have written two important SOPs: for distribution and for conservation activities.
We have all learned a lot! For example, we had an excellent collaboration with the International Potato Center (CIP) in Lima, Peru, and they presented to us on how they use barcoding in their processes. Similarly, colleagues from the International Institute of Tropical Agriculture (IITA) did a nice video and answered questions about seed longevity. Folks from the International Center for Agricultural Research in the Dry Areas (ICARDA) talked to us about how their long-term collections are protected by an alarm system. They told us which alarm suppliers are available in Africa. That is something else that I'd like to highlight: we really want the expertise to come out of Africa. The expertise, the suppliers, the necessary services are there, we just need to identify and tap into them.
What challenges has COVID-19 created?
Our initial and biggest challenge was not being able to meet in person to kickstart the work, because it is so important to have that human contact when you're discussing how things are done in a genebank, day in and day out. But we've really gotten to know each other anyway, through our virtual meetings. And Nora [Castañeda-Álvarez, SfR Project Manager] and I, and all of our guest speakers, are doing our best to bring this community together.
The group has really embraced the implementation of quality management, despite the pandemic. And they are doing an amazing job. Instead of business as usual, with me visiting and seeing the challenges our partners face first-hand, I am discussing with them what needs to be done via a screen. I thought we would face big hurdles, but we have adapted to this long-distance reality reasonably well. It has demanded more one-on-one meetings with the partners. But it's worth it! We are working as a group now, so I can say we are succeeding in building a SfR community.
What is next for the SfR project?
We have an ambitious plan for 2021. If the COVID situation allows, we will have an in-person workshop. If not, we will continue with a dynamic, demanding but wholly digital schedule of guest speakers, lectures and discussion. Either way, we are moving forward. For example, we will be writing new procedures for regeneration, characterization and information management. There is also a plan to write key policies, such as those to guide acquisition and distribution. We may expand policies on risk management, which we had already worked on this year. But, next year, we really want to take it up a notch and include even more potential risks. The pandemic has taught us a lot about risk and its management. We'll put that into the system.
What is the most gratifying aspect of your work?
The difference that it makes. Seeing our partners manage their collections with an added sense of certainty and pride in their work. And for them to be able to say, "I know this, I have implemented it and it's working really well." There is nothing more gratifying than that.
Seeds for Resilience works with the national genebanks of Ethiopia, Ghana, Kenya, Nigeria and Zambia to conserve and share their seed collections with farmers and scientists to improve food security in the region. The 5-year project is funded by the Federal Government of Germany through the German Development Bank (KfW).