Brushing Off Biotic and Abiotic Stresses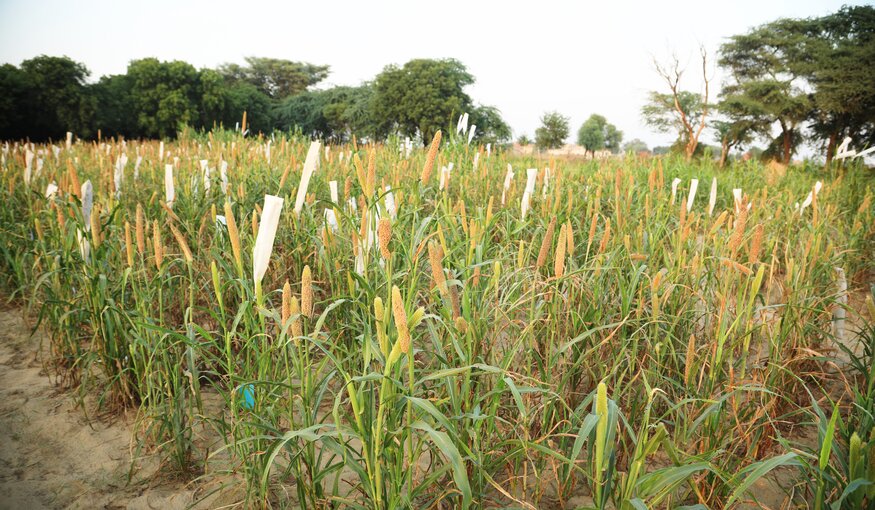 16 March 2021
New varieties of pearl millet that are more resilient to the effects of climate change are off to a promising start, a new study shows.
Pearl millet is an important cereal crop of the arid and semi-arid regions of Africa and India. As the effects of climate change become more pronounced there, as elsewhere, environmental stresses like drought and heat—also known as abiotic stresses—as well as biotic stresses like pests and diseases, pose a growing threat to crops.
So breeders are on the hunt for seeds that can withstand a combination of the stresses that crops will increasingly need to endure.
"This study shows why breeders should explore the potential of wild plants for crop improvement," says Shivali Sharma, the former Theme Leader for Pre-Breeding at the International Crops Research Institute for the Semi-Arid Tropics (ICRISAT) in India and the lead author of the study. "Wild plants are a hidden treasure. If we invest time and resources, we can introduce useful genes from them into cultivated crops, to make them more resilient to changing climatic conditions."
Sharma and her colleagues' findings are published in a special issue of Crop Science on the use of crop wild relatives—the undomesticated cousins of cultivated crops—in adapting agriculture to climate change. The work was conducted as part of the Crop Wild Relatives Project, led by Benjamin Kilian of the Crop Trust.
"We want to be able to deliver to breeders plants produced by crossing with previously unused crop wild relatives—plants that breeders can easily use in their programs," says Kilian. "The work we've done with pearl millet is valuable because the plants that we've produced bear a combination of traits that will help the crop cope with a range of stresses."
Pearl millet is one of the world's hardiest warm-season cereal crops—but even a crop this tough can struggle in the changing climate.
The effects of climate change are evident in India, says Sharma. In areas where pearl millet is grown, temperatures can reach 45°C now, and drought is becoming noticeably more frequent.
Cases of blast disease are also increasing on pearl millet.
"Blast used to be a minor disease, so the emphasis in breeding was on combating losses from more important diseases, like downy mildew," says Sharma. "Now, because of the favorable climatic conditions, and because we didn't specifically breed for resistance to this disease, blast is spreading."
To overcome this new problem, researchers in the study began by selecting wild pearl millet relatives from the ICRISAT genebank with resistance to blast. They then incorporated this resistance into existing varieties, a process known as pre-breeding, to develop four pre-breeding populations. Plants within such a population are subtly different but related to each other, but very different to those in other populations.
When these pre-bred populations were tested in the field in many different stressful places during the summer and rainy seasons, and under controlled environmental conditions for blast, some plants really stood out. They demonstrated not just tolerance to heat, but also resistance to different blast variants, and they produced a high yield under rainfed conditions.
"The wild plants used in our study are closely related to their domesticated cousins, which made it easier to breed them with each other," Sharma says. "If they are more distantly related, then making a successful cross is very difficult."
The Crop Science special issue also included a study on durum wheat, which used crop wild relatives to develop seeds that again showed multiple useful traits.
The pre-bred durum wheats were tested for resistance to four fungal diseases, drought and heat tolerance, and product quality. They proved to be a good source of resistance to the disease Septoria leaf blotch and had excellent tolerance to abiotic stresses.
However, these crop wild relative-derived plants are not ideal for immediate use in the commercial food industry.
"Using wild species is a very complex process, because there are so many factors to be considered when developing a useful, viable crop," Kilian says. "However, these results show that breeders can derive considerable value from incorporating wild relatives in durum wheat breeding."
In pearl millet, breeders are already seeing that value, which Sharma finds encouraging. She reports that she's been hearing from breeders who, previously reluctant to work with wild species, are now interested in using them in their programs.
And those who are using the new plants are making their own discoveries, thanks to the many useful genes that wild species carry.
"When we shared these pre-bred plants with a pearl millet breeder in Niger, he found ones with resistance to the striga parasite, which we didn't breed for," Sharma says. "The more people use these plants, the greater the chances of finding ones with new traits that came from wild species. And that may be useful for a breeding program, and eventually to farmers, who, of course, are the ones we're all working for in the end."
The next blog post in this series will cover research published in the recent special issue of Crop Science on developing nutrient-rich crop varieties using crop wild relatives.