Cowpea: How to Make a Hardy Crop Even Tougher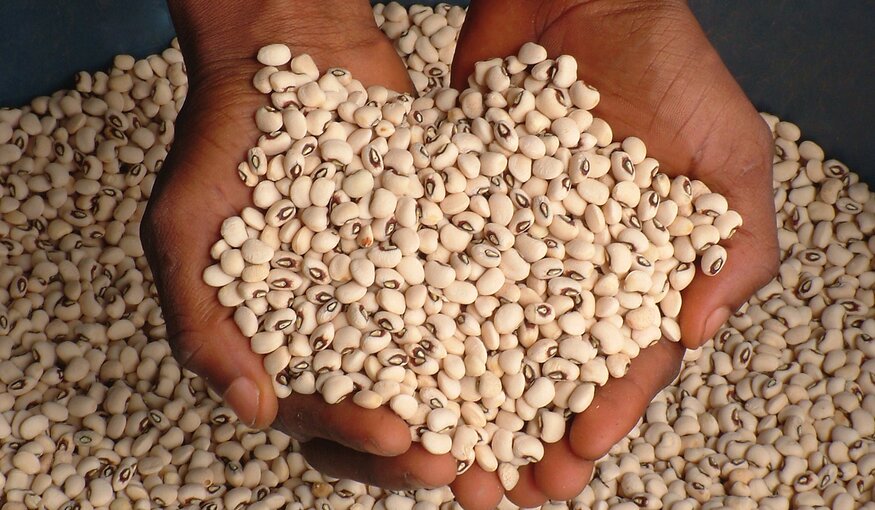 Cowpea, also known as the black-eyed pea, is the second most widely grown grain legume in Africa after the groundnut. Photo: International Institute of Tropical Agriculture (IITA)
19 May 2020
The cowpea keeps millions of people fed every day—but with the climate crisis threatening production, scientists are finding ways to increase its yields and hardiness.
"The cowpea has nourished people for many centuries," said Ousmane Boukar, a cowpea breeder working with the International Institute of Tropical Agriculture (IITA) in Nigeria. "But now it needs a hand to ensure it can continue to be an unfailing friend even while the climate crisis is affecting production."
Boukar, who developed a taste for cowpeas as a child growing up in Cameroon, is leading a project to unite the crop with its distant cousins in the wild to develop varieties that will be able to withstand the effects of climate change.
Our Daily Cowpea
Cowpea (Vigna unguiculata), also known as the black-eyed pea, was first domesticated in Africa. While it is now a global crop, more than 80% of the world's cowpea crop is grown in Niger, Nigeria and Burkina Faso, according to the Food and Agriculture Organization (FAO) of the United Nations, making it second most widely grown grain legume in Africa after the groundnut.
"There are two reasons why cowpea is so widely grown in West Africa," said Boukar. "It's packed full of nutrition, and it's a perfect match for African climates and soils."
About 200 million people in sub-Saharan Africa rely on cowpea for their daily sustenance. Cowpea is rich not only in protein, but also in essential nutrients and digestible carbohydrates; its energy content nearly equals that of cereal grains. The seeds of some types of cowpeas cook quickly, an important consideration where fuelwood is scarce and expensive.
And it gives back to the land. Like other legumes, cowpea takes nitrogen from the air and produces nutrients that help the crop to grow and compete with other plants.
Cowpea Under Pressure
For thousands of years, cowpea has been adapting to the harsh African conditions.
"It can grow in places which receive less than 300 mm of annual rainfall," said Boukar. "And it can tolerate much higher temperatures than crops like maize."
But those temperatures are expected to rise even further as the climate changes. There will be more weather extremes and higher incidences of some pests and diseases. Cowpea is very hardy, but even it may struggle under those conditions.
"Cowpea can take the heat, but not if night-time temperatures reach 35°C," said Boukar. "At those temperatures, pollen won't develop, and without pollen we won't get any seeds."
But distant relatives of cowpea growing in the wild in Africa can take the heat and drought better than their domesticated counterparts.
IITA breeders started looking for sources of genetic diversity in the center's genebank. There they found 15,000 samples of cowpeas collected from more than 100 countries.
"But we were just interested in 1,570 of them," Boukar said. "Those were the wild cowpeas, and we hoped some of them might have the traits we were looking for."
Boukar planted 200 carefully selected samples from among those 1,570 and grew them out to see how they would respond to heat and drought conditions.
"We found a number of very promising samples," said Boukar. "Even better, we found samples that could tolerate both heat and drought."
Using traditional breeding techniques, they then crossed some of these crop wild relatives with high performing cowpeas to produce varieties that deliver better yields, even under harsh conditions. They planted these improved plants in Nigeria, Burkina Faso and Niger to evaluate them under various conditions.
"Now we have cowpea breeding lines which retain the good attributes of the cultivated lines—like taste, color and yield—but also have drought and heat tolerance from the wild relatives," said Boukar. "Even a small increase in cowpea yields can benefit millions of people."
The breeders selected the best of the best and have disseminated this material to national partners to use in their cowpea breeding programs.
"Cowpea is that trusty but shy friend that's often overlooked," said Benjamin Kilian who coordinates the cowpea and other pre-breeding projects at the Crop Trust. "This work has increased the base of genetic diversity of cowpea, and that will allow further improvement of the crop by breeders around the world."
This article was originally published on the Crop Wild Relatives (CWR) Project website.
About the Crop Wild Relatives Project
The Crop Wild Relatives Project was developed to collect important species of crop wild relatives, ensure their long-term conservation and facilitate their use in breeding new, improved crops. This 11-year project was launched in 2011 with USD 50 million in funding from the Government of Norway. Managed by the Crop Trust with the Royal Botanic Gardens, Kew, the project was implemented in partnership with national and international genebanks and plant breeding programs around the world. The work is continuing under the "Biodiversity for Opportunities, Livelihoods and Development" (BOLD) Project, which is also funded by the Government of Norway.