Endurance Athlete Michael Haddad to Deliver ICARDA Seeds to Svalbard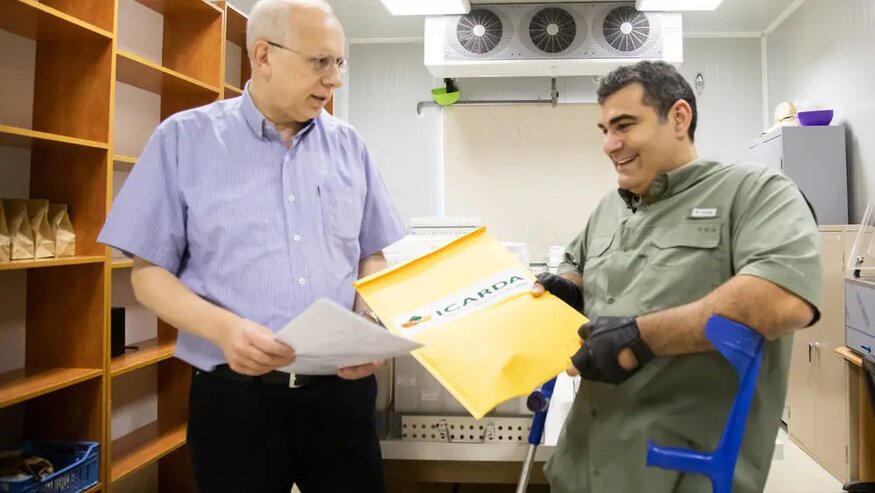 Dr. Hassan Machlab handing over the sealed seed packets to Michael Haddad in Terbol, Lebanon.
2 June 2022
Endurance Athlete Michael Haddad is on his way to deliver seeds to the Svalbard Global Seed Vault through his Arctic Walk for Climate Resilience and Food Security.
The United Nations Development Program Regional Goodwill Ambassador, who has been paralyzed from the chest down since the age of six, has used a state-of-the-art exoskeleton, crutches and a gait he's perfected over time to complete a number of physical endurance feats over the years.
He'll use the same techniques for his journey in Svalbard, Norway.
On June 7th, Haddad will carry packets of seeds of wheat, barley, lentil, chickpea, and forage crops from the International Center for Agricultural Research in the Dry Areas (ICARDA) tucked in his pockets and walk five kilometers to the Svalbard Global Seed Vault.
The journey will take about five gruelling hours of walking through snow and over uneven terrain. When he reaches his destination, he'll deliver the seeds to the Seed Vault manager during a small ceremony. The seeds will then be deposited with the rest of ICARDA's seed samples deep within the Seed Vault for conservation.
The journey takes place days before the Seed Vault is set to open to receive seeds from genebanks around the world for the second time this year.