Exchanging Crop Diversity Safely, the CGIAR Way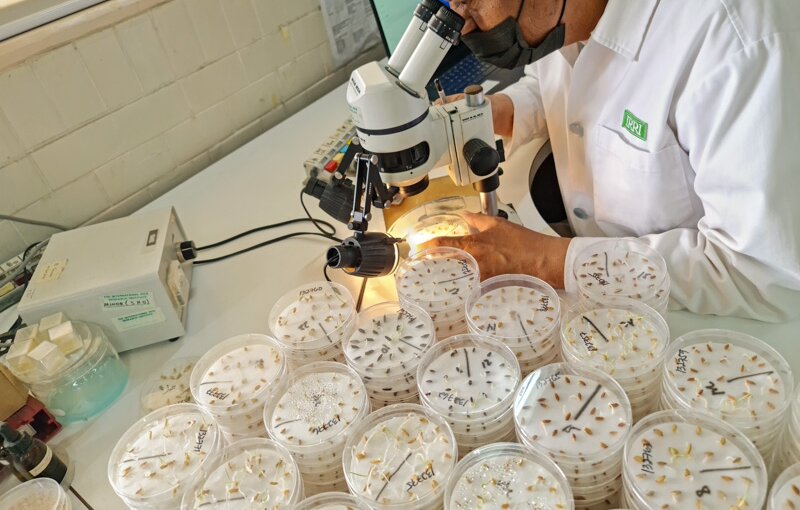 IRRI GHU staff conducting routine seed health testing. Photo: IRRI
27 March 2023
Key messages
CGIAR genebanks work closely with germplasm health units (GHUs) to ensure that the plant material they send is safe to cross borders. The GHUs have had a huge economic impact in recipient countries.

IRRI's GHU can claim a contribution of about US$5.9 million of net benefits to a maximum US$62 million by providing clean rice seed for 20 years in Bangladesh.
---
A recent study documents how the CGIAR's germplasm health units (GHUs) help genebanks and breeding programs get seeds safely into the hands of farmers. The benefits amount to millions of dollars.
When countries import seeds, they need to be assured that the seeds are free of diseases and pests. The unintended introduction of diseases and pests is often irreversible and can lead to significant crop losses and delay plant breeding activities. Genebanks work closely with GHUs to ensure that the seed they send is safe to cross borders. The GHUs have had a huge economic impact in recipient countries by reducing the risk of transboundary spread of pest and disease and the transfer delays that can impair time-sensitive progress in plant breeding.
"To date, no one has systematically documented the pathways and extent to which GHUs contribute to this economic impact," said Yuji Enriquez, a monitoring and evaluation specialist and co-author of the study. "Our study traced the pathways through which IRRI's GHU contributed to the impact of breeding for rice blast in Bangladesh."
Rice blast is possibly the most economically important pest in Bangladesh and is considered a threat to national food security. IRRI scientists have developed breeding practices which help them develop varieties of rice which are more resistant to blast. But in order for this breeding to be conducted, safe and efficient mechanisms for germplasm exchange must be in place.
The researchers conducted interviews with key experts and reviewed the available literature and data to trace the pathways of germplasm movement and then ran the data through various modelling programs.
"Our model estimates that IRRI's work in rice blast resistance in Bangladesh has generated net benefits of US$295 million up to maximum of US$1.46 billion, over a 20-year time frame," said Yuji, who conducted his research as a Genebank Impact Fellow under the CGIAR-Crop Trust Genebank Platform. "The GHU's share of that is US$6-60 million."
The work of Yuji and his colleagues highlights the important, and often overlooked, role of the GHUs in international agricultural research aiming to enhance genetic gains in crops through efficient and timely access to clean and healthy germplasm.
###
Yuji Enriquez is a senior monitoring and evaluation (M&E) specialist at the International Rice Research Institute, where he works with the impact evaluation, policy and foresight unit of the Sustainable Impact in Rice-based Systems program. His work gravitates around the measurement, improvement and scaling of impacts of innovations and practices in agri-food systems. Yuji obtained his MSc in Environmental Management from the National University of Singapore.
The Genebank Impacts Fellowship program was established in 2018 to provide an opportunity for early career professionals to gain practice-based experience in evaluating the impacts of the international genebanks. This experience is complemented by mentorship from impact assessment specialists and plant genetic resources scientists in the global system for ex situ conservation.
The CGIAR Genebank Platform
This article was originally published by the CGIAR Genebank Platform, a project which ran from 2017 to the end of 2021. It enabled CGIAR Research Centers to fulfill their legal obligation to conserve and make available 750,000 seed samples of crops and trees on behalf of the global community under the International Treaty on Plant Genetic Resources for Food and Agriculture. The Platform supported day-to-day genebank operations, and activities to improve efficiency, enhance use and ensure compliance with international policy. This work was supported jointly by donor contributions to the CGIAR Fund and the Crop Trust Endowment Fund.