Feeding the World with Agricultural Science: Vania Azevedo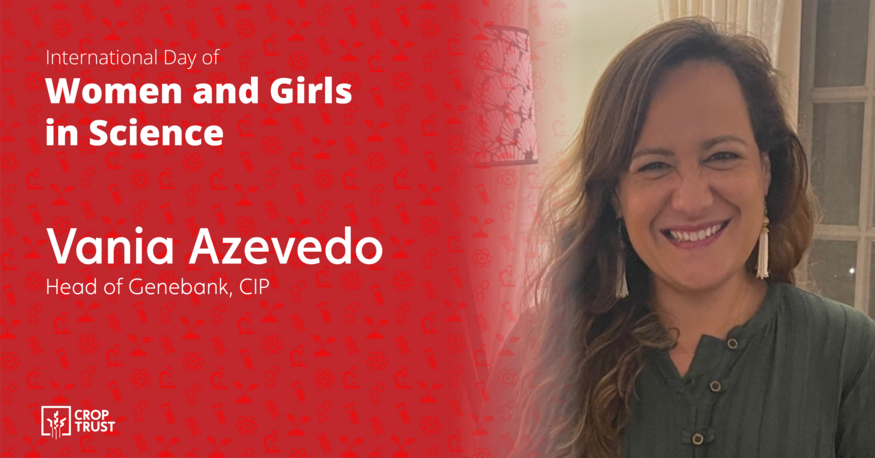 1 March 2022
This is part of a weekly series in honor of the International Day of Women and Girls in Science featuring interviews with inspiring, talented women scientists whose work involves conserving crop diversity.
Vania Azevedo has worked to conserve genetic diversity in genebanks for more than a decade, but her love for genetics began as a teenager and really took hold while studying biology at the University of Brasilia.
After a rewarding stint working in plant genetic resources with the Brazilian Agricultural Research Corporation (Embrapa), Vania was in charge of the genebank at the International Crops Research Institute for the Semi-Arid Tropics (ICRISAT) in India for nearly four years. At the start of 2022, she moved to Lima, Peru to become the head of the genebank of the International Potato Center (CIP), where she also leads the Biodiversity for the Future Program.
We spoke with Vania to learn more about her career path and to hear her advice for other women in science. The transcript of the conversation has been edited for clarity.
Why did you pursue a career in science?
Since I was very young, I loved life, biology, diversity, insects and different kinds of animals, and I was always very curious about the environment, about how things work. When I started studying biology, I fell in love with discovering things and realizing that by doing science – something I was in love with since I was very young – I could also help other people.
When we do science – discover new things, develop something new – we can have a very positive impact on other people's lives. It's great to see that our work can make a difference in the world. I am a biologist, and so I could choose so many different areas to focus on, but I think that agriculture is the number one thing for our species to survive.
There is a saying that I like a lot. It says that you may need a priest, police officer, lawyer or a doctor once in your life, but you need a farmer three times a day. Without food, we can't do anything. With agricultural research, I should be able to help poor people, smallholder farmers, and countries develop – that's really satisfying.
How can we encourage more women and girls to engage in science?
It's a process. We must reach them, reach out to them and show them what science can be. I didn't have much of that when I was young, but I think that many women would engage in science if they had an opportunity to better understand it.
Women scientists should reach out to young girls and women and show them the possibilities – that you can be a human being, a mother, take care of your family, have your own life and your career, and that science is something so beautiful to do. It's all about balance and you don't have to choose between one or the other.
And we can be good examples to girls. If they see more women in science, it opens everyone's minds to that. Most people – especially people in cities – sometimes don't even know where their food is coming from. They don't know how much work is behind that, and how fun and satisfying the work is. They don't know what maize was like before we domesticated it, or how we changed plants to be able to feed everybody.
So, show them where the food is coming from and how much work there was and how interesting it is. And show them how much they can do to help other people. I think that's a good first step.
Are women scientists visible enough to be role-models?
I don't think we are visible enough. We need to work a lot on that. In my country, for example, about 70 percent of published scientific papers are from women. Women are the first authors. But less than 30 percent of leadership positions are occupied by women.
So, we are very good at what we do. We achieve very good results with a good number of publications, but we are not so visible yet. It is still an environment dominated by men, like many others, and it will take time to change that culture. But we need to continue pursuing it and dedicating ourselves to achieving it. To increase visibility and help more women to be part of science, we need to focus on giving them more opportunities.
What is your favorite part of your job?
I think I love everything – even the things that most people do not like, like the difficult and stressful challenges. Maybe my favorite thing is to see that all the work I did, the time I dedicated, resulted with a positive accomplishment. It can be a paper, a report, dealing with a problem that my staff brought to me – no matter how big or small – and I helped them solve the issue.
Every small success, every small thing that we do that results in a positive thing, is something that I really love. At the end of the day, to see that it was productive and that we achieved a good result, all of that makes me continue and work happily.