Five Standout Messages from "Into the Wild" at GLF Climate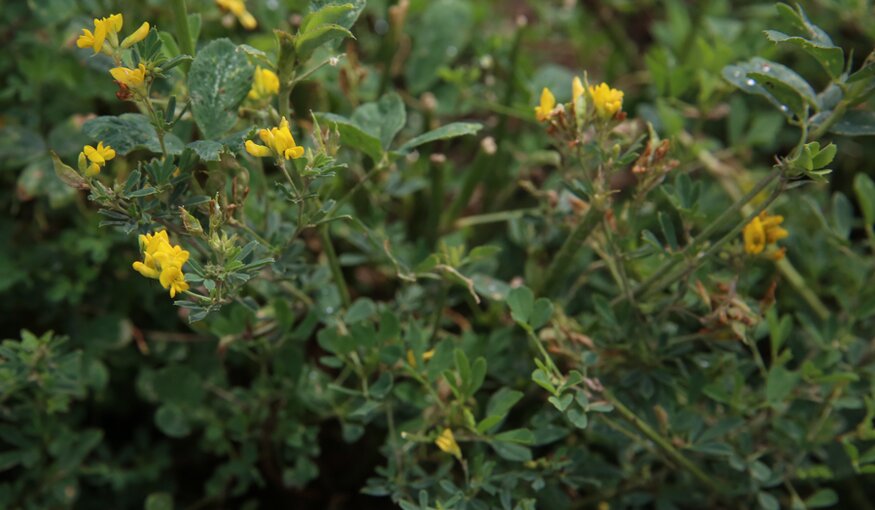 In Kazakhstan, we saw 'Medicago falcata' everywhere, a yellow-flowered wild relative of alfalfa that is drought and cold tolerant. It is one of the many alfalfa Crop Wild Relatives being crossed with its domesticated counterpart, 'M. sativa', by our pre-breeding partners in China (GRI / CAAS), Chile (Inia Chile), Australia (SARDI) and, of course, Kazakhstan (KSRIAPG).
23 November 2021
Over the past decade, withering heat waves, immense storms and extreme droughts have threatened the production of food crops around the world, offering a glimpse of the devastation that can be caused by the changing climate.
Through it all, the Crop Wild Relatives (CWR) Project, led by the Crop Trust and funded by the Government of Norway, has offered a ray of hope that the traits needed to build resilience in vital food crops can still be saved and harnessed.
After 10 successful years, the CWR Project is wrapping up in 2021. And there was perhaps no better venue to explore the successes of this collaborative effort than the Global Landscapes Forum (GLF) Climate Conference, taking place alongside COP26.
"Climate change effects are being felt more strongly around the globe and it's critical that we adapt our agriculture to face these new threats," said Crop Trust Executive Director Stefan Schmitz, during the session "Into the Wild: Climate Resilient Crops for a Drier, Hotter World" at the conference.
"By harnessing the diversity conserved in genebanks, we can work together with farmers, scientists and plant breeders to develop new, more resilient crop varieties. The Crop Wild Relatives Project is an example of how this approach can succeed," he said.
Over the course of the 90-minute session, five key messages about the CWR Project emerged.
1: The CWR Project leaves behind an incredible legacy, including new, climate-resilient crops that are already thriving in farmers' fields.
The CWR Project brought together more than 100 partners from more than 50 countries. Project partners collected over 4,500 seed samples from wild plants; deposited seeds from more than 300 crop wild relatives of 29 important crops in national genebanks; and developed databases on 14 key crops to aid future research and plant breeding. The project also trained more than 13,000 people in collecting, pre-breeding, and data management.
"The most promising wild relatives are being incorporated into new crop varieties that can withstand extreme weather conditions, pests and diseases," said Benjamin Kilian, CWR Project Coordinator, during the session.
"Some crops, such as rice, alfalfa, durum wheat and potato have far exceeded our expectations and new varieties incorporating traits from their wild cousins are already growing in farmers' fields or will be very soon," he added.
2: Building diversity builds resilience.
"Crop wild relatives have survived by responding to the sometimes harsh conditions around them," explained Simran Sethi, journalist, academic, and moderator of the "Into the Wild" panel discussion. Making them "extremely well suited to making our food system more resilient in the face of a hotter, drier planet."
Enoch G. Achigan-Dako, the General Secretary of the African Plant Breeders Association, explained that "diversity is the cornerstone" of the whole initiative.
"What we are looking for when collecting crop wild relatives in nature is diversity; we are looking for beneficial traits that we can use to improve the existing cultivars that can feed the world, that can resist diseases, that can tolerate drought," said Achigan-Dako.
This diversity can be used to build resilience to the myriad threats of climate change.
"Resilience is basically the ability of the crop or the plant to be able to thrive under difficult environments," said Damaris Achieng Odeny, one of the panelists, who is global clusters head at ICRISAT and was the CWR Project's finger millet pre-breeding lead.
While wild crops develop a natural resilience to the difficult environments they grow in, crops that are repeatedly cultivated can become more vulnerable to disease, pests, heat, and drought, Achieng Odeny said.
Ultimately, explained Shivali Sharma, senior specialist in plant genetic resources and the CWR Project's pigeonpea pre-breeding lead, "we are combining the useful traits from crop wild relatives with the good agronomic performance of the cultivated crops."
3: Though the project has ended, many countries have been convinced of its value, and are continuing to fund the work themselves.
For example, in Chile, the CWR Project has already had a measurable impact.
Carlos Ovalle Molina, a researcher focused on grassland areas at INIA, said "drought is becoming more frequent, and it makes it more difficult for farmers to grow forage and alfalfa and to keep their grazing animals healthy and productive, especially in the dry years."
Since 2017, Ovalle Molina has been working to develop new varieties of alfalfa that are resilient to drought—work that has paid off.
He has seen new varieties of alfalfa "sprout from the dry cracked soil where nothing before could grow".
It's something that wouldn't have happened without the Crop Trust's support, he said. And, even as the CWR project comes to close, the Chilean government will be supporting the research to continue.
4: Farmers are the hope of the future.
The "Into the Wild" session ended with a look at what's needed to ensure conservation of the plant genetic diversity that underpins global food security.
Continued collaboration is vital, as none of this work is feasible without partnership between scientists, breeders, policymakers, and, of course, farmers.
Achieng Odeny said it's important for researchers to be in regular communication with farmers.
"Farmers tend to have traditional knowledge on how their crops survive better, under whatever environment, and so for those us of who are doing research it's important that we regularly engage and understand how they ensure that crops survive in difficult environment"
"Farmers are really the hope of the future, and we need to invest in bringing them into the conversation," said Maria Scurrah, director of Grupo Yanapai, an NGO that works with Andean farmers.
5: Valuable work with crop wild relatives will be expanded through the new BOLD Project.
Though the Crop Wild Relatives Project is wrapping up this year, the important work of collecting, conserving, and using the diversity found in nature will be expanded in the new Biodiversity for Opportunities, Livelihoods and Development, or BOLD, initiative.
Government funding and support for conservation efforts are crucial to ensuring this work can continue at the pace and scale needed to adapt to the climate crisis.
And, after supporting the Crop Wild Relatives project, the Government of Norway has once again stepped up with USD 58 million in funding for the BOLD initiative.
Over the next 10 years, the BOLD project will work to build food and nutrition security with a focus on seven important crops.
Learn more about the Crop Wild Relatives Project and its recently launched successor project BOLD.