Germany Supports the Crop Trust to Safeguard and Use Crop Diversity Globally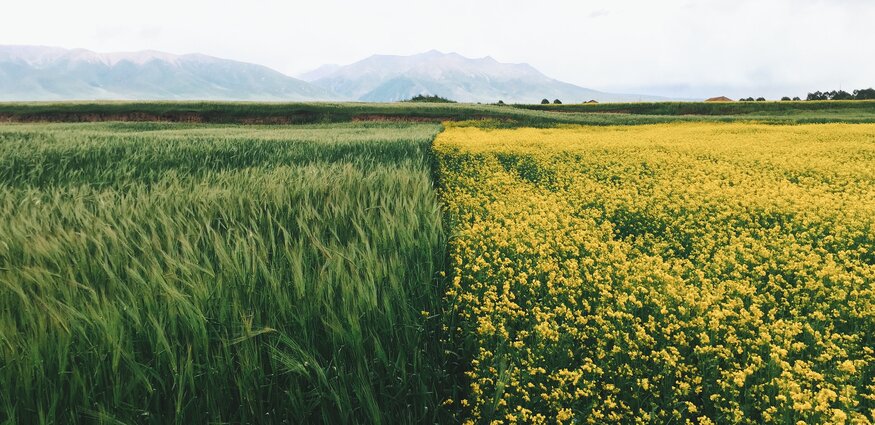 8 June 2021
A Q&A with Crop Trust Executive Director, Stefan Schmitz
A new project, funded by the German Federal Ministry for Economic Cooperation and Development (BMZ) and implemented in partnership with the Deutsche Gesellschaft für Internationale Zusammenarbeit (GIZ), will help the Crop Trust further develop the Crop Diversity Endowment Fund, expand its expertise, and raise awareness about the Crop Trust and its mission.
Stefan Schmitz, Executive Director of the Crop Trust, discusses the background to the project and his hopes for the future.
I understand that you see this new project as providing the foundation for a Crop Trust 2.0—can you elaborate on this?
The Crop Trust has a great mission, a great team, good policies, and concepts in place, and has a remarkable history over the last 16 years. But we still have major challenges to overcome in achieving our vision—a global system under which all unique samples of crop diversity in the world are securely conserved in high-functioning genebanks. We can only overcome these challenges by reaching out. For example, by building more bridges with other organizations and by raising greater awareness of the work we do. Crop Trust 2.0 is the next, more outward-looking chapter in our history.
This project will help us take practical steps to address some of the major, practical obstacles to realizing this new chapter and achieving our ultimate vision.
What are some of those obstacles that the project specifically addresses?
The first element is fundraising. The Crop Trust has already raised more than USD 350 million so far for the Endowment Fund, almost all of it from a handful of traditional government donors. But we really need USD 850 million in the Endowment Fund to guarantee long-term funding for the essential operations of key genebanks around the world, as well as the Svalbard Global Seed Vault. We must be realistic—I have my doubts that we could raise another USD 500 million from the usual sources.
This partnership will allow us to bring experts together to brainstorm around exciting ideas for new fundraising approaches, like crowdfunding or green bonds, for example. And to try these ideas out—we can figure out how to really implement them and take them from theory to practice.
You also mentioned building technical capacity—how will the project address this?
Another crucial element of this project is finding ways to improve the efficiency and effectiveness of the global system of ex situ conservation—the national and international genebanks around the world that conserve vital crop diversity, with the Svalbard Global Seed Vault as the ultimate safety backup.
The system is taking shape but there's still much to do. How do we improve information sharing and information systems? How can we embed quality management in genebank operations? How can we best help develop the capacity of genebank staff?
So, there are a lot of questions around how to improve the global system of conservation; this project will help us address them.
You said Crop Trust 2.0 will be a more outward-looking phase for the organization. What does that mean?
First, we must find better ways to make sure that more people really know what we are doing: what the Crop Trust is, what our mission is and the importance of what we are doing. We must reach out. And not just to the experts, scientists, plant breeders, and farmers—yes, that is important—but also to a broader public. To make more people aware of the importance of the Crop Trust, which will also help us improve our fundraising.
How will this project specifically help the Crop Trust to reach a broader public?
This is in particular a major opportunity to raise awareness of the Crop Trust in our host country. Germany is the most important economy in Europe, with a very strong agricultural and food sector. But I see that hardly anyone here knows us—that the Crop Trust is headquartered here in Bonn. There are also many other institutions here in Bonn dealing with various aspects of the same work we are doing: the United Nations Framework Convention on Climate Change, the Secretariat of the Desertification Convention, the United Nations University, Bonn University. We will be building bridges with all these potential partners.
I am delighted that this project will give us the opportunity to do this and more over the next three years.
I'm sure those three years will go by quickly! How do you see this project influencing the Crop Trust even beyond that period?
I see this project as a catalyst and a facilitator for the Crop Trust. The funding and expertise from GIZ will give us the opportunity to explore fresh ideas about fundraising, about strengthening the ex situ conservation system and about how, what and with whom we communicate.
It will give us the resources—both financial and technical—that we need to make the Crop Trust more resilient and fit for the future, so that we can fulfill our mandate and our mission in the changing environment and tough times ahead.
The three-year project will run until the end of 2023 and includes EUR 4.5 million in funding.