Germinate: Crop Data at Your Fingertips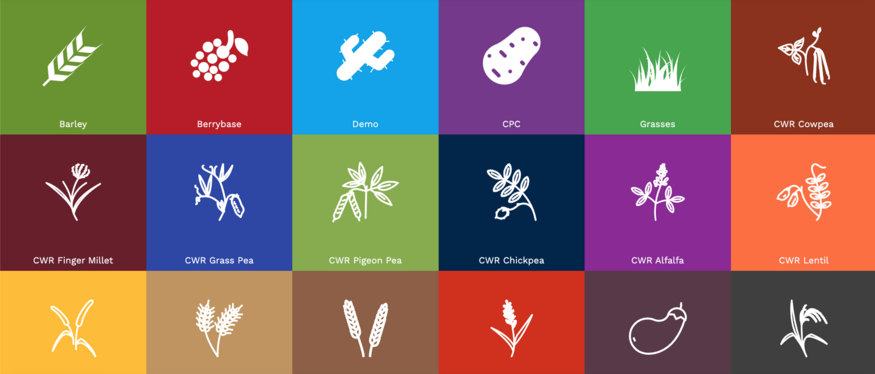 9 June 2021
Until all too recently, sharing information on genetic resources was a hugely inefficient process that made collaboration, at times, impossible.
The solution has been to create online repositories that offer easy-to-share data for everyone.
Today, crop breeders and researchers can obtain the information they need through Germinate, an open-source platform, and related tools, for genetic resources data that anyone can access freely through a standard, web-based format.
"Loads of emails with attached spreadsheets used to be sent around—it was a recipe for disaster," says Paul Shaw, a senior research scientist at the James Hutton Institute in Dundee, Scotland. "Germinate lets you publish data and tells people where to get it. You always know you are working with a specific, curated dataset, which is very important when performing analysis."
Publicly sharing current data about plant genetic resources—such as landraces, varieties or breeding lines—means that researchers and crop breeders know what samples they can request. They can then incorporate these resources into their own pre-breeding, breeding, and research programs to improve the crops needed for global nutrition.
Germinate offers a user-friendly interface for sharing data and tools and can even be used on a mobile phone.
A group of more than 30 scientists, led by Shaw, recently published a paper in a special issue of the journal Crop Science to showcase updated features of the Germinate platform and highlight its value for sharing and visualizing comprehensive genetic datasets on crops such as grasspea, alfalfa, wheat and barley. The special issue focused on work carried out through the Crop Trust's Crop Wild Relatives (CWR) Project, a global initiative to adapt crops and agricultural practices to climate change.
Germinate, the primary platform for distributing data from the CWR Project's pre-breeding programs and crop evaluation trials, stores data on around 400,000 plant samples from a total of 21 crops. The platform includes around 3.4 million genetic markers in its databases for these crops.
"Developing new crop varieties that can cope with climate change relies on the ability of different stakeholders to access current pre-breeding and evaluation results," says Benjamin Kilian, who manages the CWR Project and also contributed to the paper. "Germinate fills this role, providing an ideal platform to manage, visualize and share data on projects that ultimately lead to improved crops being grown in farmers' fields."
"Every crop has its own databases but those for the major crops like maize, rice and bread wheat have received much more investment," says Shaw, who has worked on Germinate since 2005 and is responsible for its day-to-day management. "Where Germinate has really made an impact is for crops that are often neglected when it comes to making their data available, such as grasspea and finger millet."
Last year's updates to the Germinate platform included major improvements to its functionality, speed and analytic features, increasing the volume of data that Germinate can handle and updating the integrated suite of visualization tools.
Germinate is integrated with portals that provide information on samples held in genebanks worldwide, such as Genesys and EURISCO.
It is also compatible with developing data standards, such as digital object identifiers (DOIs), helping users of genetic resources report and share their results in turn.
One major advance to the current version of Germinate is that both public and private data can be held in the same database, allowing users access to the appropriate datasets, and storing private data until it can be made public. Some of the Germinate databases still require registration, but all will eventually be available for direct, public access without registration. Registered users can already access the various Germinate databases with a single login, which is helpful for groups working on multiple species and projects.
Because of the COVID-19 pandemic, on-site training sessions for Germinate are not currently available. But Germinate users will be able to access a range of instructional videos (like the eggplant tutorial video above) and training resources online later this year, according to Shaw.
"People appreciate the simplicity and good performance of Germinate," Shaw says. "What's next is to make it ever more user-friendly. We want to bring the benefits of sharing data on crop diversity to all."
Among Germinate's funders are the James Hutton Institute, the Crop Trust, Templeton World Charity Foundation Inc., and the European Union.
This article is part of a series covering research published in the recent special issue of Crop Science that deals with characterizing and evaluating CWR and the products of breeding them with established crop varieties.