Guest Post: Nourishing Collaborations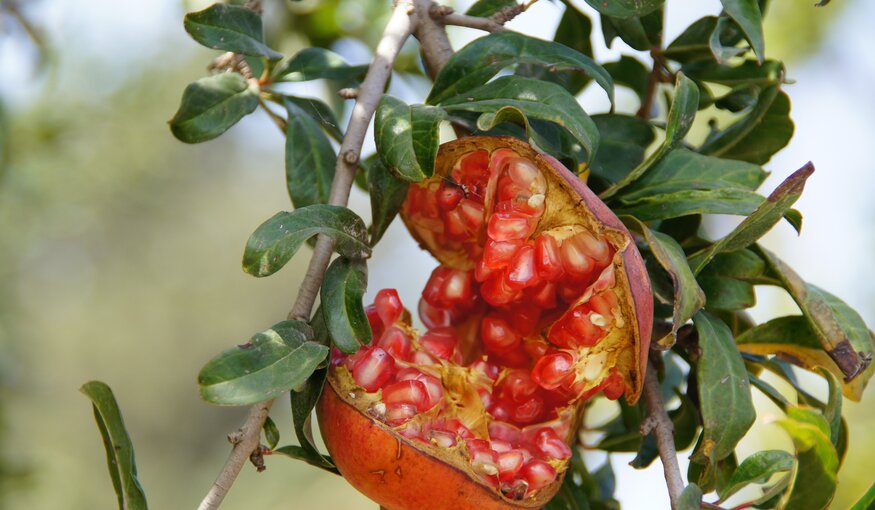 SONY DSC
8 December 2015
A social anthropologist tells us about her recent experiences amidst a large and global community working towards conserving and using plant genetic resources for food security and adaptation to climate change.
Imagine eighty-eight people crowding out of two fat buses into the hot Turkish sun, perhaps a little dulled by the journey. But a treat awaited. When the Global Crop Diversity Trust (Crop Trust) meetings were hosted by the Aegean Agricultural Research Institute (AARI) at Izmir this fall, we were greeted with crates and crates of citrus, quince and pomegranates, all laid out like a rainbow amid the orchards.
Such a variety of colors, sizes, textures and aromas to awaken the senses! Turkey is part of the center of origin for pomegranates, and over 180 different varieties are conserved there. I never knew such an abundance of pomegranates existed, from blushing pink and peach, to orange, ruby and dusky purple. Feeling the quality of rind and flesh against my fingers, listening to the sound of a dense, luxurious fruit slowly giving way as I broke one open, comparing the intense and delicate flavours: it was a reminder that biodiversity is not only about the future of food security, but also about the joy of open-ended possibilities.
For an anthropologist like me, the possibilities to nourish present and future generations are defined not only by the conservation of genetic resources for food and agriculture, but also by the many collaborations necessary to bring those important resources to life in farmers' fields.
In Izmir I met a few of the people involved in one of the most significant partnerships in global science today: botanical collectors, plant scientists and breeders, and agricultural gene bank managers from many corners of the world, brought together by the Crop Trust.
There were actually two events hosted at Izmir, which merged into a remarkable meeting.
The first event was the Annual Genebank Managers (AGM) meeting: an annual get-together of those who look after some of the world's most important international ex situ collections of crop diversity. People like Ines Van den Houwe, who manages the banana and plantain collections at Bioversity, or Dave Ellis, who manages the potato and sweet potato collections at CIP, come together to discuss their work. Depending on where the AGM takes place, they also invite other conservation experts from that region to join them – in this case, colleagues from Turkey, Azerbaijan, and Greece.
The second event was a special meeting for the Crop Wild Relatives (CWR) project. Managed by the Crop Trust with the Millennium Seed Bank, Kew, this ambitious, ten-year project supports institutions in more than 37 countries to collect many of the most important species of crop wild relatives, ensure their long-term conservation, and facilitate their use in breeding new, improved crops. Now in its fourth year, the collecting partners (from Malaysia to Cyprus to Brazil, to name but three) and partners from "pre-breeding" projects (Canada, Spain, Uganda and the Philippines, among others) had the chance to meet in person, for the first time, and share their experience in this evolving, global project.
I witnessed these events as an ethnographic observer, thanks to the courtesy of the Crop Trust, as part of my research to learn about the broad-ranging efforts coordinated by the Crop Trust to support conservation of a global commons of genetic resources for food and agriculture. I am particularly interested in how the use of agro-biodiversity may support small farmers to overcome the challenges presented by changing climates, environmental stresses, pests and diseases that will affect agricultural systems in the twenty-first century.
The importance of links between living genebanks and living communities were apparent in the visions and commitments of experts involved with different facets of agricultural science, who came to the Izmir meetings.
For example, Penelope Babeli is a researcher from the Agricultural University of Athens who works with an anthropologist to collect and evaluate tomato landraces from small Greek islands. She advocates for long-term community engagement to create genuine, dynamic reciprocities between in-situ and ex-situ conservation. Like many others gathered together under the auspices of AGM, she represents a professional dedication that goes beyond formal, institutional partnerships, to the personal connections that researchers make with people along the way.
Denise Costich, head of the maize germplasm bank at CIMMYT, values similar interdisciplinary and community relationships. She takes delight in her participation as a judge for the "world's largest maize ear" contest that is held in Jala, Nayarit, Mexico each year. She manages an historical collection of maize, some of which has particularly good records of documentation, including the names of rural farmers who originally donated materials. She hopes to meet their families, to see how much of the seed has been conserved in situ, and repatriate anything that has been lost.
Phil Simon, a plant geneticist at the University of Wisconsin Madison, leads the CWR carrot pre-breeding effort. He and his team, with partners from Pakistan and Bangladesh, identify genetic sources in wild relatives that can help domesticated varieties tolerate heat, drought and salt. Phil introduced me to a salty, tangy drink called şalgam, made from turnip, bulgur, and a distinctive, deep purple carrot found in Turkey. As we enjoyed the hospitality at AARI, he told me he had first acquired the taste while conducting his own field collections of carrots many years ago, working with Turkish colleagues. His obvious pleasure in savouring it again spoke eloquently about how much that work and those friendships have meant to him. Now I, too, will recall the taste of a traditional Turkish recipe in connection with all the meaningful discussions and good company I appreciated in Izmir.
The "Izmir Group" nourishes optimism about the future of agro-biodiversity and all the living cultural histories that depend upon it.
The combined AGM and CWR meetings this October represented an historic collaboration for both global science and global governance. It will take partnerships as varied as the pomegranates of Izmir to support communities that are already vulnerable to climate change, around the world. I look forward to seeing more of these creative connections take shape, as I witness the extraordinary work of the Crop Trust.
Tracey Heatherington is Associate Professor of Anthropology, and Associate Dean of the Graduate School, at the University of Wisconsin Milwaukee. She holds a Ph.D. in Social Anthropology from Harvard University. Her academic research explores the human dimensions of biodiversity conservation, with a focus on European and global contexts. She has done extensive fieldwork on eco-development in rural Sardinia, and participated in interdisciplinary team projects developing models for sustainability in Romania. Her current project, funded by the Wenner-Gren Foundation, focuses on seed banking and adaptation to climate change. Drawing on interviews, participant observation and scholarly research, this project tracks global gene banking initiatives across scales and networks of collaboration, mapping out the variety of partnerships and perspectives that emerge along the way.