International Hummus Day: Celebrating the Chickpea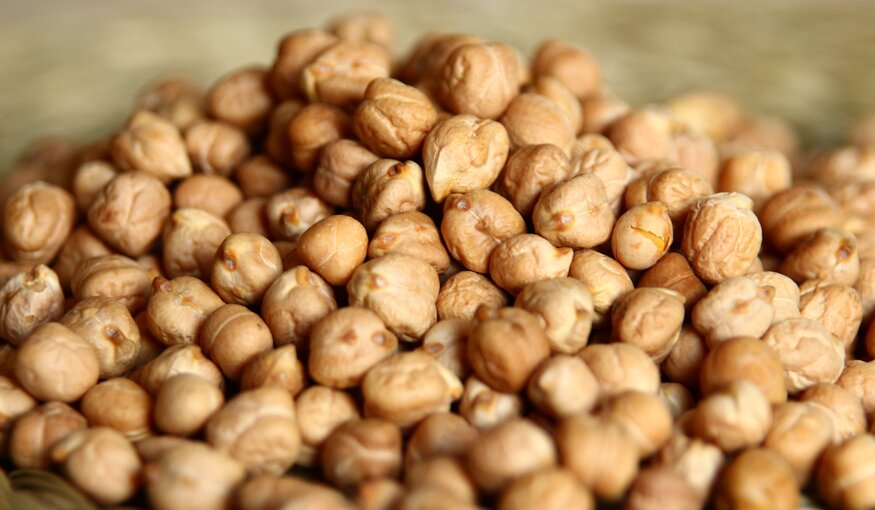 A cool-season crop, chickpea is one of the most nutritionally-packed of all the grain legumes. Chickpea seeds contain on average 23% more protein than other legumes, with no anti-nutritional or toxic factors. With the new deposit, ICARDA has deposited over 6,500 types of chickpea to date.
13 May 2020
The casual foodie might know a few fun facts about the chickpea. It's a core ingredient in hummus, yes. It's stuffed with protein, healthy fibers, vitamins and antioxidants, sure. It's a versatile, nutritious ingredient that can be incorporated into many different meals throughout the week, absolutely! But how well do we really know one of the world's favorite pulses?
Lining supermarket cold aisles in a variety of flavors, hummus can be a great introduction to the world of this versatile crop, which spreads across continents and cuisines and has fed farmers and their communities for centuries. Yes, today is all about your favorite creamy, savory spread. But it's actually the history, uses and diversity of chickpea that makes International Hummus Day all the more special.
Chickpea is a staggeringly ancient crop. Evidence suggests it was first cultivated over 10,000 years ago in that earliest cradle of agriculture, the Fertile Crescent. It was a favorite in Ancient Greece and Rome, where the famous orator, Cicero, reportedly took his moniker from the popular crop. The Latin word for chickpea survives in its modern scientific name, Cicer arietinum. Over the centuries, the chickpea has gone global, picking up new names, such as garbanzo, ceci, gram and chana.
No matter its name, chefs have come up with myriad ways to use the chickpea. Hummus has been one of the Middle East's favorite spreads for centuries and is now a go-to snack around the world. Folded in pita bread and often accompanied by salad, chickpeas are also the foundation of most falafel recipes, one of the Mediterranean region's favorite vegetarian protein dishes. For vegetarians and foodies alike, these examples may come as no surprise. But did you know that the chickpea has also been used as a decaffeinated coffee substitute since at least the 18th century?
The chickpea is not a major export crop on the world agricultural market, but it is extremely important to local trade in numerous regions throughout the drier tropics and sub-tropics. In these challenging climates, the deep-rooted chickpea is more drought- and pest-resistant, and higher-yielding, than many other local crops. In many communities from South Asia to the Mediterranean and, more recently, into sub-Saharan Africa, the chickpea underpins food security. Over 95% of the area, production and consumption of chickpea is located in developing countries.
Like many of our crops, however, it faces an uncertain future.
The chickpea is not immune to climatic stresses such as rising temperatures and increasingly unpredictable weather. Over 10,000 years, much of the original diversity of the chickpea and its wild relatives has been lost. While it is better suited than many crops to handle a changing climate, scientists cannot address future challenges unless they have access to as much diversity as possible.
And the chickpea's diversity is genuinely exciting. Each variety reflects the unique cultures and environments where the crop has taken root over the centuries. Much of this diversity is being protected in international genebanks, close to the producers who depend on the crop. Over 20,000 varieties are safeguarded at the International Crops Research Institute for the Semi-Arid Tropics (ICRISAT) in Hyderabad, India. The International Center for Agricultural Research in the Dry Areas (ICARDA), based in Lebanon and in Morocco, holds over 15,000 varieties. National collections in over 30 countries hold 80,000 additional accessions. And over 25,000 seed samples from 19 genebanks are backed up in the Svalbard Global Seed Vault. Without these collections, much of the chickpea's natural diversity would hang in the balance.
Though hundreds of thousands of varieties of chickpea are safe for future use in genebanks, there is even more diversity out there to tap into. Wild chickpeas, the close cousins of domesticated chickpea varieties, may well hold key traits that will help address the challenges of future climatic stresses. One wild relative, Cicer reticulatum, could hold at least 20 times the genetic diversity of the modern cultivated species. Making use of this diversity through breeding could lead to improved varieties that will find their way into falafel and hummus in the future.
On International Hummus Day, it's only fitting we enjoy a hefty helping of hummus into which to dip fresh vegetables or pitas. Hummus is indeed a wonderful introduction to the wonder of the chickpea, but why stop there? The Food Forever Initiative can help you celebrate the chickpea by pairing it with unique ingredients that enhance your dinner plate with the wealth of the world's food diversity. So once you clean out that bowl of hummus, keep celebrating the chickpea with a honeynut squash falafel wrap, by adding chickpeas to Chef Anjula Devi's panch ratan dal, or even by enjoying a cup of coffee.