Obituary: M.S. Swaminathan (1925-2023)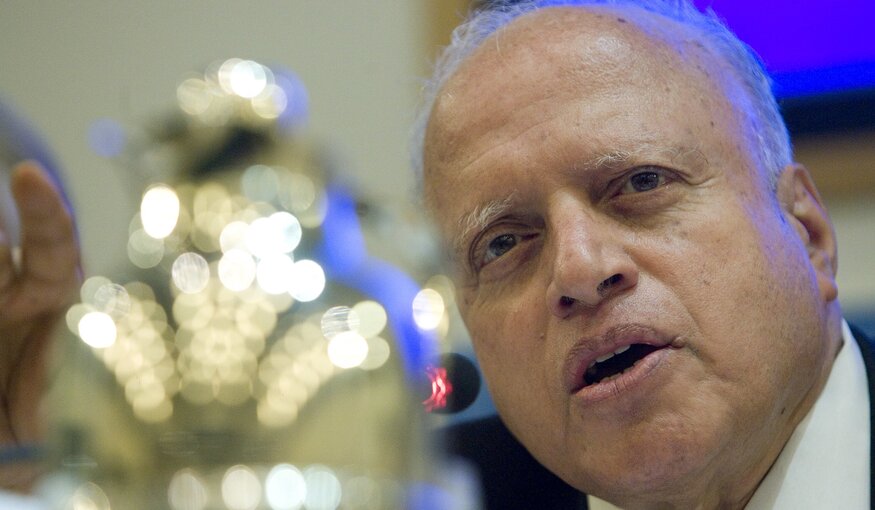 Professor M.S. Swaminathan speaking in Rome in 2009. Photo: ©FAO/Alessandra Benedetti
2 October 2023
M.S. Swaminathan, the father of the Green Revolution in Asia and a builder of global institutions tasked with protecting the world's agricultural biodiversity, has died. He was 98.
He passed away at his residence in Chennai, India on 28 September, according to the M.S. Swaminathan Research Foundation's website.
The Indian-born scientist was a key figure in history for masterminding India's wheat boom during the 1960s and helping establish the institutions needed to conserve crop genetic diversity.
A plant geneticist by training, Swaminathan played a leading role in staving off the threat of famine in India. In collaboration with U.S. scientist Norman Borlaug, he developed new varieties of high-yielding wheat that helped feed millions of people and reduced India's dependence on U.S. food aid.
"Yields achieved in 4,000 years of known history of wheat cultivation in the Indian subcontinent—from the time of Mohenjo-Daro—were doubled in four years: 1964 to 1968," Swaminathan said in a 2013 interview. "It was a quantum jump in production, and that is why it was called a revolutionary step."
This stunning achievement—which defied widespread Malthusian predictions of mass starvation due to population growth—prompted Prime Minister Indira Gandhi to speak of a "Wheat Revolution" in 1968. Three years later, in an address at the White House, she claimed that India had achieved foodgrain self-sufficiency.
Today, thanks mostly to Swaminathan's legacy, India, where 70 percent of rural households still depend on agriculture for their livelihoods, is one of the world's largest producers of wheat, rice and a range of other crops.
From Green to Evergreen
Yet Swaminathan realized that rapid increases in the cultivation of improved, high-yielding varieties of wheat, rice and other crops didn't guarantee food availability, and might even have harmful unintended effects in areas of intensive farming. He therefore called for an "Evergreen Revolution" that ensured higher food productivity in ways that were environmentally safe, economically viable and socially sustainable.
Also dubbed the "father of economic ecology," he became a champion of sustainable agriculture, warning against the overexploitation of natural resources and groundwater, and the excessive use of pesticides and fertilizers.
Swaminathan also emphasized the need to provide smallholder farmers with the skills, financial means and market prices that they needed to prosper, while promoting gender equality by empowering women as the backbone of Indian agriculture. As a champion of the farmers, he was instrumental in developing the national legislation for the protection of plant varieties and farmers' rights.
Conservation Advocate
At the same time, he emerged as an icon of biodiversity conservation, highlighting its critical role in achieving food security and safeguarding the wellbeing of people in developing countries in particular.
"Biodiversity is a rich area that is also inhabited by very poor people. The poverty of the people in relation to the prosperity of nature is an enigma that is very striking," he said in a 2011 interview. "The idea is how to really convert bioresources into a means for the benefit of other people."
Listed among Time magazine's top 20 Asians of the 20th century, Swaminathan combined his conservation advocacy with institution building. He helped establish the International Crop Research Institute for the Semi-Arid Tropics (ICRISAT), the International Board for Plant Genetic Resources (known today as the Alliance of Biodiversity International and CIAT), and the International Council for Research in Agroforestry (now part of CIFOR-ICRAF).
He also headed the International Rice Research Institute (IRRI) and the International Union for Conservation of Nature (IUCN) in the 1980s after a decade of helping shape public policy in Indian government institutions, including as secretary of agriculture.
Early Years
Monkombu Sambasivan (M.S.) Swaminathan was born on 7 August 1925 in Kumbakonam, a village in the southern Indian state of Tamil Nadu.
The son of a surgeon, Swaminathan planned to follow in his father's footsteps and study medicine. But the Bengal famine of 1943—which caused about 3 million deaths—changed his mind as he embraced India's move toward independence from Britain.
"Many of us who were students at that time, and were very idealistic, asked ourselves: What can we do for independent India? So, I decided, because of the Bengal famine, to study agriculture," he said in the 2013 interview.
Swaminathan graduated from Coimbatore Agricultural College before studying potato cytogenetics—the structure and properties of chromosomes—at Wageningen Agricultural University in the Netherlands. In 1952, he obtained a doctorate in genetics at Cambridge University.
After post-doctoral research at the University of Wisconsin, where he developed a hybrid potato carrying a frost-resistant gene, Swaminathan returned to India in 1954 and worked for the Indian Agricultural Research Institute as a wheat and rice geneticist.
Initially developing high-yielding rice, he then turned his attention in 1963 to a wheat breeding program with the help of Borlaug, the Green Revolution pioneer who later won the Nobel Peace Prize for his contribution to increasing the food supply. Borlaug provided Swaminathan with "dwarf" genes from Mexico that would prove crucial to India's agricultural renaissance and arguably save millions of lives in Asia.
Swaminathan worked closely with the Food and Agriculture Organization (FAO) of the United Nations for many years and was independent chairman of the FAO Council from 1981 to 1985, helping establish the Commission on Genetic Resources for Food and Agriculture to tackle world hunger.
In 1985, he was honored by the International Association of Women in Development for promoting the empowerment of women in agriculture. Swaminathan also won the Albert Einstein World Award of Science in 1986 and the World Food Prize in 1987. During his World Food Prize acceptance speech in 1987, Swaminathan said: "The prospect for a world without hunger is a glorious legacy given to our contemporary world by scientists and technologists; communicators and social scientists; administrators and industrialists; and workers in the factories, fields, forests, pastures, rivers, and oceans. How satisfying and joyful it would be if every member of the human family could go to bed every night after a nourishing meal. Until such a wholly attainable world becomes a reality, our task remains unfinished."
"I have always believed that for every problem, there is a solution—there is nothing that cannot be achieved, provided you work for it," Swaminathan said.
Swaminathan is survived by three daughters—Soumya Swaminathan, Madhura Swaminathan and Nitya Rao, according to the M.S. Swaminathan Research Foundation. His wife, Mina Swaminathan, predeceased him.
Timeline:
1925: Born in Kumbakonam, Tamil Nadu, India
1952: Earns doctorate in genetics at Cambridge University
1954–72: Works as wheat and rice geneticist at the Indian Agricultural Research Institute
1963: Begins wheat breeding program with the help of Norman Borlaug
1972–79: Serves as director-general of the Indian Council of Agricultural Research
1979–80: Principal secretary in Ministry of Agriculture
1981–85: Independent chairman of the FAO Council (Rome)
1982–88: Director-general of the International Rice Research Institute (Philippines)
1984–90: President of the International Union for the Conservation of Nature
1987: Winner of the inaugural World Food Prize
1989–96: President of World Wide Fund for Nature (India)
2004-06: Chairman of the National Commission on Farmers
2007–13: Member of the upper house of the Indian Parliament
September 2023: Dies in Chennai, India