Safeguarding Biodiversity, Forever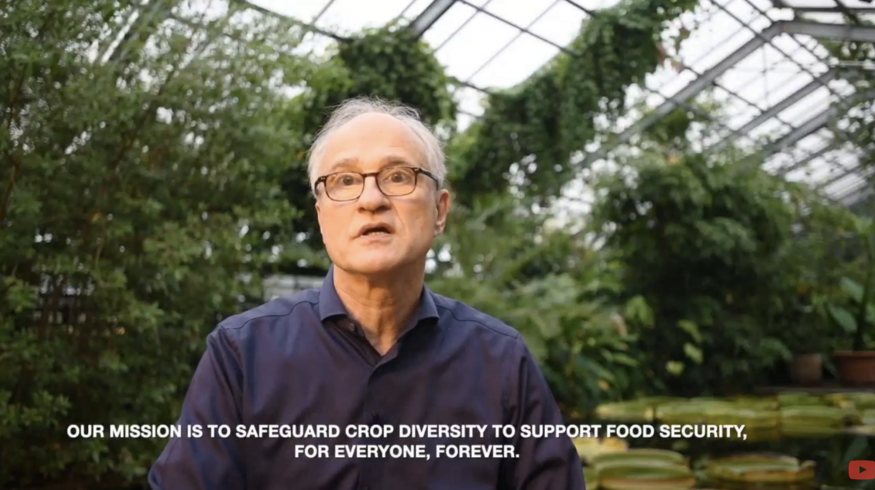 2 November 2020
While the world seems to get further entangled in a web of concurrent crises, there are a growing number of leaders and experts who are sparking new hope and trust in the future. At the GLF Biodiversity conference on 28-29 October, Stefan Schmitz shared his visions on the state of biodiversity and the meaning of 'forever' for the Crop Trust.
View the video or read his speech below.
Hello, I'm Stefan Schmitz, the Executive Director of the Crop Trust. Thank you for joining me here today. A conference on the conservation of our planet's biodiversity could not have come at a more critical time.
Just look at the figures cited in a recent analysis by the insurance firm Swiss Re - more than half of global GDP, so 42 trillion US dollars, depends on high-functioning biodiversity. And more than a fifth of countries worldwide are at risk from ecosystem collapse as biodiversity declines. These figures are staggering. And I thank the Global Landscape Forum for bringing us together here today, in the midst of this crisis, to look for solutions, together.
At the Crop Trust, when we talk about our mission, certain words arise frequently. "Biodiversity" is one such word, of course. One part of Agricultural biodiversity, crop diversity, is our reason for being. "Food security" is another frequently used phrase, as is "conservation". The conservation of crop diversity is crucial for food security. Another word that we use a lot is "forever".
Our mission is to safeguard crop diversity to support food security, for everyone, forever. Against the real state of our natural environment, with so much destruction, loss and insecurity, the word 'forever' seems a whimsical concept. But: 'forever' is another word for 'sustainable'. And isn't it this concept of sustainability that brings us together, what we are all striving for? The Crop Trust is laying the foundations for conserving crop diversity in perpetuity, by raising an endowment that will support key collection of crop diversity in genebanks forever.
And there is another "forever": When biodiversity is lost, it is lost forever. Food plants are among the biodiversity being destroyed in this ongoing global crisis. 40% of plant species are facing extinction. That includes the wild relatives of important crops. This loss is massive, and irreversible. When we lose this biodiversity, we lose options. We lose resilience. We lose potential. We lose solutions. Crop wild relatives might have the genes to help crops adapt to climate change, or to new pests and diseases, for new tastes, colors and textures. The causes of biodiversity loss are complex and many, and the threats are constantly evolving. And for how long will there be threats to biodiversity? Forever.
To plan for "forever" is bold. It takes courage and vision. Yet "forever" is the common goal that unites everyone at this conference. We are not fighting to save biodiversity for one decade or even one century. We need to conserve it forever.
Conservation is not passive. A commitment to conservation is a commitment to action. First, conservation takes knowledge: and this knowledge must be updated continuously. Second, conservation demands vigilance. Genebanks need ongoing maintenance, regular upgrades, reliable electricity. A single budget cut or lapse in management could mean the loss of diversity forever. Third, conservation means tireless development of new technologies: to preserve crops, to evaluate traits, to breed improved crops. Fourth, conservation means managing and exchanging information system: on genebanks and their holdings. Fifth, conservation means urgently identifying, collecting and safeguarding threatened diversity. In one of our projects, national partners in 26 countries have brought more than four and a half thousand samples of crop wild relatives into their genebanks. Yet many more are at risk. Sixth, conservation means building communities of practice and raising awareness, from informing farmers and breeders of the seeds available, to informing consumers of the importance of the rich variety of foods they can eat.
Yet this barely scratches the surface of the work that is essential to conserve agricultural biodiversity and secure food, forever. No doubt many of us have lists of critical, ongoing work. And all of us are operating in an environment characterized by the short term: project funding, policies, market trends. In an environment that is inherently unpredictable, insecure and unsettled.
Which is precisely why we at the Crop Trust keep our thoughts on "forever". It is why "forever" is built into our very structure, with our Endowment Fund and our commitments to funding in perpetuity. We estimate the fund must reach 850 million dollars to secure key collections of crop diversity forever. So far, we have secured one third that amount, thanks to the vision of governments, private sector, and even individuals. But that means we have half a billion dollars to go.
By comparison, the value of crop improvement is estimated well into the tens of billions of dollars. But you can't improve crops without continued access to their genetic diversity. And that's before we even begin to consider the options we are providing for the future. Or the billions of lives at stake.
Biodiversity is priceless. Yet our short-term world persists in squandering it. When we destroy biodiversity, we are gambling away our options for the future. It is time to decide if we will continue to gamble with our future or if we are willing to invest in it. Because the actions we take today will last forever.
Thank you for listening, be well.