The President of Ghana Speaks at the Seed Summit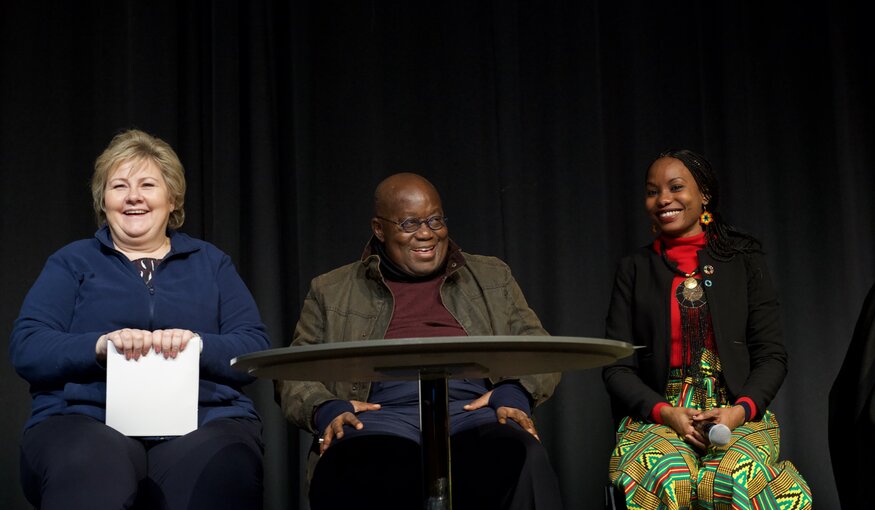 4 March 2020
On 25 February 2020, the largest deposit since the Seed Vault's opening in 2008 (in terms of the number of institutions to send seeds at one time) took place in Svalbard as representative from over 30 different genebanks came to Longyearbyen to deposit seeds in the Svalbard Global Seed Vault.
It is essential to safeguard crop diversity as these genetic resources contain solutions that may be needed to adapt our food systems to the effects of climate change, and to enable us to end hunger, achieve food security and improved nutrition by 2030, as set forth by the Sustainable Development Goal (SDG) 2. The Norwegian Prime Minister, Erna Solberg, took the opportunity to invite her colleagues in the SDG Advocates Group to also attend the Seed Deposit Ceremony and the Seed Summit. The SDG Advocates are 17 inspiring, influential individuals raising global awareness of the Sustainable Development Goals (SDGs) and the need for accelerated action.
Co-chair of the SDG Advocates and President of Ghana Nada Addo Dankwa Akufo-Addo has shared his speech from the Seed Summit with us below:
First, let me say how delighted I am to be here at this archipelago, close to the North Pole, and to witness first hand the fantastic work that is being done in support of long-term global food security, through the preservation of seed varieties from across the globe.
It has been said, and it bears emphasizing that what is being done in this phenomenal place truly represents the ultimate insurance policy for the world's food supply.
I am told that Svalbard holds some 1 million seed samples from every country in the world. This is an impressive feat, and I commend the Government of Norway and the authorities of Svalbard for their leadership on this enterprise.
I am particularly delighted to see that this Seed Summit brings together a broad spectrum of scientists and seed bank experts from around the world. This global effort towards conservation of agricultural crop systems is an example of best practice in how our world should tackle common challenges.
Climate change and its effects on agricultural systems represent an existential threat that our world faces. And how our world feeds a growing population amid the effects of climate change is going to remain a global challenge over the medium-term.
The impressive work that national and regional seed banks, and indeed the Global Seed Vault here in Svalbard, are doing in preserving seed varieties is so important not just for crop systems conservation but for the long-term security of our world. And for this reason, the world needs to scale up its support for the work that you do.
As co-chair of the Eminent Group of SDGs Advocates, I strongly intend to work with my colleagues to champion the great work that you are doing and to bring greater visibility to your work. SDGs Goal 2, which speaks to ending hunger, achieving food security, improved nutrition and promoting sustainable agriculture, is so central to achieving all the SDGs.
[related_articles_about post_type="post,impact-story" categories="news,blog,press-release" tags="Seed Summit" size="3" title="Related Articles on the Seed Deposit"]