The Trees That Make Their Own Climate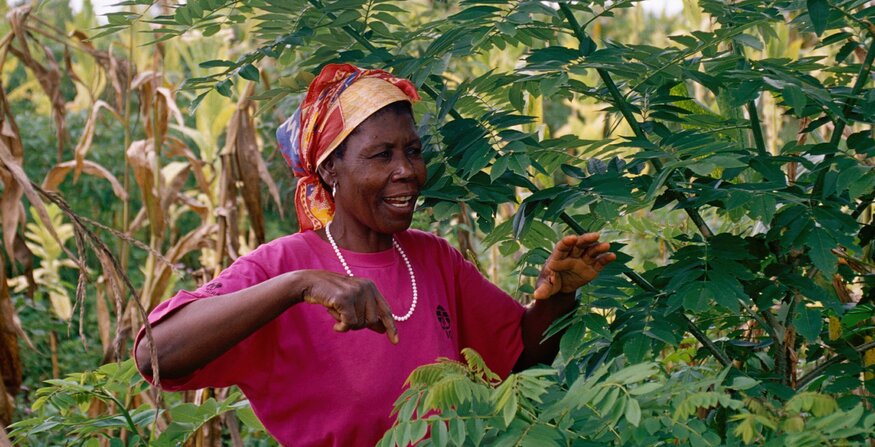 16 February 2016
Sosthene Ahongeze, 52, always knew the time for planting and harvesting, and planned accordingly.

Having spent many decades as a smallholder farmer, the resident of Gasoro Cell in the rural Kigoma Sector, Nyanza District was familiar with the timing of the rains and how they naturally alternated with sunny spells to produce a favourable climate for crops.

"We knew that September was time for planting and never had any fears that our crops might dry up due to insufficient rainfall. But these days, you just wait for the rains to come and you can never be sure that they will continue," he adds.

Ahonteze started farming as a full-time occupation in 1978. He says unpredictable weather patterns have greatly affected their produce in recent years.
Rwanda, 17 September 2014
What's to be done when the seasonal rhythm of farming no longer holds? As climate change makes weather less predictable and more extreme in countries like Rwanda, even long-time farmers like Sosthene don't know what to expect next. They need more tools to cope with whatever may come – be it long droughts, fierce heat or soil-scouring heavy rain. Rwanda and its international donors are working to get better adapted, more resilient crop diversity into the field, but they're also paying more attention to what's above the field. Farmers and scientists are finding that tree diversity holds just as many possibilities for buffering agriculture against the changing climate.
In Rwanda, work is on to increase the number and diversity of trees in and around farms to stabilize and improve the soil, hold rainfall, shelter crops and provide new products to harvest. Growing trees together with crops might sound strange to anyone used to seeing fields of grain stretch to the horizon, but the right trees share sunlight and water perfectly and create stable micro-climates for crops. The benefits of such agroforestry systems are well known: almost half of the world's farmland is already under at least 10% tree cover, often in long-standing traditional systems. Now hundreds of thousands of small farmers are branching out. In a survey of climate adaptations in East Africa, 50% of farmers had begun planting trees within the last ten years, one of the most reported adaptation strategies. Serendipitously, more trees also store more carbon, contributing to the mitigation of climate change itself.
The question is, which trees to plant? Trees come with their own world of diversity, and it's also at risk, from deforestation, invasive species, fire, insects, diseases – and climate change. The World Agroforestry Centre (ICRAF) works to conserve the diversity of useful on-farm trees and to get them to more farmers. Supported by the Crop Trust, ICRAF maintains a seed bank in Nairobi, Kenya of over 4,400 accessions from 150 tree species. Nearly 800 of these have also been backed up by the Crop Trust in the Svalbard Global Seed Vault. ICRAF's seed bank is a major source of planting material for programs to introduce agroforestry systems for climate adaptation in Africa, Asia and Latin America. Other trees can't be saved as seed, so ICRAF also maintains field collections of 60 such species – basically, special-purpose forests – hosted by national partners in 14 countries.
Some of the species in ICRAF's collection have already had a big impact. Faidherbia albida is a native African tree that has been adopted widely as a 'fertilizer tree', since it drops its nitrogen-rich leaves on the fields just before planting time. Thanks to the improved soil structure, ICRAF found that maize planted under the tree can capture four times as much water from the same amount of rain, sometimes tripling and quadrupling production.
As impressive as the figures are, no single tree holds all of the solutions. Agroforestry is dependent on all shapes and sizes of trees for different uses. Farmers have to pick crops and trees that fit together, with harmonious light requirements, root systems and seasonal schedules. That's why agroforestry trees are as diverse as the crops they shelter, and just as important to conserve for an uncertain tomorrow.