UNFSS Pre-Summit Addresses Agrobiodiversity in Sustainable Food Systems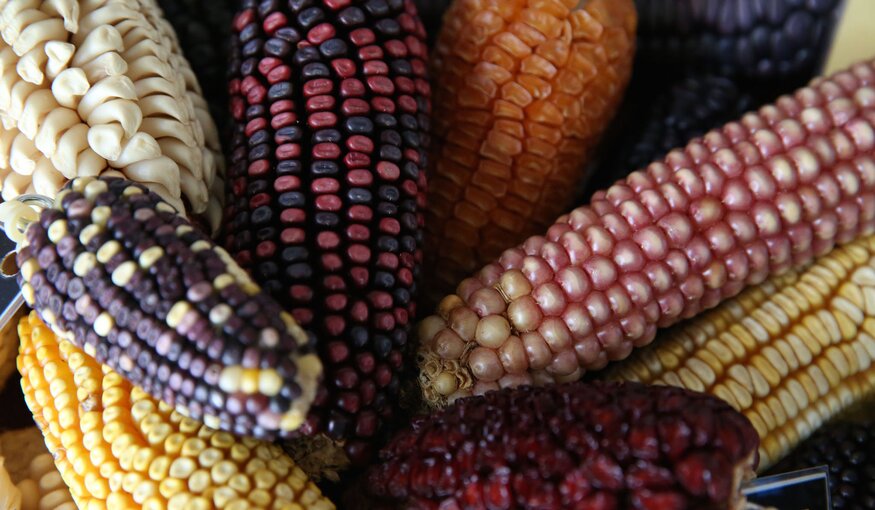 Maize diversity. (Photo: Luis Salazar/Crop Trust)
12 August 2021
From July 26 to 28, a wide range of stakeholders from the international community gathered at the United Nations Food Systems Pre-Summit to discuss pathways towards more sustainable food systems.
More than 20,000 participants from over 190 countries participated in the hybrid event, with key country delegates and working group leaders taking part in person at the FAO headquarters in Rome, and thousands more attending virtually.
The Pre-Summit set the stage for the UN Food Systems Summit (UNFSS), which will be held later this year. Delegates—ranging from government representatives and private sector leaders to renowned climate activists and several World Food Prize laureates—presented ambitious proposals and "game-changing solutions" to reshape global food systems through healthier, more environmentally friendly and resilient food production and consumption patterns.
Sessions also highlighted the work undertaken during the first half of 2021 by the five UNFSS Action Tracks, as well as by the Levers of Change and the other ancillary working groups. The Crop Trust continued its involvement with Executive Director Stefan Schmitz participating in two Pre-Summit sessions.
First Session: Demand, Innovate and Scale
The first session was a main program event, "Demand, Innovate and Scale: Partnership and Research to Deliver the 2030 Agenda," organized by the Alliance of Bioversity–CIAT. It focused on the importance of building inclusive and collaborative food systems to foster innovation and sustainable production.
As 2021 is the International Year of Soil Health, the Ministries of Agriculture of Australia and the United States kickstarted the session by presenting on the importance of soil health for more resilient agriculture.
Stefan Schmitz then joined a panel conversation with partners from the Alliance for a Green Revolution in Africa (AGRA), the One Planet Business for Biodiversity (OP2B) network, and CGIAR, among others. He explained how scientific and technological advances can help ensure that agrobiodiversity is safeguarded and available long-term. Such advances include cryopreservation for conserving crops that do not produce seeds, and further developing genebank information systems so that plant breeders and farmers across the globe will have greater access to data on plant genetic resources.
Second Session: Agrobiodiversity for a Sustainable Future
The Agrobiodiversity Cluster, a key component of Action Track 3 organized a parallel session called "Agrobiodiversity for a Sustainable Future." It dove into the importance of agrobiodiversity for sustainable food systems, including conservation, use, equitable access, and benefit sharing.
The three Secretaries of the Joint Liaison Group of the Rio Conventions: Dr. Ibrahim Thiaw of the United Nations Convention to Combat Desertification, Ambassador Patricia Espinosa of the United Nations Framework Convention on Climate Change, and Elizabeth Maruma Mrema of the Convention on Biological Diversity opened the session. They presented fundamental linkages between the conservation of agrobiodiversity, soil health, and sustainable and resilient agricultural systems.
Juan Lucas Restrepo, Director-General of the Alliance of Bioversity–CIAT and Global Director of Partnerships and Advocacy for One CGIAR, then moderated a panel discussion, which explored the existing gaps that hinder the long-term availability of biodiverse foods for all.
During this discussion, Stefan Schmitz highlighted the importance of innovative finance mechanisms to mobilize resources from private investors and individuals to support long-term funding for collecting crop diversity worldwide.
Innovative finance mechanisms that can play a disruptive role in scaling up resources for agrobiodiversity include crowd-sourcing campaigns, crop-based fundraising, and, importantly, long-term debt securities such as the Food Security Bond. The latter is a finance mechanism under development by the Crop Trust that aims to give investors a way to meaningfully help the global crop genetic diversity for generations to come.
Other participants in the session, such as the International Fund for Agricultural Development and the OP2B network, discussed the importance of public-private partnerships to ensure that agrobiodiversity is used to develop more resilient and inclusive food chains.
Looking Ahead
As we head towards the UNFSS this fall, the Crop Trust will focus on contributing to the Agrobiodiversity Cluster to help shape a Coalition of Action around 1) ensuring the long-term conservation of agrobiodiversity and wider access to information systems for genetic resources; 2) promoting more inclusive and sustainable seed systems, and 3) mainstreaming agrobiodiversity in food supply chains worldwide.