How to Feed a Growing Global Population in the Midst of a Climate Crisis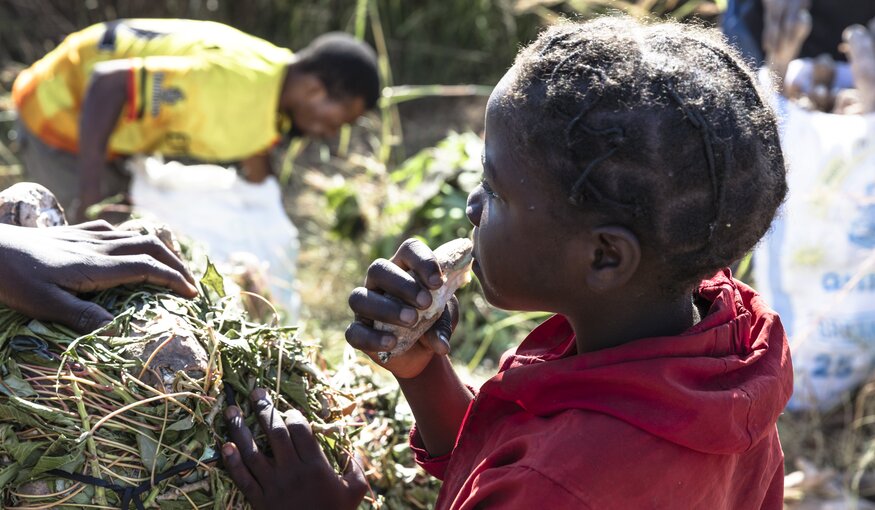 Small-scale farms and community groups line the road from Samfya to Mansa and focus on cassava production for local consumption and, to a lesser extent, starch export.
16 July 2020
To mark World Population Day, Crop Trust Executive Director Stefan Schmitz and CIFOR-ICRAF General Director Tony Simons shared their thoughts on the challenges of feeding a growing world population in the midst of the climate crisis.
We have all heard the figures: by 2050, the world's population is expected to increase to nearly 10 billion, and most estimates suggest an increase in global food demand over the same period of at least 50 percent.
Alongside that, we're in the midst of a climate crisis. Carbon dioxide levels in the atmosphere are reported to be the highest they've ever been in human history, while swarms of locusts are plaguing East Africa and India, and huge dust clouds are crossing from the Sahara desert to the Gulf of Mexico over the Atlantic Ocean.
To add to the mix, the recently-published 2020 Global Nutrition Report – an annual independent assessment of the state of global nutrition – concludes that today's food system leaves 1 in 9 people under-nourished, making malnutrition and its consequences the leading cause of death worldwide.
And on top of all of that, the COVID-19 pandemic has made it painfully apparent that our global food systems are interconnected and fragile – and that these kinds of threats can multiply and rapidly escalate into massive, global disasters unless we act in an interconnected fashion.
But it has also provided some triggers for hope that system-wide transformation is possible: across the planet, we have seen local farmers and communities rise to the challenge of feeding themselves, neighbors and cities when global supply chains have been disrupted. We've seen the borders of regional blocs, such as the EU and ASEAN, remain open to essential food and other supplies because of their sense of common purpose.
The list of challenges is long, and knowing the facts isn't enough. Solving them requires strong national and international institutions, committed political leaders and policies informed by science, research and options. The global food system needs to transform to be sustainable – to feed us and future generations with a diverse range of nutritious foods, while at the same time reducing the sector's carbon emissions, reversing the decline of soil health and fertility, and building resilience to the climate crisis.
Because the challenges are so complex and interconnected, multiple and holistic solutions will be critical. Below, we'll shine a spotlight on two important elements of a sustainable food system transition: preserving crop diversity and applying agroecological approaches to food production.
Natural genetic diversity is the raw material that breeders and farmers need to improve taste and nutritional composition; boost yield; and meet challenges for their crops, such as disease, pests, rough weather and changing temperatures. Valuable though it is, this diversity is diminishing, both in farmers' fields and in the wild.
If there was no destruction of natural habitats or replacement of traditional landraces, we could always go back to those reservoirs of genetic diversity to improve our crops and make them ready for climate change, but genetic erosion is all too real, and often difficult to prevent. Consequently, seed banks, also known as genebanks, are crucial resources that safeguard the diversity of our crops and make it available to researchers and plant breeders, who in turn use it to develop the knowledge and new varieties that farmers and consumers need. Step one in ensuring we can meet the needs of a growing global population is making sure the work of genebanks continues.
Agroecological approaches – in particular, more substantial integration of trees into farming systems – can also address many of the challenges our food systems face. Here we can transform the world with trees, by creating urban and peri-urban integrated tree and crop systems that complement rural production and shorten supply chains; and by agro-foresting monocultural cropping landscapes to produce a range of nutritious products rather than single types of carbohydrates. Moreover, this can help provide social, financial and environmental benefits on top of agricultural productivity alone.
Any transformation must take place across the entire landscape of the global food system – not just on farms, but also across value chains, from processors through to consumers, waste collectors and recyclers. This is the circular green economy we need. We must rethink, remake, innovate and deliver on every link. While this is a daunting challenge, it is not at all impossible: humanity has done it before with earlier revolutions in agriculture, industry and IT. If we all change what we can, and better align with one another, we can meet these challenges and repurpose our food systems to both immediately nourish and also safeguard our survival as a species.
This decade is pivotal in determining the future we want – and need. We have run out of time; there are no more second helpings or chances. Millions of lives are literally on the (bread) line. As the pandemic has made brutally clear, we face these challenges together – and we must find solutions together, too.
The opinions expressed here are those of the authors and do not necessarily reflect the opinions or views of the Crop Trust. The Crop Trust is committed to publishing a diversity of opinions on crop diversity conservation and use.
This article is part of a series on sustainable food produced in collaboration with the Global Landscapes Forum.
Dr. Stefan Schmitz joined the Crop Trust as Executive Director in January 2020. Prior to his current role, Stefan was Deputy Director-General and Commissioner for the "One World – No Hunger" Initiative at the German Federal Ministry for Economic Cooperation and Development (BMZ), and chaired the Steering Committee of the Global Agriculture and Food Security Program (GAFSP).
Tony Simons has worked for over 30 years on issues at the agriculture/forestry interface. He has a PhD in tree genetics from Cambridge University (UK) as well as an Honorary Professorship in Tropical Forestry at the University of Copenhagen. He has published over 100 research papers and has mentored dozens of young scientists in developing countries. He also sits on various Boards and Investment committees including Global Restoration Council, ACTS, Livelihoods Fund and Tropical Landscape Finance Facility.