Serving Up Fruit and Vegetable Diversity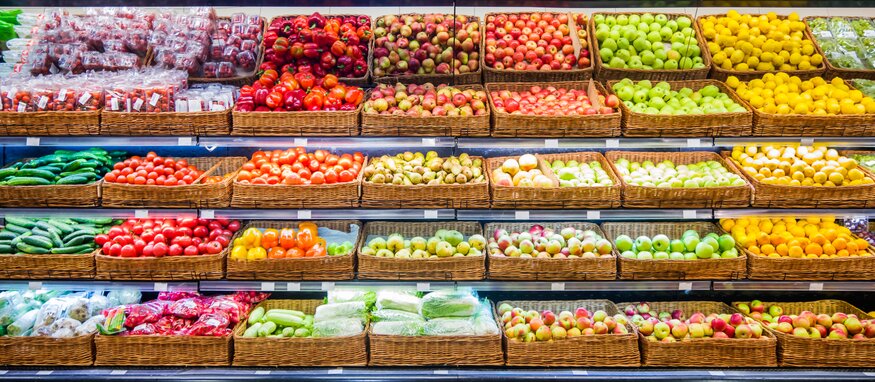 Fresh fruits and vegetables on shelf in supermarket. For healthy concept
11 March 2021
A healthy diet includes five servings of fruits & vegetables daily. Yet the cost of such a diet exceeds what the typical family spends on food in most countries in the Global South. Three billion people are therefore not eating healthily because they cannot afford to buy what they need to do so—and do not grow it for themselves, or cannot collect from it the wild.
To fix that, we need to cultivate, trade and eat more of as many as possible of these delicious, nutritious foods. That won't happen on its own. It requires supporting policies, research, messaging and partnerships.
Easier said than done, for sure. But 2021 is the International Year of Fruits and Vegetables, after all, so we have an unmatched opportunity in the next months to discuss what's holding us back, and hopefully start removing at least some of the most egregious blockages.
As ever, of course, it all starts with seeds. For this reason, the Plant Treaty and the Global Crop Diversity Trust came together back in February to organize an International Expert Panel on Fruit and Vegetable Genetic Diversity: The Status and Challenges of Conservation, Exchange an Use, sponsored by the Government of Italy. This is the second in an ongoing series of such gatherings.
So, what can we conservationists do to make sure everybody gets their five helpings of goodness?
The first thing to say is that nobody's going to get very far on their own. In a scene-setting presentation, Colin Khoury (Alliance of Bioversity International and CIAT) said that international interdependence on fruit and vegetable genetic diversity is the rule rather than the exception. He also called for better data, especially for less widely grown species, on the extent of cultivation, conservation and use of diversity.
With regard to use, Alice Ingabire of the Access to Seeds Index pointed out in her own introductory presentation that only a handful of seed companies have breeding programmes for vegetables based in Africa.
That could be better, of course, but there are in fact plenty of other things going on around the world on the conservation and use of fruit and vegetable diversity. We heard about some of these during the event, and you can catch up with the presentations and discussion here.
We heard about the global work of Organics International and the International Society for Horticultural Science, for example.
From the Americas, we heard about the Cultiva network linking organizations in the Iberian peninsula and Latin America, and about the "5 al dia" project in Peru, as well as the fruit genebanks of CATIE and of the United States.
From Africa, we heard about the remarkably successful, decades-long effort to promote indigenous greens, including by WorldVeg, as well as about the fruit tree genebanks of World Agroforestry, and its work with the African Orphan Crops Consortium.
From Europe, there was the example of the CGN genebank, with its pioneering collaboration with seed companies such as Rijk Zwaan, which also gave a talk. And the contrasting case of the Irish Seed Savers Association, with its unique funding model.
From Asia, there were interventions from the farmers' organisation Karnataka Rajya Raitha Sangha and the national genebank of the Philippines.
We even heard from the birthplace of agriculture itself, learning about the fruit collections of the Lebanese national genebank.
We heard about ex situ conservation in seed banks, field genebanks, nurseries, seed orchards and cryo tanks, and in situ conservation in protected areas, on farms, in school gardens and through the promotional activities of chefs.
We heard about the use of vegetable genetic resources in conventional breeding, in pre-breeding using wild relatives, and in the form of seed kits for displaced people. From Roger Leakey of the International Tree Foundation, we heard about a unique approach to the use of fruit tree genetic resources involving the domestication and asexual reproduction of selected genotypes.
Which is not to say that there are no gaps in such efforts. Apart from the need for better data, it is also clear that ex situ collections are not complete, especially for wild relatives and lesser known crops, and could be better safety duplicated. More systematic efforts are also needed to understand the specific challenges fruits and vegetables in particular, and underused crops in general, present for their conservation, use and availability.
For example, many fruits have recalcitrant seeds, and their long-term conservation in tissue culture and cryo needs much more attention globally. This will be the subject, in fact, of the next international panel, planned for May. It is also clear that phytosanitary capacity must increase if planting material of many fruits and vegetables is to be exchanged safely among researchers and delivered to farmers at scale. And none of this will matter if seed systems aren't fit for the purpose of delivering high quality seeds of diverse species to smallholder farmers.
Along with diversity in species and in approaches to their conservation and use, there is also huge diversity among the actors involved in such work around the world. We certainly saw that on the panel. Fruits and vegetables give us an opportunity to explore new models of conservation and use, linking public institutions, NGOs, amateur groups, farmers' associations and the private sector in innovative and, I dare say, fruitful ways.
The incredible diversity of fruits and vegetables means they can make a valuable contribution to nutrition and livelihoods in many different environments, production systems and markets. The range and diversity of the efforts to conserve and use their genetic resources around the world is similarly a source of strength, and a promise for the future in difficult times. If we support and strengthen them, we can help ensure that those five helpings of fruits and vegetables are accessible, affordable and available for the billions of our brothers and sisters who need them to lead a healthy life.
The International Year of Fruits and Vegetables offers a unique opportunity to encourage the integration of fruits and vegetables in national, regional and global biodiversity agendas and internationally agreed frameworks such as the Plant Treaty. 2021 will soon be gone, but our need for the genetic diversity of fruits and vegetables will always be there.
The opinions expressed here are those of the authors and do not necessarily reflect the opinions or views of the Crop Trust. The Crop Trust is committed to publishing a diversity of opinions on crop diversity conservation and use.