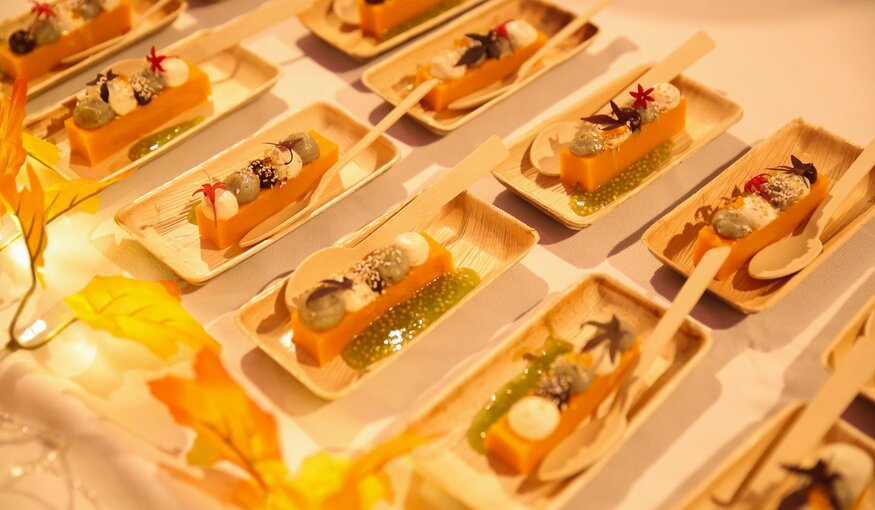 Chef Ralf Schlegel's Hokkaido Pumpkin Bar. (Photo: Crop Trust)
3 November 2022
This recipe celebrates the pumpkin while also bringing together other ingredients like amaranth, cucumber and yuzu for a tasty savory dish.
Hokkaido Pumpkin Bar
1,000g hokkaido pumpkin puree
100g grape seed oil
3 eggs
8g agar agar
Salt, pepper, nutmeg to taste
Blend all of the ingredients into a Thermomix at 212°F/100°C at speed 5 for 10 minutes. Fill into a silicone bar mold and cool down. When cooled, cut into portions and reheat in a 176°F/80°C.
Whipped Goat Cheese
100g goat cheese
50g goat milk
8g salt
5g espelette pepper
Combine all items together and put into a piping bag.
Pumpkin Seed Butter
160g pumpkin seeds
140g half and half cream
20g butter
Salt to taste
Blend all of the ingredients into a Thermomix at 158°F/70°C for at speed 10 for 10 minutes. Freeze in a Pacojet container, or high-speed blender. When the butter is frozen, spin it 2x and fill into a piping bag.
Black Garlic
50g black garlic
30g vegetable stock
Combine until it reaches the consistence of purée then fill into a piping bag.
Cucumber Ketchup
300g cucumber juice
10g star anise vinegar
10g yuzu
Salt to taste
1g xanthan
Soft boil 50g yellow mustard seeds in salt water. Once cooled, add to cucumber ketchup.
To Assemble:
Heat the pumpkin bar to 80°C in the oven, place on a plate, ppe dots of the goat cheese, black garlic and pumpkin seed butter on top. Spread the cucumber sauce around the pumpkin bar on the plate.
Garnish with sweet potato leaf and puffed amaranth.