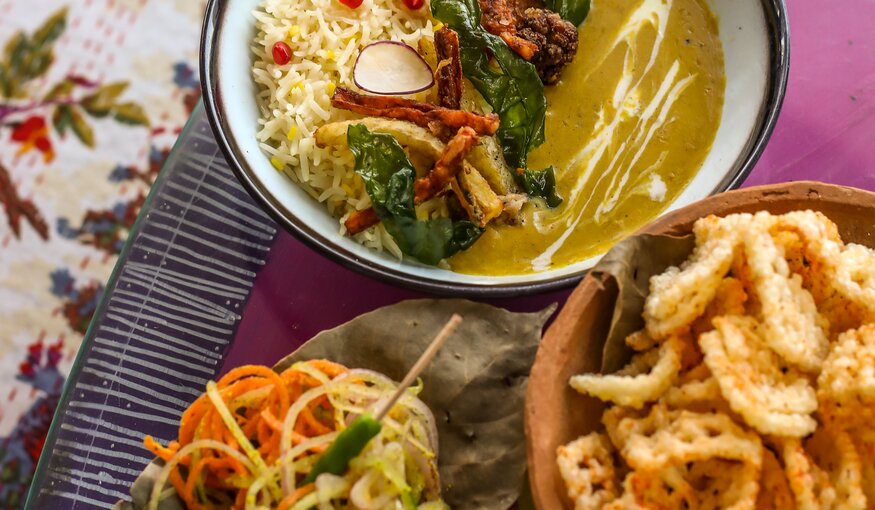 10 June 2022
Ingredients
1½ tsp vegetable oil
3 - 4 onions, chopped
10 g ginger, chopped
1 garlic clove, chopped
1 green chili, chopped
Few cardamom seeds
1 cinnamon stick
½ tsp turmeric powder
1 tsp cumin powder
1½ tsp coriander powder
30 - 40 g red bell peppers, diced
1 bay leaf
5 - 6 black peppercorns
100 g red lentils (masoor dal / moong dal), soaked for an hour
½ cup coconut milk
½ lime, juiced
1 tbsp tamarind pulp
1½ l vegetable stock
20 g apple, chopped
40 g carrots , chopped
1 medium potato, chopped
Salt to taste
Pepper to taste
2 - 3 sprigs fresh coriander leaves
Directions
Heat the pan with the vegetable oil and sweat the onion, ginger, garlic, and green chilies.
Add all the spices, whole and powdered, and cook for 3 to 4 minutes.
Then, add the soaked lentils, potato, apples, and carrots and sauté for 3 minutes.
Add the vegetable stock and tamarind pulp and simmer until all the vegetables and lentils are cooked.
Season to taste then blend the soup to a smooth puree.
Add the coconut milk, fresh coriander leaves and lime juice to finish the soup. Serve hot.