Wasa Wasa with Scotch Mango Aioli & Mushrooms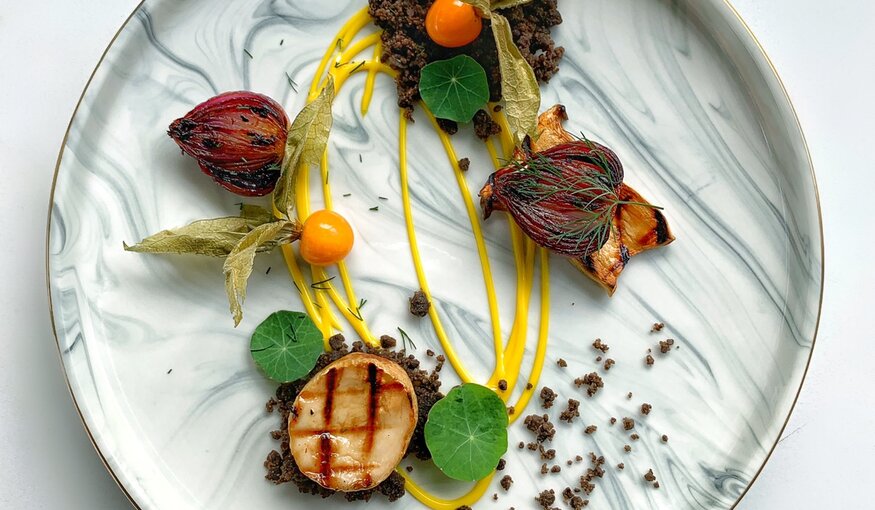 Ingredients
For the wasa wasa:
2 cups yam flour
1 tbsp garlic purée
Pinch of salt
½ tsp freshly ground black pepper
50 ml water
1 l water for steaming
For the scotch bonnet mango aioli:
3 yellow scotch bonnets
¼ cup fresh mango purée
4 cloves of garlic
1 cup olive oil
Pinch of salt
For the mushrooms:
1 trumpet mushroom
1 tsp liquid smoke
Pinch of Salt
Olive oil
Garnish:
Nasturtium leaves
Ground cherry
Dill
Chard onion
Directions
Pour a liter of water in a saucepan on medium heat and bring it to a boil. In a mixing bowl pour the yam flour, black pepper, salt, garlic and water. Use a fork to mix until the texture looks crumbled. Place a splatter guard on the boiling water and transfer the yam flour mixture on it and cover to steam for 15 minutes, stirring occasionally. While the wasa wasa is steaming, blend scotch bonnets, garlic, mango puree, olive oil and salt together until smooth and velvety, then set aside. Cut the trumpet mushrooms into any shape of your choice, season with salt, liquid smoke, olive oil and grill for 5 minutes. Plate and serve.