The International Agrobiodiversity Congress, 6-9 November 2016 - New Delhi, India
Event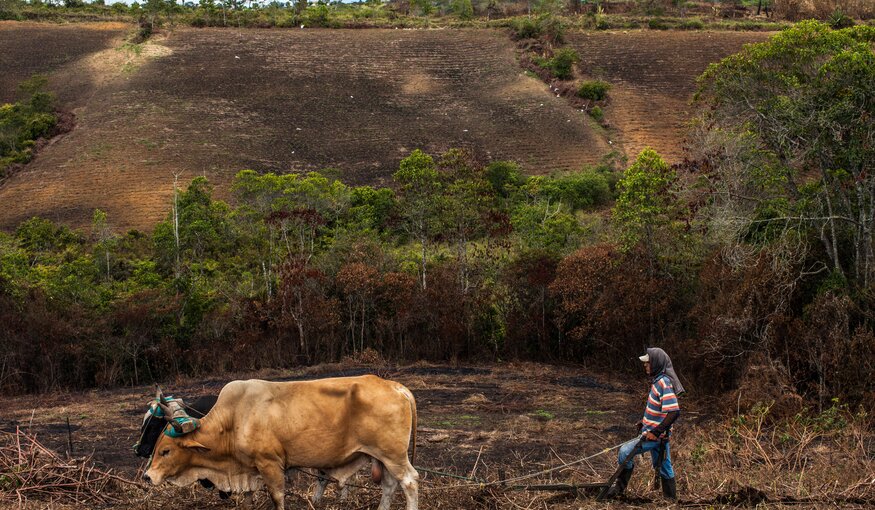 A farmer plows the land with oxen at the Agustina Farm in Morales, Cauca. A drought fueled by the El Niño phenomenon in 2015 forced farmers to delay planting cassava in Cauca, leaving fields bare far into the growing season. As such disruptions become more frequent under climate change, farmers will need more cassava varieties that are both drought tolerant and fast-growing enough to plant whenever the rain arrives.
The Crop Trust is excited to announce the very first International Agrobiodiversity Congress (IAC) to be held in New Delhi, India from November 6-9, 2016, featuring thematic scientific papers, poster presentations, and keynote speeches by a number of eminent speakers, including our very own Marie Haga, Crop Trust Executive Director.
A first of its kind, the Congress aims to engage stakeholders from every realm of genetic resource conservation and management to deliberate on the rational and effective use of agrobiodiversity for food, nutrition and environmental security.
The Crop Trust is honoured to be co-sponsoring and participating in the event which is being organized by the Indian Society of Plant Genetic Resources (ISPGR) and Bioversity International, in collaboration with Indian Council of Agricultural Research (ICAR), Protection of Plant Varieties, Farmers' Right Authority (PPV&FRA), Ministry of Agriculture and Farmers' Welfare, National Biodiversity Authority, Ministry of Environment, Forest and Climate Change, Trust for Advancement of Agricultural Science (TAAS), National Academy of Agricultural Sciences (NAAS) and the Global Crop Diversity Trust (GCDT).
Key themes of the Congress in New Delhi will include:
Agrobiodiversity for food, nutrition and ecosystem services
Agrobiodiversity for adaptation and mitigation of climate change
Intellectual Property Rights (IPRs), Access and Benefit Sharing (ABS) and farmers' rights
Quarantine, biosafety and biosecurity Issues
Conservation strategies and methodologies
Science-led Innovation for agrobiodiversity management and sustainable use
Capacity building and strengthening partnerships
Key Dates
Last day of Early Bird Registration: 31 August 2016
Last date of Abstract Submission : June 30, 2016
We encourage our partners and friends around the world to participate in this event, submit an abstract and/or actively participate in the discussion around agrobiodiversity conservation in order to safeguard our genetic resources and our food forever.
Download Program and Membership Details