The Vault for Global Food Security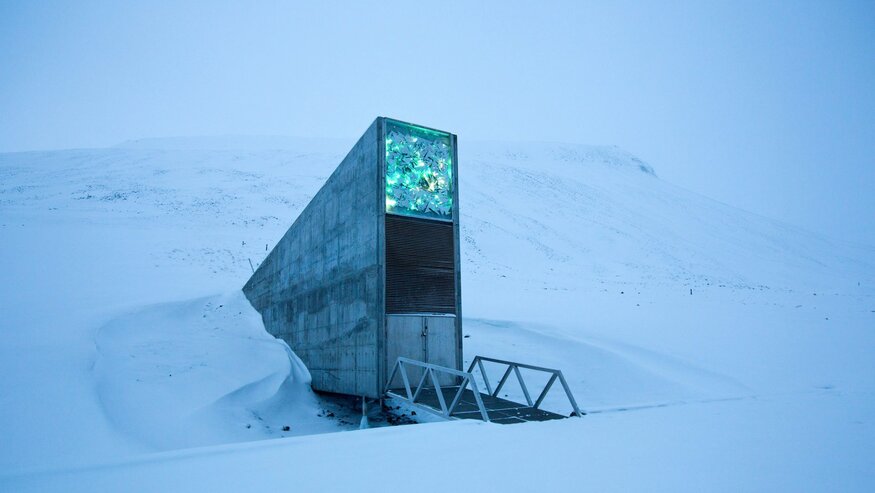 3 July 2020
Sayanti Sengupta | seventeen goals Magazine
The world population has been growing by leaps and bounds. How do we then ensure food security for all in the face of climate extremes and crop failures? The answer lies in plant seeds- and the reason why they deserve to be saved in a safe.
A three hours flight north of Oslo will take you to an inhospitable, cold, distant spot on the earth where even in July, temperatures are less than six degrees. Here lies Longyearbyen, the administrative centre of the Spitsbergen archipelago (Norwegian: Svalbard), belonging to Norway. Nearly 2,000 people live in this small town lying between the sea and snow-covered mountains. From one of the mountain slopes, a huge concrete block protrudes, equipped with an explosion-proof steel door. The perfect background in a James Bond film. Welcome to the best protected vault in the world: the Global Seed Bank of the Crop Trust.
Foundation fund for crop diversity
The seed vault is owned by the Norwegian Ministry of Agriculture and Food and was established as a service to the world community. It is managed by the Global Crop Diversity Trust. The mission of the Crop Trust is to conserve global biodiversity and preserve as much genetic material as possible.
A major task to which Dr. Stefan Schmitz has dedicated himself since the beginning of 2020 as Executive Director of the fund. Food security and the conservation of plant genetic resources have long been at the heart of his work. Previously, he was Deputy Director General and Commissioner for the initiative "One World - No Hunger" at the German Federal Ministry for Economic Cooperation and Development (BMZ), where he headed BMZ's work in the areas of food security, agriculture and rural development for more than 10 years.
"If we lose crop diversity, our food systems become less resistant to environmental and other shocks. Strengthening our food systems will not be easy," said the geo-scientist.
Read the full article .here