Top Chefs Cook up the Food of the Future: Hosted at Google's NYC Office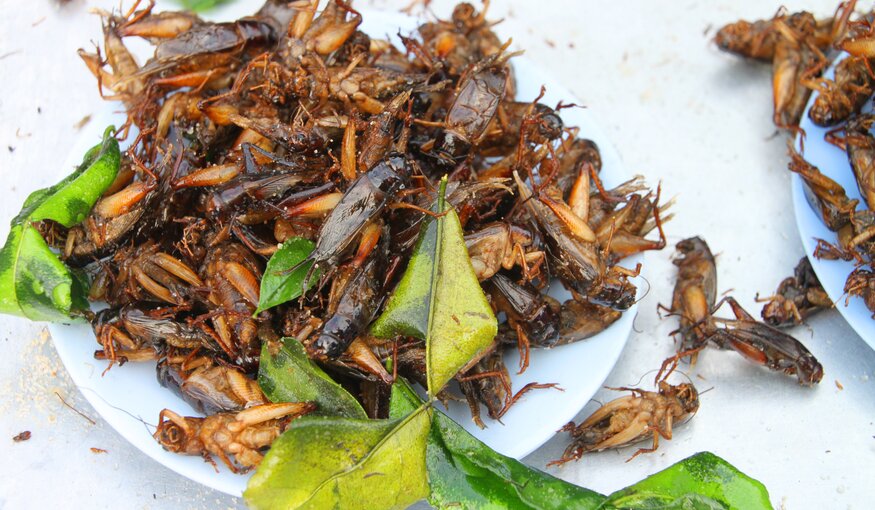 Fried crickets
25 September 2018
25th September – New York City, USA – Crickets, algae and unusual edible plants will be on the menu today as chefs and leaders from business and politics get together to taste the future of food at Google's office in New York City.
The Food Forever Experience NYC will showcase what we might be eating in 2050 if we embrace some of the weird and wonderful foods yet to break into the US culinary mainstream.
Notable chefs including Ray Garcia, Pierre Thiam and Umber Ahmad, will conceive and prepare inventive dishes using a range of curious and "rediscovered" ingredients. As well as bugs and algae, there will also be nibbles featuring crops such as kernza, a type of wheatgrass; the colorful Andean tuber ulluco; and bambara groundnut, a superstar among neglected crops.
The chef challenge, organized by the Food Forever Initiative, is one of a series of events taking place around the world to mark the United Nations Global Day of Action on the Sustainable Development Goals. The Food Forever Initiative is an awareness raising campaign linked to the UN's goal of achieving Zero Hunger.
"This promises to be one of the most innovative food events of the year," said Marie Haga, Executive Director of the Crop Trust, which runs the Food Forever Initiative, in partnership with the Government of the Netherlands and the UN Food and Agriculture Organization. "As well as a chance to experience new flavors, it is an opportunity to plant the seed for important conversations on the future of food."
The event at Google's offices in Chelsea will include a number of tasting stations where guests can sample and learn more about the ingredients.
Michiel Bakker, Director, Google Global Programs Real Estate and Work Services said: "The Food program at Google is committed to helping feed the world sustainably through our various workplace initiatives and collaborations with some of the food industry's leading organizations. Google is excited to partner and support the Food Forever experience that aims to raise awareness around sustainable foods and food security."
Many of the foods at the event feature in the Rediscovered Food Initiative, a campaign promoted by Food Forever, which is working to highlight the importance of forgotten and so-called underutilized crops.
"There are so many delicious, nutritious foods that the US food system is yet to fully embrace," said Douglas Gayeton of the Rediscovered Food Initiative. "An event like this can also shed light on their power to enhance biodiversity, respond to climate change, and provide communities with greater food security."
Erik Oberholtzer, participating chef and co-founder of restaurant chain Tender Greens, said: "I'm always searching for new sources of inspiration for the dishes we serve at Tender Greens, and as a consumer, I'm also concerned about the impact our food choices have on the environment and our health. The Food Forever Experience is a chance to show that the future of food can be nutritious, sustainable, exciting, and best of all, delicious."
Following the event at Google, guests are invited to sample a range of "Uncommon Cocktails" at the home of Susan MacTavish Best, author, founder and CEO of Living MacTavish, in SoHo, NYC. These diverse drinks will also feature unusual ingredients that could grace the cocktail glasses of the future.
Both events are strictly invitation-only. Please contact Allison Lank if you are interested in arranging interviews. You can follow the day's events using the hashtag #LetsPlantTheSeed.
Follow @FoodForever2020
***
Contact:
Allison Lank, E: Allison@mlc-pr.com O: 212-807-9999
Cierra Martin, E: Cierra.martin@croptrust.org C: +1 816 863 9610
Media Kit: bit.ly/Food-Forever-Media-Kit
Participating chefs and featured crops
Dan Kluger: Bambara groundnut
Erik Oberholtzer: tepary bean
Floyd Cardoz: jackfruit and amaranth
Matthew Delisle: tiger nuts and chayote
Michael Wurster: oca, finger millet, salsify, arrowroot and saltwort
Pierre Thiam: fonio
Ray Garcia: edible insects and ulluco
Selassie Atadika: teff
Suzanne Cupps: moringa and algae
Umber Ahmad: kernza
The Food Forever Initiative works to highlight the urgency of safeguarding and using crop and livestock diversity in support of Target 2.5 of the United Nations Sustainable Development Goal on Zero Hunger. It is led by the Crop Trust, the Government of the Netherlands and the United Nations Food and Agriculture Organization (FAO), and implemented in partnership with high-level Champions from politics, business and civil society as well as a diverse set of relevant partner organizations. The initiative is chaired by the Vice President of Peru, Mercedes Aráoz. www.food4ever.org
The Rediscovered Food Initiative is a collective action led by the Lexicon of Sustainability, a US-based NGO that provides communications strategy on food and agriculture with a focus on sustainability. It works in partnership with the Food Forever Initiative and other stakeholders around the world to bring much needed awareness to the diversity in food systems. The Lexicon conceived Rediscovered Foods as a campaign to highlight 25 forgotten smart foods which could feed the world in 2050. The campaign will share success stories of farmers, scientists and chefs from 14 countries. www.thelexicon.org/rediscovered/
Tender Greens was created and founded in Culver City, Los Angeles in 2006 by fine dining alums Erik Oberholtzer, David Dressler and Matt Lyman who met while working at the esteemed luxury hotel Shutters On The Beach. On their days off, the three couldn't afford to eat the type of food they had become accustomed to cooking, while the widely available and affordable option was unhealthy, fast food. Tender Greens was created to meet this need and "democratize" fine dining food, making it delicious, healthful, seasonal and affordable. Tender Greens revolutionized what "fast food" meant, pioneering a new category of healthy yet accessible restaurants, and ultimately paved the way for a slew of other farm-to-fork concepts. Beyond its flavorful food and warm hospitality, Tender Greens continues to attract a loyal local following thanks to the founders' progressive thought-leadership, commitment to its communities, 360° commitment to sustainability, and value in innovation with their farming partners. www.tendergreens.com.
***