Battling Biotic Stress in Farmers' Fields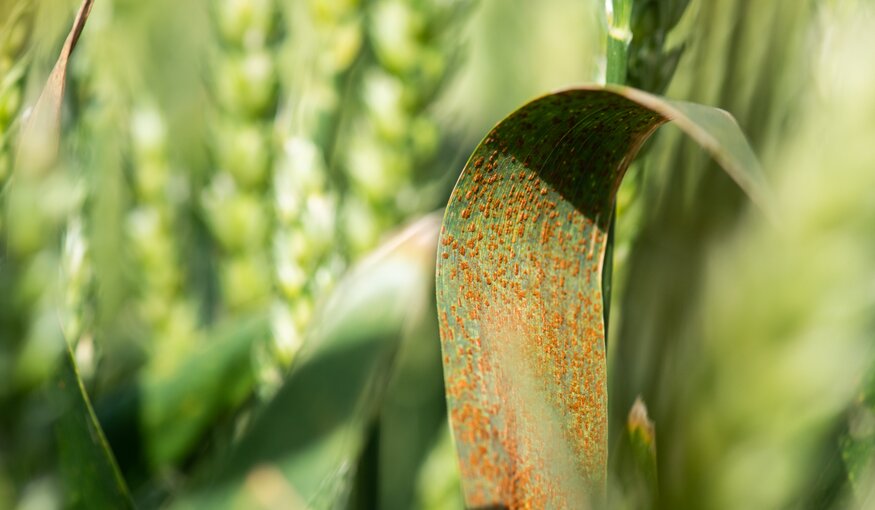 2 February 2021
Crops are often threatened by a range of unfriendly organisms, including various kinds of bacteria, fungi, insects and weeds. These plant predators hamper efforts to adapt agriculture to climate change because they often thrive in warmer environments and attack crops that can survive under harsh conditions. So, it's a constant struggle for supremacy in farmers' fields between crops and their attackers.
Conserving plant diversity in genebanks plays an important role in this battle, enabling breeders to access novel diversity to produce new crop varieties with traits useful in combating the depredations of pests and diseases. Often, these are obtained from the wild relatives of crops. Pre-breeding—the process of identifying and isolating these traits and incorporating them into existing crop varieties—broadens the pool of useful genes. It's been compared to crossing a housecat with a tiger to get the best characteristics of both.
Three studies recently looked at wild relatives that could help finger millet, barley and grasspea to withstand threats from biotic stressors— those harmful organisms. The results were published in a special issue of the journal Crop Science as part of the Crop Trust's Crop Wild Relatives (CWR) Project, a global initiative on adapting agriculture to climate change, supported by the Government of Norway.
"Pathogens, pests and weeds are among the major causes of crop loss and yield decreases, particularly in the developing world," says Benjamin Kilian, manager of the CWR Project at the Crop Trust. Plant diseases cost the global economy about USD 220 billion each year, and weeds may cause as much as 30 percent of crop yield losses in least developed and developing countries, according to the Food and Agriculture Organization of the United Nations.
One of the studies concentrated on finger millet, which is mostly grown in eastern Africa and India, and is more nutritious and hardy than many other cereal staples. A team in Kenya found that wild finger millet was generally more resistant than the cultivated crop to a devastating disease caused by the fungus Magnaporthe grisea. Finger millet pre-breeding programs in Uganda, Tanzania and Ethiopia—funded by the Templeton World Charity Foundation and led by the Crop Trust—will benefit greatly from using genes from the wild finger millet identified in the study, the authors write.
"These findings mean that new sources of resistance can be developed and officially released to farmers to reduce the incredible losses they experience because of this disease," says Damaris A. Odeny, Head of the Biotechnology Unit at the International Crops Research Institute for the Semi-Arid Tropics (ICRISAT) in Nairobi, and principal investigator of the finger millet pre-breeding project.
A second study focused on barley, the fourth-most important cereal grain, used for food, beverages and animal feed. A group of 13 scientists based in Rabat, Morocco tested crop wild relatives from the genebank of the International Center for Agriculture Research in the Dry Areas (ICARDA) in Lebanon. They found that one wild barley relative, Hordeum vulgare ssp. spontaneum, showed high resistance to bacterial and fungal diseases. As a next step, ICARDA has been working with partners at the National Institute for Agricultural Research in Morocco (INRA‐Morocco) to cross seeds from wild barley relatives with cultivated varieties; the resulting, improved seeds will be shared with partners worldwide.
The third study dealt with grasspea, a food and forage crop highly valued in southern Asia, and parts of sub-Saharan Africa and the Mediterranean region. This nutrient-rich legume is useful for adaptation to climate change because of its tolerance to drought, waterlogging and salinity. Last year, 10 scientists from Morocco and Tunisia identified complete resistance in wild grasspea species to two forms of parasitic broomrape, an aggressive weed. These results may revive the crop's cultivation in some Mediterranean countries, where it has been abandoned because of such weeds, according to the authors.
"Climate change is forcing breeders to look for resilience traits in crop wild relatives to overcome challenges to food security," says Kilian, who also served as associate editor of the special issue. "Breeding improved varieties of barley and grasspea contributes to this process. Farmers will be able to grow them on their own or as part of mixed cropping systems. This is a promising adaptation solution to the effects of a warming planet."
Improving crops with traits from their wild relatives is vital to helping them withstand the pathogens and pests that threaten the world's food supply. By connecting genebanks, plant breeders and farmers, pre-breeding projects like these can support community livelihoods and help ensure nutritious diets into the future.
The next blog post in this series will cover research published in the recent special issue of Crop Science that deals with characterizing and evaluating crop wild relatives and the products of breeding them with established crop varieties.