BOLDly Regenerating Crop Diversity in Nigeria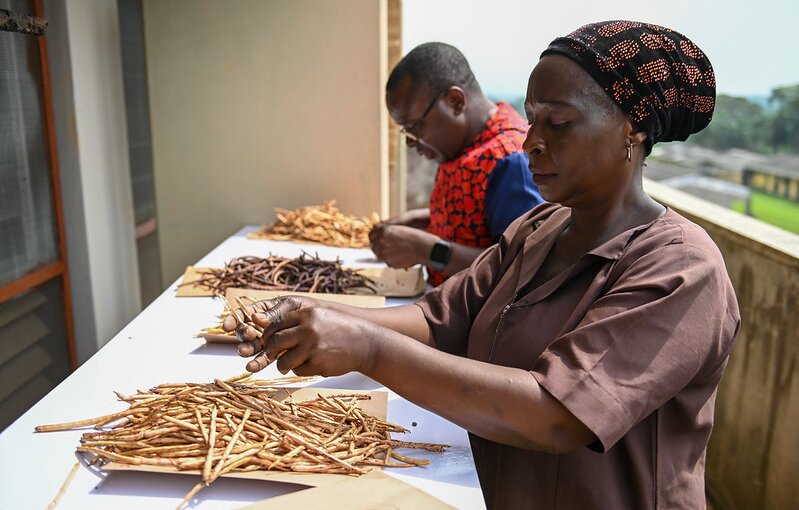 Crop conservation activities at the genebank of the Faculty of Agriculture at Obafemi Awolowo University (OAU) in Ile Ife, Nigeria, a partner of the Biodiversity for Opportunities and Livelihoods (BOLD) project in Nigeria. (Photo: Neil Palmer for the Crop Trust)
20 June 2023
Reducing risks to genebanks in Nigeria and Benin is one of the objectives of the Biodiversity for Opportunities, Livelihoods and Development (BOLD) project.
---
When the lights went out during the launch ceremony of the BOLD regeneration project at Obafemi Awolowo University (OAU), Ile Ife, Nigeria, it was as if the powers that be had conspired to make a point.
While the electricity was quickly restored, power cuts are a major risk for many crucial activities in developing countries, including Nigeria, where the national grid is notoriously unreliable. Crop conservation is no exception. Genebanks tend to rely on freezers to provide the cold conditions needed for effective seed storage. Without power, the freezers stop working. And seeds can then die.
Anyone touring OAU's Faculty of Agriculture could quickly grasp what was at stake. There are a series of laboratories and seed storage rooms, one with a chest freezer full of repurposed soda bottles containing seeds of crops such as pigeonpea, yam bean and peanut. In the same lab, staff tend to cowpea seedlings, while out on the balcony recently harvested seed pods dry in the morning sun.
Rudimentary though it may seem, this is a life-support system for hundreds of indigenous Nigerian vegetables and legumes varieties. These plants can be highly nutritious and are well adapted to local conditions. They have co-evolved with farmers for hundreds or even thousands of years.
But many are no longer grown and have been replaced by non-local varieties or simply abandoned in favor of cereal crops.
Yet some contain useful characteristics, such as resistance to drought and pests. Those are traits of growing interest as the country adapts to climate change. Without the seed samples safely conserved in genebanks, they might never be accessible to farmers or used by scientists developing more resilient varieties. At worst they face extinction, and an unreliable power supply makes that ever more likely.
Victoria Adeyemi Tanimonoure, an agricultural economist at OAU, lamented the country's erratic electricity supply, recalling times when there was no power on campus for more than a month, resulting in the loss of valuable conserved seed.
Reducing risks to genebanks in developing countries is one of the objectives of the Biodiversity for Opportunities, Livelihoods and Development (BOLD) project. BOLD is a 10-year effort that aims at strengthening food and nutrition security worldwide by supporting the conservation and use of plant genetic resources for agriculture.
OAU and the Osun State University (UNIOSUN) in Nigeria were launching their BOLD Project activities as the lights went out. They and other national partners will benefit from funds to regenerate and safety-duplicate seed samples of food plants including maize, sorghum, fonio, millet, rice, pepper, okra, Bambara groundnut and other local legumes and indigenous vegetables. Funded by the Government of Norway and led by the Crop Trust, BOLD contributes to United Nations Sustainable Development Goal 2.5 on the conservation and use of genetic resources.
One of the first things the partners at OAU and UNIOSUN were able to do under the project was purchase a backup generator for OAU's Department of Crop Production and Protection, to ensure the seed freezers keep running. This gives genebank staff breathing room while they work on the main activities of the initiative: regenerating seeds and sending duplicate samples to other localities for added safety.
Regeneration involves the periodic planting of conserved seed in order to harvest new seed and renew seed stocks. It's a critical activity for genebanks because, over time, conserved seed will die, and quickly, if not kept under optimum conditions.
It's more than a hypothetical risk.
In neighboring Benin, genebank staff recently attempted to multiply a pigeonpea collection. None of the seeds germinated. Poor storage conditions had reduced the viability of the seeds to zero. The BOLD project is now also working with the Benin genebank in its efforts to re-collect samples and rebuild its collection.
Regeneration activities are affected by a range of factors. Labor for tending to field sites can be expensive for genebanks, which tend to operate on shoestring budgets; availability of water for irrigation is a constant challenge; and poor seed handling can result in the accidental mixing of samples, undermining the genetic integrity of collections. BOLD in Nigeria, Benin, and the other 27 countries where it is helping genebanks in this work, aims to support regeneration work on multiple fronts, with the aim of ensuring individual genebanks have sufficient, viable stocks for conservation, for distribution to farmers, breeders and researchers, and for safety duplication.
Duplicating for calamity protection
Genebanks should conserve duplicate seed samples off-site, in case any calamity should befall the main collection – be it an earthquake, fire or failed freezer. In Nigeria, the National Centre for Genetic Resources and Biotechnology (NACGRAB) in Ibadan houses the country's national genebank and will provide this first-level backup for other Nigerian project partners. It is home to climate-controlled seed rooms containing samples in tubs and foil packets, an in vitro facility for vegetative samples, field sites conserving and multiplying live plants, and a cold room that freezes seeds to minus 20°Celsius, which is the international standard for long-term conservation. Importantly, NACGRAB has its own electricity generator. And that means the seeds in the cold rooms remain safe even when the main grid shuts down.
OAU and UNIOSUN, as well as other BOLD partners in Nigeria, will back up key seed collections at NACGRAB as part of the project. These are the Ahmadu Bello University (ABU, Zaria); the Biodiversity and Education and Resource Centre (BERC) Abuja; and the National Horticultural Research Institute (NIHORT), Ibadan. The project will also support the genebanks to send copies of some of their seed collections to the Svalbard Global Seed Vault as an additional backup.
"The collections the Crop Trust is supporting with the BOLD Project are some of the most vulnerable in the world," said Beri Bonglim, a project specialist at the Crop Trust who is coordinating the BOLD Project's regeneration and safety duplication grants. "Their seed collections hold important diversity for responding to the challenge of climate change and the need for nutritious local food. Through BOLD, we're helping to ensure their collections remain alive, secure and accessible to all who need them."
BOLD (Biodiversity for Opportunities, Livelihoods, and Development) is a major 10-year project to strengthen food and nutrition security worldwide by supporting the conservation and use of crop diversity. The project works with national genebanks, pre-breeding and seed system partners globally. Funded by the government of Norway, BOLD is led by the Crop Trust in partnership with the Norwegian University of Life Sciences and the International Plant Treaty.