Collaboration Vital to Conservation of Coffee Genetic Resources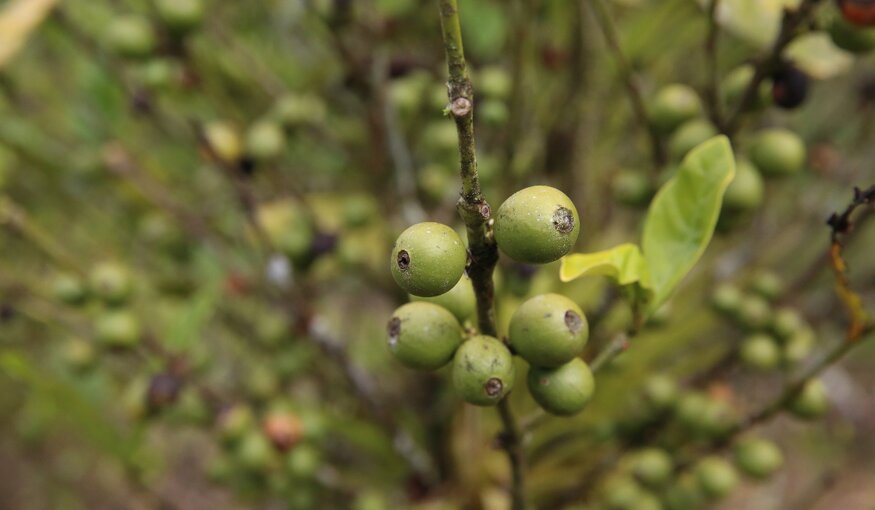 20 July 2021
The state of the global coffee industry was thrown into the public eye this summer as two of the world's largest coffee exporters faced dire situations: drought and frost threatened crops in Brazil and surging COVID-19 cases in Vietnam led to export restrictions at the Ho Chi Minh port.
But within the coffee community, the fragility of global supplies is well understood.
Though we enjoy coffee throughout the world and it is a multi-billion-dollar global industry that supports the livelihoods of millions of people throughout Latin America, Africa and Asia, it is also highly vulnerable to climate change.
To build resilience to climate change and other threats, greater cooperation within the global coffee community is urgently needed.
This was the starting point for the Global Coffee Genetic Resources Workshop, a virtual conference held in July that brought together key stakeholders from 16 different countries to build upon the Global Strategy on Coffee Conservation, which was developed by the Crop Trust and World Coffee Research and released in 2017.
The four-day event, supported by the USDA Foreign Agricultural Service (FAS), resulted in an updated set of priority actions for the global coffee community, including developing a global coffee platform and rationalizing key collections, which will initially focus on the four 'Origin Collections' of coffee.
The full list of priority actions will be outlined in a forthcoming workshop report.
"It was not the easiest workshop to hold virtually, with so many different stakeholders discussing both the highly technical issues as well as the broad consensus-building on future actions. But we have started this global conversation and that already is a win," said Paula Bramel, scientific advisor to the Crop Trust and co-author of the global strategy.
New Varieties Needed to Build Coffee Resilience
While there are 125 coffee species, the global industry relies heavily on just a few varieties from two species: arabica and canephora. Arabica, which offers highly sought-after aromas and tastes, accounts for roughly 60 percent of coffee production worldwide, according to the strategy.
"Conserving genetic diversity is vital because arabica itself has very limited genetic diversity. To expand its resilience, we need to tap into other species of coffee and confer some of their useful traits to those varieties grown by farmers," said Sarada Krishnan, Director of Horticulture and Global Initiatives at the Denver Botanic Gardens and co-author of the global strategy.
Increasing access to such improved varieties will directly benefit coffee growers, who are struggling against a changing climate to meet growing coffee demand.
The ability to develop and share improved varieties, however, depends on the ability to conserve diversity. Coffee has three key genebank collections that mainly conserve local, unique accessions and their main focus is long-term conservation, called the 'Origin Collections'. These are the Choche Field Genebank (Ethiopian Biodiversity Institute), Fofifa Kianjavato Coffee Research Station (Madagascar), Centre National de la Recherche Agronomique Coffee Genebank (Cote d'Ivoire).
In addition, the Tropical Agricultural Research and Higher Education Center (CATIE) coffee collection in Costa Rica complements these origin collections. Although it mainly conserves seeds of international coffee varieties, this genebank has a special status as the only international collection that shares its materials internationally.
And the Origin Collections face numerous challenges, including ageing coffee trees, a lack of funding and the loss of institutional knowledge when key staff retire.
Priority Actions Stress Need for Unified Approach
As the Crop Trust and World Coffee Research work to raise USD 25 million in funding to support the four collections long-term, participants from the recent workshop highlighted several other areas for global collaboration to address key challenges, including the urgent need to replace old trees and back-up collections.
Participants also raised the need for collecting missions to fill gaps in their collections and to further evaluate conserved resources for valuable traits.
Ultimately, they agreed on an updated set of priority global actions, such as strengthening genebank infrastructure and capacity to meet global conservation standards.
Participants also highlighted the need to share both data and genetic resources to increase utilization.
"It is important that the genetic resources of coffee do not simply remain in the genebank but are multiplied, shared and used to improve coffee productivity and quality," said Ehsan Dulloo, a genetic resources expert with Bioversity International.
Shared Experiences Highlight the Value of Rationalizing Collections
While ensuring access to the resources they protect is a critical aspect of every genebank's mandate, to fulfil it, genebanks must first properly conserve the genetic materials in their care.
The workshop offered an invaluable opportunity for genebank staff to improve conservation through collaboration and expertise exchange.
"This collaboration would not exist otherwise today, and it is crucial to foster it before we lose a large portion of the conserved genetic resources that are also being threatened in the countries of origin through the reduction of natural forests," said Dominique Dessauw, researcher and genebank manager at CATIE.
Participants learned about the work Brazil's Instituto Agronomico do Parana (IAPAR) is doing to characterize and evaluate its collection, and the success of its breeding program, through which they found samples of wild Ethiopian coffee resistant to drought, coffee leaf rust and toxic aluminium.
Biodiversity International's Dulloo also presented the results of an in-depth study of CATIE's collection, which was enthusiastically received by participants. The CATIE study, which can be used as a model by other genebanks, aimed to rationalize the collection and identify key actions to improve conservation.
Alongside the exchange of knowledge, enhanced collaboration could allow for a greater exchange of "different coffee germplasm useful in the various breeding programs for widening our genetic diversity and developing new coffee varieties," said Jane Cheserek, a research scientist at the Kenya Agricultural and Livestock Research Organization (KALRO).
But genebanks cannot carry the burden of conservation and development of improved varieties alone.
Industry participation—including industry funding—will be crucial moving forward, said Krishnan. After all, diversity is the foundation of each and every actor involved in the coffee industry.