Crop Diversity: A Tasty Way for Keeping Our Options Open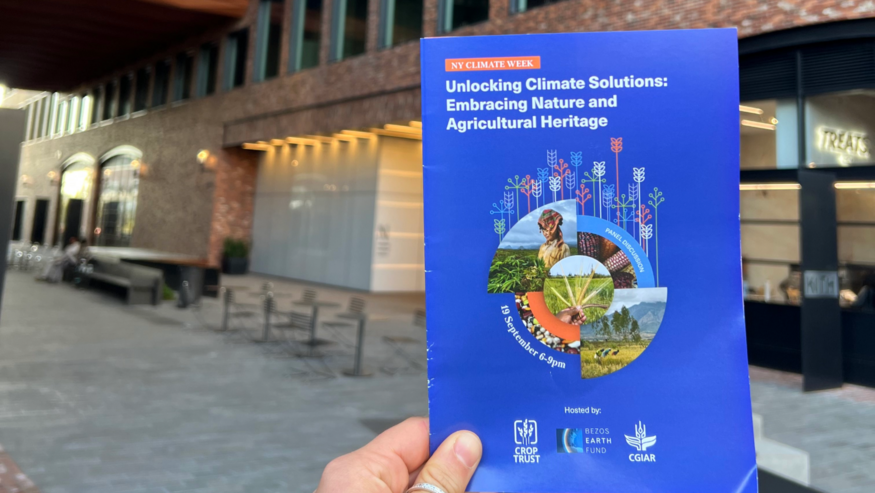 The Unlocking Climate Solutions: Embracing Nature and Agricultural Heritage event was held at Mindspace in Brooklyn, New York City. Photo: Bailey Cate/Crop Trust
22 September 2023
On 19 September, scientists, policymakers and other crop diversity enthusiasts, flocked to Mindspace in Williamsburg, one of Brooklyn's foodiest neighborhoods, to address one of the most pressing challenges of our time—how to protect our food from the ravages of climate change.
Crop diversity is often overlooked in climate discussions, yet it's crucial to adaptation: we need diverse crops to meet the needs of current and future generations. The climate crisis poses a grave threat to global food systems. Crop failures and poor yields mean lost and blighted lives, migration, and conflict. We must act to adapt agriculture to climate change, or risk disaster.
On the sidelines of NY Climate Week, the Crop Trust, Bezos Earth Fund, and One CGIAR brought together experts to discuss concrete solutions at the Unlocking Climate Solutions: Embracing Nature and Agricultural Heritage event.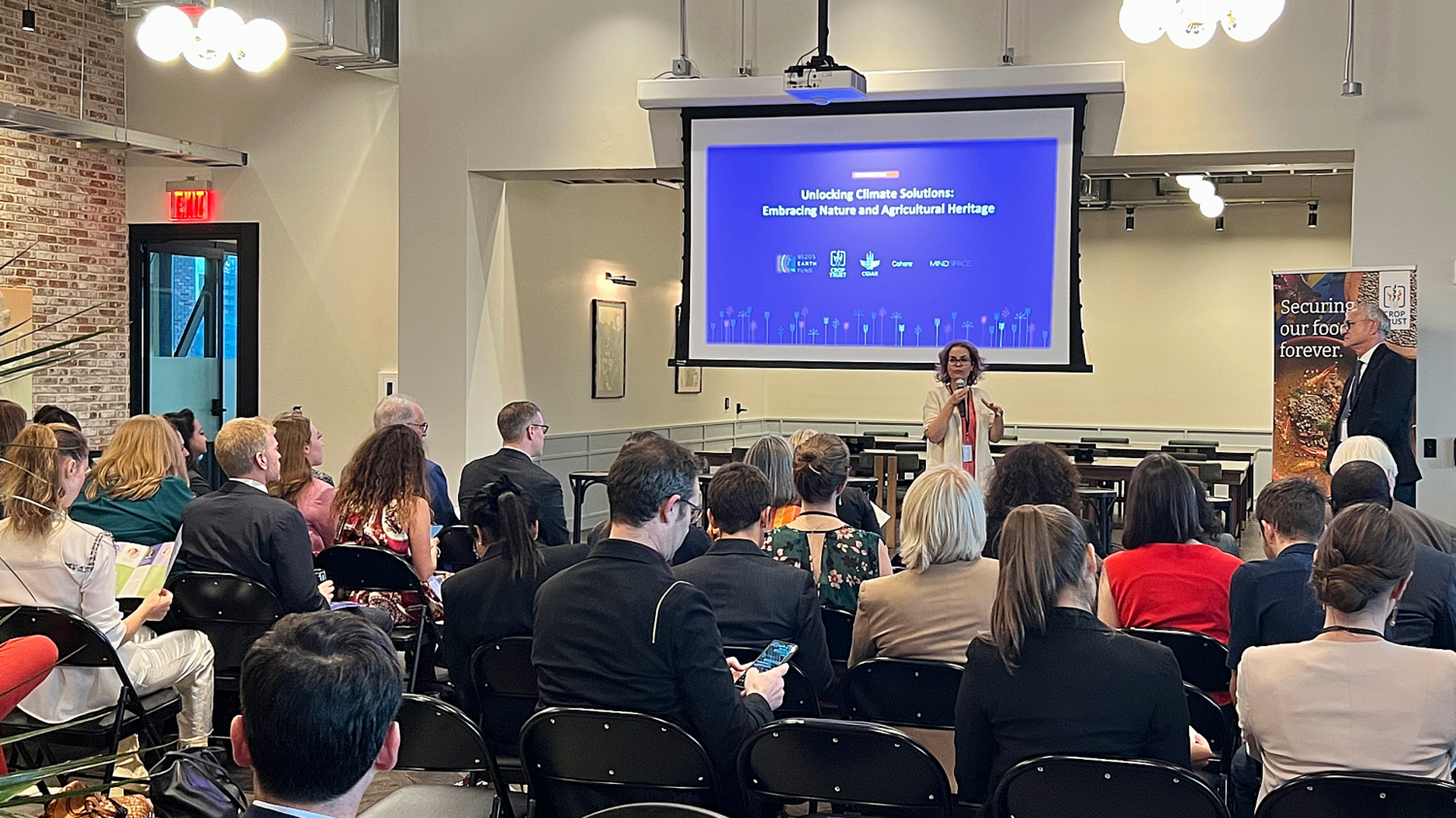 "At this point in time, [conserving crop diversity] is no longer a luxury; it's a must. We have to do it. If we want farmers to continue farming, and if we want to adapt to the shifting climate," said Ismahane Elouafi, Chief Scientist of the Food and Agriculture Organization of the United Nations (FAO), as the audience settled into their seats after beating rush hour traffic.
"If we had not kept our options open by actually conserving our genetic diversity, we wouldn't even know what we've lost. Now for the first time in human history, we're going to have to produce a lot more healthier and equitably shared food using less land, water and with less inputs, but with hopefully more diversity. We're in a position, thanks to wonderful partners like the Crop Trust, Bezos Earth Fund, Norway and Germany," added Andrew Campbell, Interim Executive Managing Director of CGIAR.
The Crop Diversity Endowment Fund keeps our options open, in perpetuity. Managed by the Crop Trust, it invests money in a diverse range of low-risk financial instruments to generate sufficient returns to secure key collections of crop diversity in genebanks worldwide. The Endowment Fund currently supports eleven collections of global and regional importance, for example, those of cowpea, Bambara groundnut and maize housed at the International Institute for Tropical Agriculture (IITA) in Nigeria, those of beans and forages conserved by the Alliance of Bioversity International and CIAT in Colombia and that of rice diversity safeguarded by the International Rice Research Institute (IRRI) in the Philippines.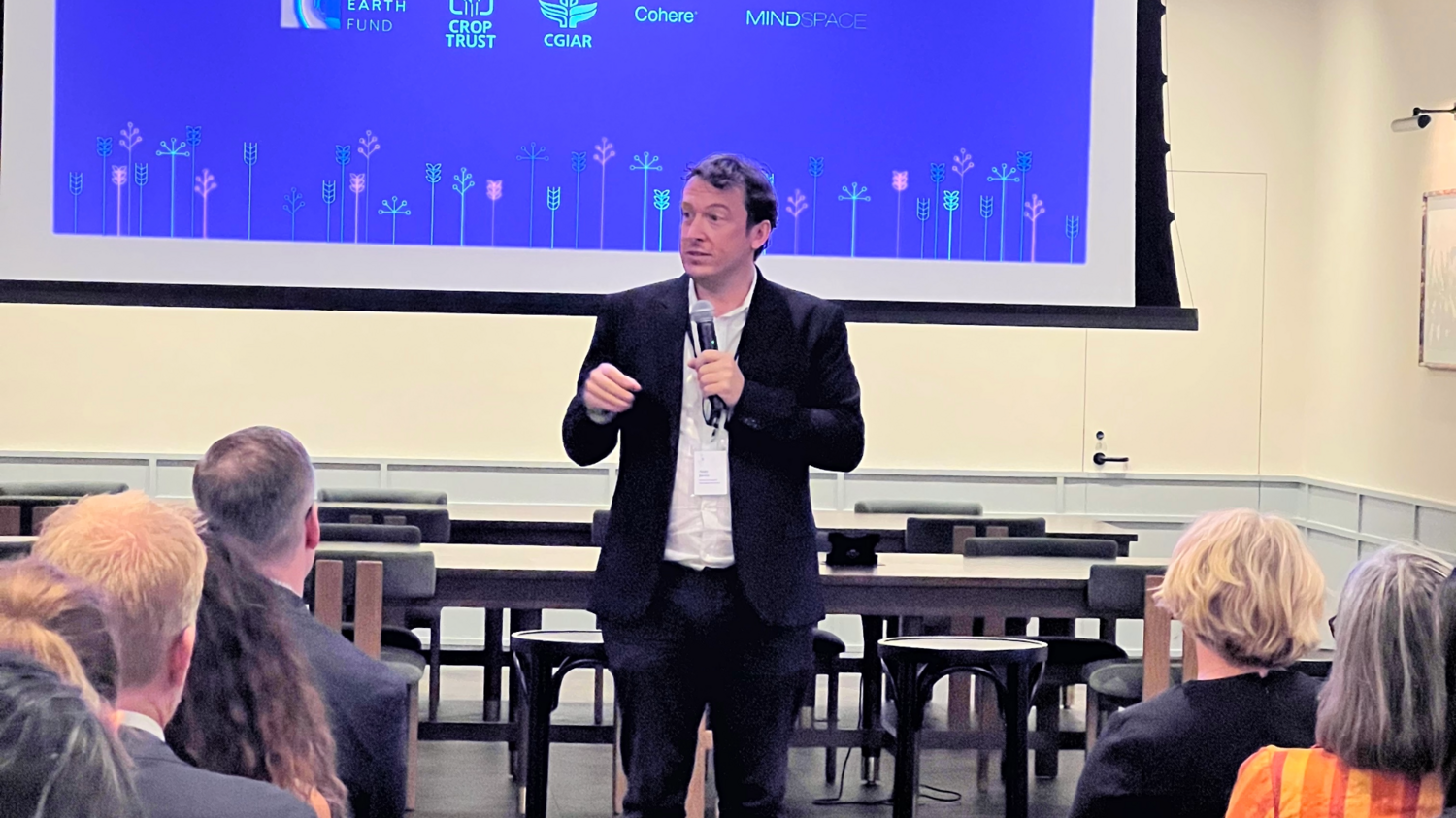 At the event, Andy Jarvis, Director for the Future of Food at the Bezos Earth Fund, announced a new contribution to the Endowment Fund: "Crop diversity collections are the world's ultimate public good, and probably the most underinvested one at the same time. We are excited to announce a USD 440,000 commitment to the Crop Trust's endowment through Bioversity International, USA. The fund plays a pivotal role in the conservation of crop diversity in genebanks. This contribution embodies our shared responsibility to safeguard the genetic diversity that underpins our agriculture, enabling us to navigate the challenges of climate change with adaptability and resilience. Investing in the conservation of crop diversity means investing in lasting innovative solutions."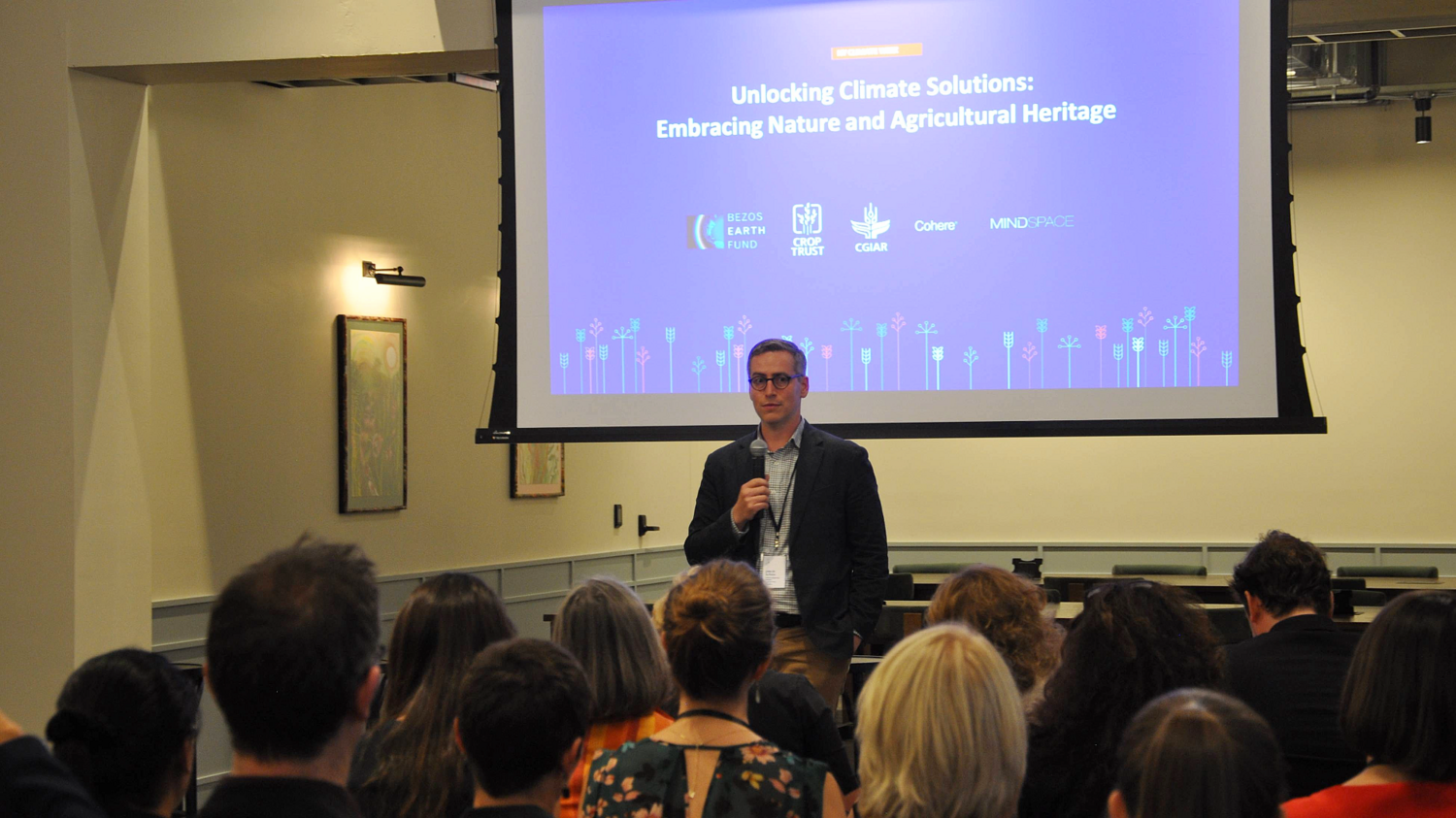 John de la Parra, Director of the Global Food Portfolio, announced The Rockefeller Foundation's support of regenerative agriculture practices, which enhances yields while maintaining soil health: "The Rockefeller Foundation is pleased to provide CGIAR with USD 500,000 to expand research on regenerative agriculture in Kenya and Colombia. This grant builds upon The Rockefeller Foundation's longstanding and continued support for agricultural research and innovation, including through the Periodic Table of Food and Good Food U. Specifically, this grant will enhance regional and global knowledge around the nutritional composition of regeneratively produced foods and the adoption of regenerative agriculture systems."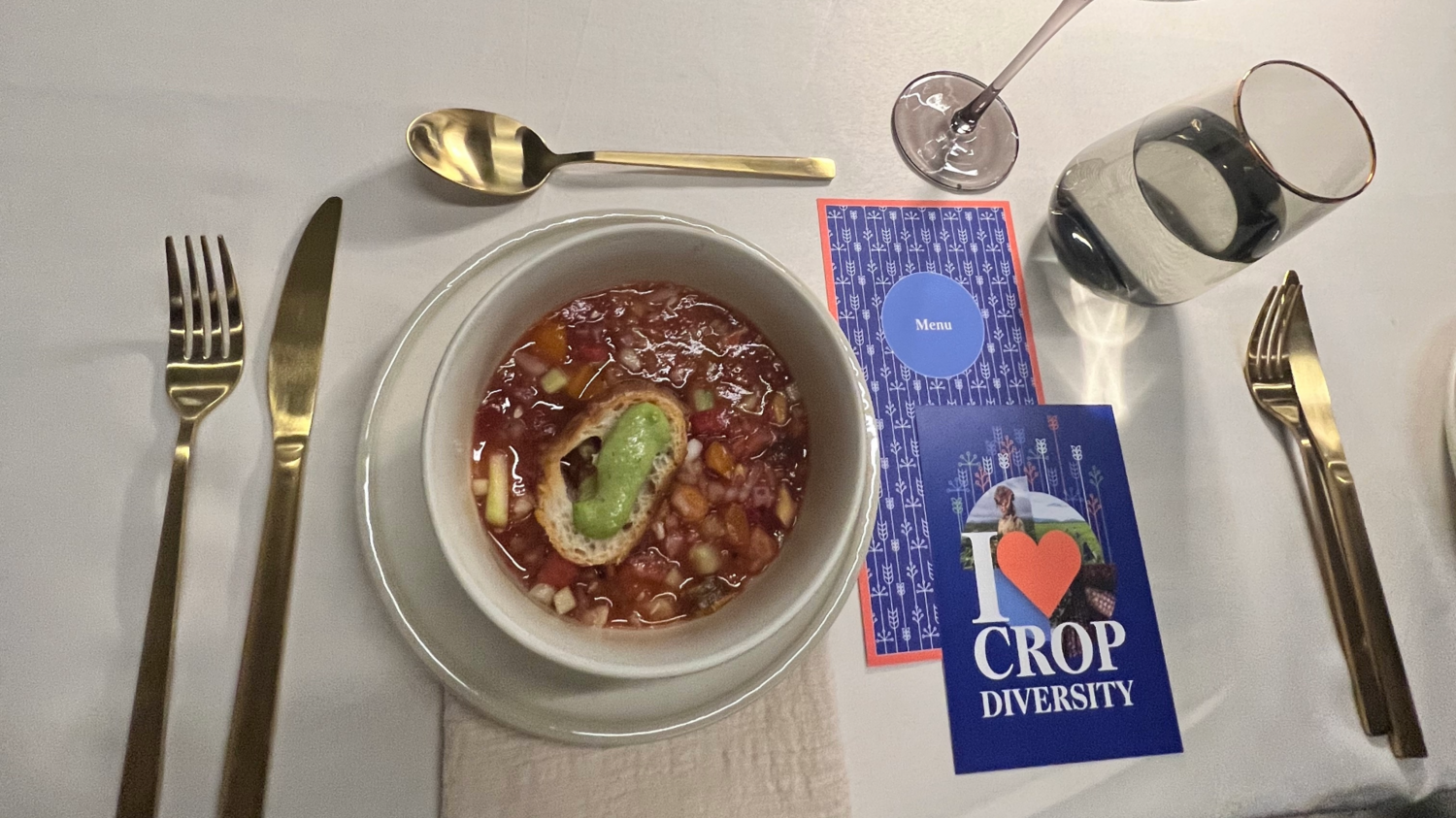 Co-organized by the creative masterminds of Cohere, the event adjourned to beautifully set tables overlooking Midtown Manhattan, giving the attendees the chance to reflect on the significance of preserving crop diversity over a colorful and delicious meal served by chef Erik Oberholtzer. "As a chef, the complexity of flavor, texture and nutrition of my food relies on the diversity of ingredients available," he said. "Whether we dive deep into the endless variations of heirlooms or venture far to unlock the magic of obscure ingredients such as amaranth, protecting the world's diversity is key to a delicious future." And a sustainable one.
"I think that after today's dynamic discussions and delicious dinner, we all left with the strengthened conviction that seedbanks and the diversity they house are the key to transforming our agri-food systems," said Stefan Schmitz, Executive Director of the Crop Trust. "I look forward to deepening this dialogue at the pre-COP28 Global Crop Diversity Summit we're co-hosting with the International Plant Treaty in November."
---
CGIAR is a global research partnership for a food-secure future. CGIAR science is dedicated to transforming food, land, and water systems in a climate crisis. Its research is carried out by 13 CGIAR Centers/Alliances in close collaboration with hundreds of partners, including national and regional research institutes, civil society organizations, academia, development organizations and the private sector. We would like to thank all Funders who support this research through their contributions to the CGIAR Trust Fund.
Cohere is a boutique agency that has been at the intersection of place + food for over 15 years, creating brand experiences that inspire action. They are entrusted by restaurateurs, real estate developers and founders to leave a lasting impact. Their creative team consists of designers, storytellers, content creators and even Chefs, to increase the "cohesion" or connected parts to the vision of the project. They have offices in NYC, PHL, BAL and are opening in Miami.
The Bezos Earth Fund was established with the largest philanthropic commitment ever to fight climate change and protect nature. The Fund aims to harness the best of human ingenuity, adaptability, and collective action to create a future in which everyone can thrive.
The Crop Trust is an international non-profit organization dedicated to conserving and making crop diversity available for use globally, forever and for the benefit of everyone. The Global Crop Diversity Trust (Crop Trust) was established in October 2004 by the Food and Agriculture Organization of the UN (FAO) and Bioversity International on behalf of the CGIAR for the purpose of sustainably supporting a global system for the conservation and use of crop diversity through its Crop Diversity Endowment Fund.
Mindspace is a leading ­flexible workspace provider with an expanding footprint in Europe, Israel, and the US. Our design-led office spaces and on-demand offerings such as meeting rooms, event spaces, and daily offices provide the ideal solution for enterprise companies, startups, small businesses, and entrepreneurs adapting to today's fast-evolving hybrid work environment.
Categories: For The Press, For Partners