Crop Trust Annual Report Released: A Look Back at a Year of Change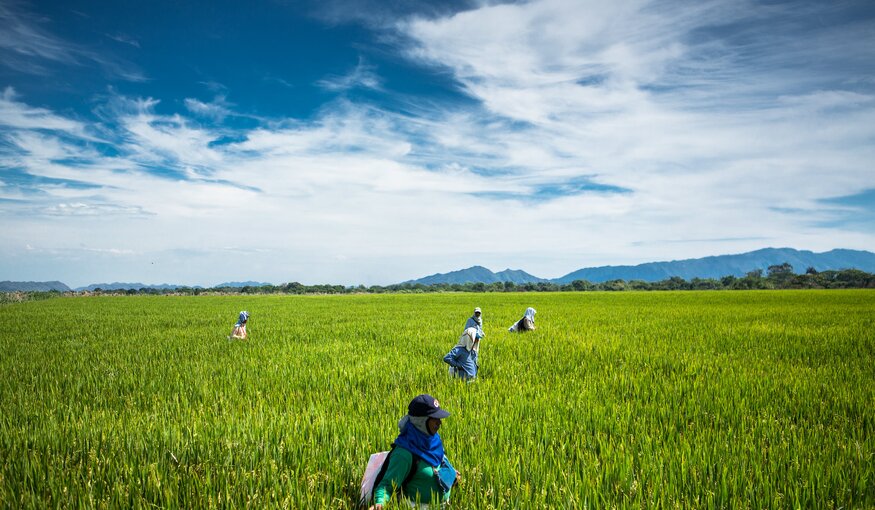 Farm workers in rice fields, Colombia. Photo: Juan Arredondo/Getty Images for Crop Trust.
6 June 2022
The Crop Trust's 2021 annual report is now available. In his letter, Executive Director Stefan Schmitz reflects on a year of change and some of the key achievements and milestones the organization reached.

In a year in which the global COVID-19 pandemic affected us all so much, I am proud of all that the Crop Trust and our partners achieved in 2021, from the completion of the 11-year Crop Wild Relatives (CWR) Project to the ramping up of the Seeds for Resilience Project and the launch of Biodiversity for Opportunities, Livelihoods and Development (BOLD), a new 10-year initiative to strengthen the conservation and use of crop diversity in national genebanks worldwide.
Through greater participation, stronger alliances and new partnerships, these and our other programs and initiatives are laying the foundations for a more sustainable, food- and nutrition-secure future based on greater use of crop diversity.
I am delighted to say that the CWR Project exceeded our expectations, not only in collecting and conserving a wide range of the wild relatives of 28 important food and forage crops, but also in using this diversity in pre-breeding work with 19 of these crops. The original aim was to produce plants that incorporated important traits from the crop wild relatives—such as heat or drought tolerance or pest and disease resistance—that could then be used in further breeding efforts. But several of the projects actually managed to release improved CWR-derived varieties to farmers, including of alfalfa, durum wheat, rice and potatoes.
A good example of this is a new disease-resistant potato variety. This super-spud, called CIP-Matilde, shows how the rich crop diversity the Crop Trust is committed to conserving enhances the climate resilience of smallholder agriculture. We were proud to launch CIP-Matilde with our partners at the International Potato Center (CIP) and are eager to continue much of this work through BOLD.
Another long-term project that came to an end in 2021 was the CGIAR Genebank Platform. However, it will serve as a springboard for a new collaboration with CGIAR, the CGIAR Genebank Initiative. The Crop Trust has been supporting the work of the 11 CGIAR genebanks for the past decade and, looking to the future, we will be continuing and broadening this activity to build a Global Genebank Partnership.
This partnership will include additional international and national genebanks while maintaining the focus on an agreed set of key activities. Despite the transition, the long-term commitment of the Crop Trust to the CGIAR genebanks remains steadfast.
We also launched, in partnership with the Secretariat of the International Treaty for Plant Genetic Resources for Food and Agriculture (the Plant Treaty), a new emergency relief fund for genebanks in crisis. This is the first time that such support has been made available in a structured way, and we are grateful to the governments of Italy and Norway for providing funds for this venture.
Late in the year, in coordination with our partners at NordGen and the Norwegian Ministry of Food and Agriculture, as well as the Plant Treaty, we also launched a competitive grants scheme to support collection holders in low- and middle-income countries to regenerate their crop collections and duplicate them at the Seed Vault. The response to the call for proposals was overwhelming, with more than 60 proposals received.
Our other projects have also made significant strides this year. The Global Crop Conservation Strategies Project, funded by the German Federal Ministry of Food and Agriculture (BMEL), published three new strategies and one updated strategy, all of which were developed by crop experts. This initiative is a uniting force in conservation action, identifying challenges and galvanizing engagement around the world.
Our Seeds for Resilience Project, too, celebrated significant milestones, signing formal agreements with all of its partner national genebanks in Africa to support safeguarding crop diversity and making it more accessible to farmers, breeders and researchers.
The Crop Trust worked closely with partners and governments to develop game-changing solutions at the United Nations Food Systems Summit, playing an active role in the Summit's Scientific Group, the Agrobiodiversity Solution Cluster and the Finance "Lever of Change".
The Crop Trust's endowment continued to grow in 2021 through gains in the capital markets, and with important contributions by the United States, New Zealand, India and Limagrain. In addition, the endowment received a contribution from Germany to support interest payments on a concessional loan, for all of which we are deeply grateful.
No solution to something as complicated as the multiple interconnected challenges we currently face is achievable alone, or by any one action. Only with the collaboration and enthusiasm of committed partners can we have a real, lasting impact. We were proud to sign a memorandum of understanding with the World Vegetable Center (WorldVeg) earlier this year, and look forward to many more such alliances.
Greater participation, stronger alliances and new partnerships: this is what gives me hope that we will find the right answers to the climate crisis and ensure that the foundation of our future food supply is secured, forever.
Category: Annual Reports & Financial statements