Crop Trust-Led Panel on Pre-Breeding at GLF Biodiversity Conference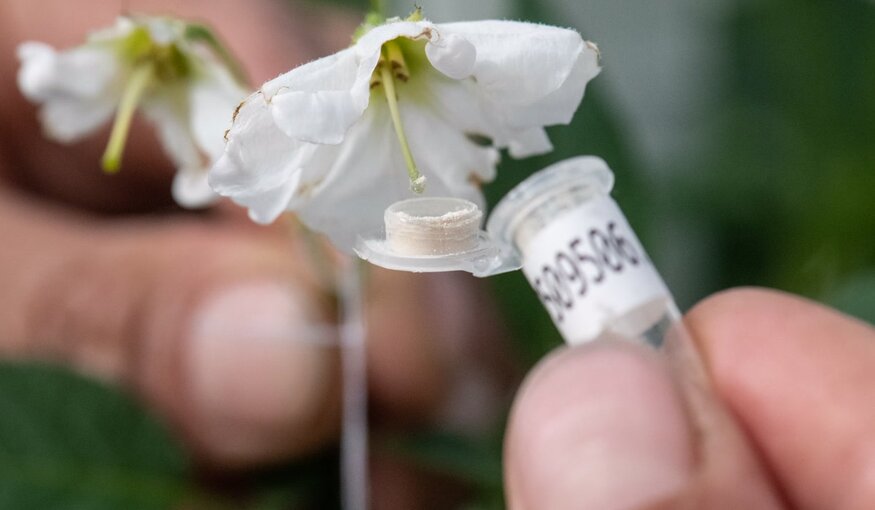 As part of the CWR Project at the International Potato Center (CIP), Peru, scientists are crossing heat-tolerant potatoes with local varieties. Photo: Michael Major/Crop Trust
7 January 2021
The importance of the world's biodiversity cannot be understated and similarly, the uses of agrobiodiversity cannot be underestimated—or ignored.
The Crop Trust's session Food Forever: Biodiversity for Resilience at the GLF Biodiversity Conference included a panel that focused on a major component of material use in genebanks: pre-breeding.
Often the first step in moving material from genebanks to farmers' fields, pre-breeding is a critical step in bringing resilient material into modern crop lines by isolating desirable traits in conserved varieties.
Participants of the session were first given a virtual tour of the World Vegetable Center in Taiwan by Genebank Manager Maarten van Zonneveld, who offered insight into how the material is protected and used. The World Vegetable Center maintains a collection of 65,000 accessions of vegetables of more than 450 species, from more than 150 countries.
"Conservation and utilization of crop biodiversity are basically two sides of the same coin," said van Zonneveld. "Better conservation and availability of crop biodiversity leads to a better utilization of that biodiversity and vice versa. Better utilization of crop biodiversity gives incentives to better conserve this biodiversity.
Partnerships with different communities of users—like breeders, farmers and researchers—are essential to the success of both conservation and use, pointed out van Zonneveld. He offered an example of the work the genebank is doing with eggplant wild relatives through the Crop Wild Relatives Project.
Through this program, spearheaded by the Crop Trust, the World Vegetable Center multiplies seeds, characterizes the accessions, and shares the data on Genesys so that users around the world can request the seeds from the eggplant wild relatives, said van Zonneveld.
One effort has been to cross wild eggplant relatives with cultivated eggplants and relay the corresponding material to seed companies interested in developing improved varieties of the crop. The companies can then provide seed to smallholder farmers for an affordable price, explained van Zonneveld. This allows farmers to "scale new, resilient varieties of nutritious vegetables to smallholders," he added.
Following the tour, Filippo Bassi, Senior Scientist at the International Center for Agricultural Research in the Dry Areas (ICARDA) moderated a panel that shared insights into the challenges and rewards of pre-breeding.
"Pre-breeding forms the link between genebanks and breeding programs," said Shivali Sharma, a Senior Scientist at the International Crops Research Institute for the Semi-Arid Tropics. "Biodiversity provides the answer to adapting our crops to present and future challenges."
Also in the panel was International Potato Center Scientist and World Food Prize Laureate Maria Andrade. She recalled growing up in Cape Verde, where there was never enough food and getting good nutrition was a constant problem. She also highlighted the importance of breeding new crops that could be resistant to natural disasters and pests.
Alejandro Argumedo, the Program Director of Asociacion ANDES, spoke about the need to bring in situ and ex situ approaches together into a circular system that feeds back and allows farmers to continue practicing their knowledge systems while bringing in new knowledge from breeders.
Session participants:
Moderator: Filippo Bassi
Senior Scientist, International Center for Agricultural Research in the Dry Areas (ICARDA)
Maria Andrade
Scientist at the International Potato Center (CIP), World Food Prize Laureate
Shivali Sharma
Theme Leader - Pre-Breeding, Senior Scientist - Genetic Resources, International Crops Research Institute for the Semi-Arid Tropics (ICRISAT)
Alejandro Argumedo
Program Director, Asociación ANDES
Lightning Talk:
Maarten van Zonneveld
Genebank Manager, World Vegetable Center