Farmers Know Best: Developing Salt-Tolerant Rice in Vietnam's Mekong Delta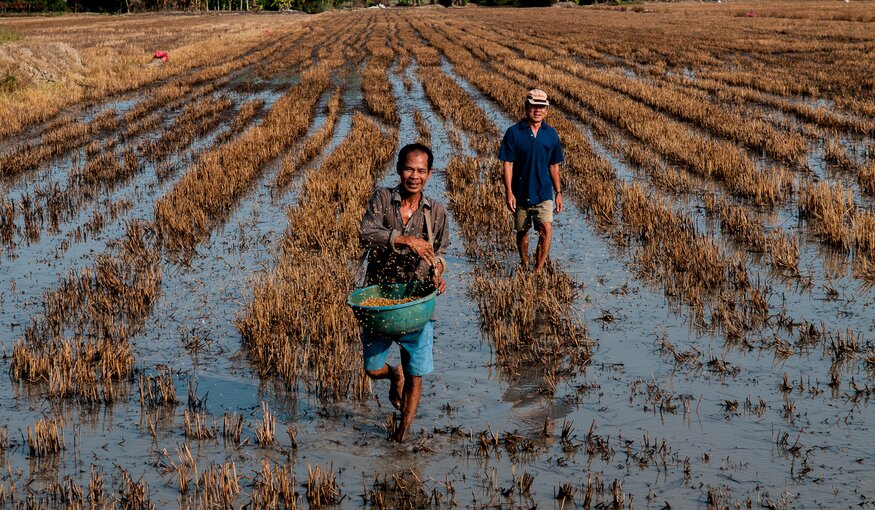 22 June 2021
Just like everybody needs somebody to love, every new crop variety needs a farmer.
Developing better seeds that can withstand the effects of climate change is only valuable if farmers show them a little love, and actually want to grow them.
This is why the active participation of farmers is essential when developing new climate-resilient crop varieties. Their engagement helps to guarantee that the time—sometimes decades—and considerable money needed to develop a new crop variety won't be wasted.
Farmer participation was the focus of two papers recently published in a special issue of Crop Science that show how the preferences of Vietnamese farmers in the Mekong Delta for certain traits are helping researchers to develop salinity-tolerant rice adapted to local conditions.
The two studies were carried out under the project "Participatory Evaluation of CWR Introgressed Genetic Resources in Rice in the Mekong Delta," part of the Crop Trust's Crop Wild Relatives (CWR) Project, a global initiative to adapt agriculture to climate change.
Rice is grown widely in Vietnam—the world's third-largest rice exporter—but is sensitive to salt levels in the soil. Droughts and flooding, both increasing with climate change, can raise soil salt concentrations, resulting in stress to the delicate plants. A tsunami in 2016 caused rice fields in the Mekong Delta of Vietnam, where 90 percent of Vietnam's total rice exports are produced, to be inundated with seawater.
Developing rice that can tolerate salinity, particularly at the crucial seedling stage, and is well adapted to local conditions, is vital to protecting future yields.
"Involving farmers has been a crucial part of our strategy to develop salinity-tolerant rice varieties that can thrive in the coastal zone of the Mekong Delta," says Huynh Quang Tin, Senior Lecturer at the Mekong Delta Development Research Institute (MDI), Can Tho University. "Ultimately, this approach will mean future crops are adapted to local needs, thereby improving food security in the region."
Tin is the lead author of both publications and coordinator of the rice participatory evaluation project. Under the project, the International Rice Research Institute (IRRI) provided scientists and breeders at MDI with seeds incorporating useful genes from wild rice that demonstrated potential for tolerance to drought conditions and salinity as well as resistance to major pests.
MDI then distributed this material to networks of farmers, known as "seed clubs", in eight provinces throughout the Mekong Delta to identify which plants suited local conditions and had traits the farmers liked. Farmers grew the CWR-derived rice on their farms and then selected the most promising ones to grow the following seasons.
The first study involved a collection of 200 wild rice-derived breeding lines that were developed at IRRI in collaboration with Cornell University. Farmers evaluated their performance over two seasons, and ultimately identified 50 of them as the most promising to grow under local conditions. These were then screened for their responses to salt stress in a controlled hydroponic environment at MDI. Genetic analysis further identified which CWR-derived rice lines had the best potential to confer salt tolerance when cross-bred with local market varieties.
"My commune lacks fresh water in the dry season for growing rice, so having seeds that can stand salty water is great," says a farmer in the Tinh Bien district of An Giang Province who participated in the study. "Through the project, I was able to choose seeds that we can grow and get a good harvest from."
The second study looked at 12 CWR-derived rice lines grown under field conditions in two districts of Bac Lieu Province. More than 50 farmers took part in a group analysis of the resulting crops by observing the mature rice and voting for the lines with traits that they preferred. Four lines derived from two CWR proved to be well adapted to local environmental conditions and had three desired traits: high grain yield, early maturity, and short height.
"Having farmers involved throughout the process is key to selecting well adapted varieties that suit local growing conditions and will also meet their consumers' needs for taste and cooking quality," says Nguyen Huu Loi, a researcher at Can Tho University and a co-author of the study. "Their input also helps represent the great diversity in the climate of each growing area."
The four successful lines from the latter study have been adopted by local farmers, and testing on a larger scale in different areas of the coastal zone of the Mekong Delta is planned.
"Only by working together with farmers from the very beginning of the breeding process can we develop climate-resilient crops that will meet both farmer and consumer needs so we can protect farmer livelihoods and ensure food security for all," says Benjamin Kilian, who manages the CWR Project.
This article is part of a series covering research published in the recent special issue of Crop Science that deals with characterizing and evaluating CWR and the products of breeding them with established crop varieties.