Key Messages from Crop Diversity Day 2022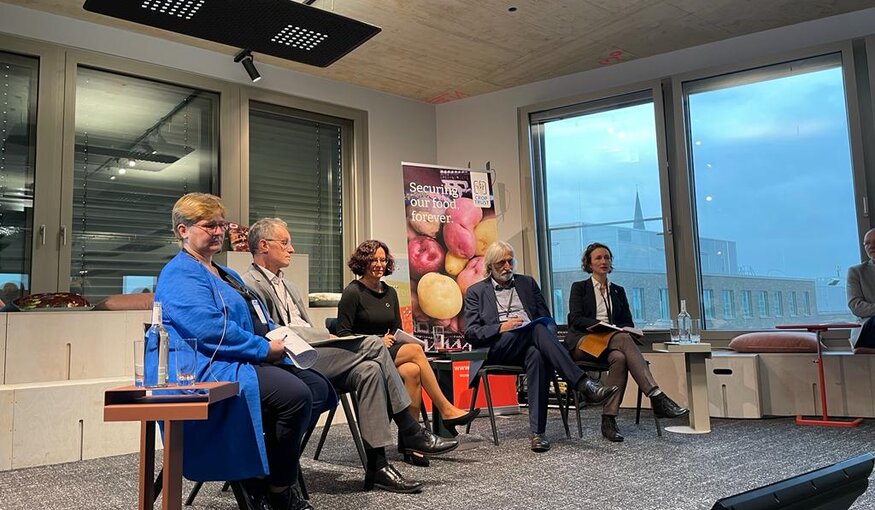 Panel at Crop Diversity Day 2022. From right to left: Claudia Warning, Frank Begemann, Ute Lange, Stefan Kachelriess-Matthess, Anna-Katharina Hornidge. (Photo: Azzura Lalani/Crop Trust)
7 October 2022
1. Global crop diversity is a prerequisite for future food and nutrition security, enabling us to adapt agriculture to the climate crisis, improve livelihoods and feed everyone adequately
"Diversity in the gene pools of crops, livestock and fisheries plays a crucial role in the resilience of food systems and in the resilience of societies through the diversity of livelihoods."
– Anna-Katharina Hornidge, director of the German Institute of Development and Sustainability
2. Food security is increasingly becoming a geopolitical and security problem, and crop diversity is a key solution that helps countries to develop more self-sufficient, productive agricultural systems and to reduce dependency on food imports.
"Nutrition, markets and services, agriculture and processing, as well as incomes and employment are under the stress of climate, wars and the macroeconomy. We need to see the opportunities provided by seeds in that context."
– Joachim von Braun, president of the Pontifical Academy of Sciences of the Vatican
3. Crop diversity—both rediscovered and newly developed—can contribute to overcoming poverty in the rural areas of many countries in the Global South, while enabling agriculture to feed people within the planet's limits.
"If farmers have the right incentives, they are going to maintain more diversity and ensure they make a living out of it."
– Jan Börner, Economics of Sustainable Land Use and Bioeconomy, University of Bonn
4. The genetic diversity on which our food systems depends is under threat and disappearing rapidly due to climate change, unsustainable land use, socio-economic change and insufficient financial support.
"Crop diversity is threatened in the fields, in nature—where most crop wild relatives are—and even in genebanks, if they are not properly funded, which is the case in many countries of the Global South."
– Stefan Schmitz, Executive Director of the Crop Trust
5. International cooperation is vital for the conservation and use of crop diversity, but more work needs to be done to ensure a fair sharing of the benefits arising from its use, and to coordinate policies among nations.
"When it comes to policy framework settings, we need to go much more multilateral and establish a real global genebank system."
– Frank Begemann, Federal Office for Agriculture and Food