Nature's Answer to Eggplant Angst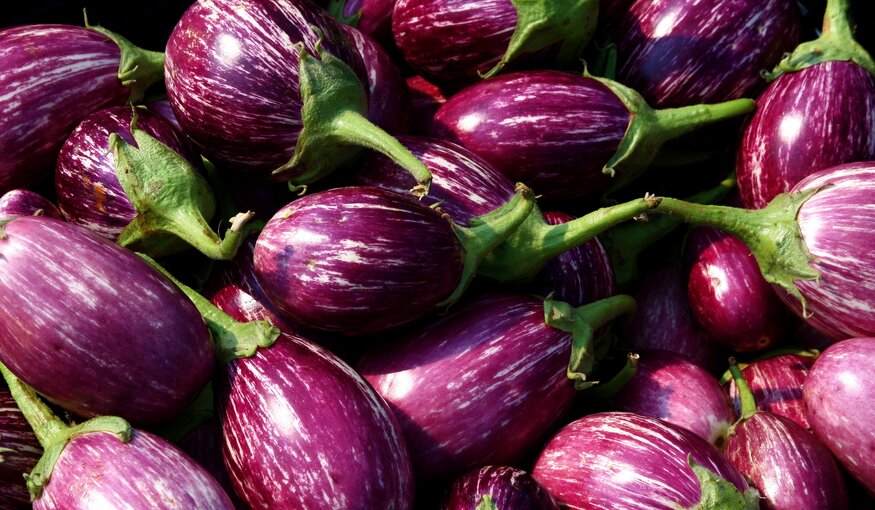 3 July 2015
S. Aarayiammal (45) of Irumputhipatty near here, who has been yearning for a good spell of rain, feels so relaxed now thanks to the unseasonal rain in different parts of the district.

Ever since the intermittent rains lashed the district for about three days, she and her family members have been taking special efforts to revive the chilli crop raised on about 25 cents [1/4 acre]. Aarayiammal is not alone.

A lot of other farmers in Kulithalai region too heave a sigh of relief with the unexpected rain. Many farmers say that the rain has come in handy to save the standing crops such as chilli, brinjal [eggplant], and bendhi [okra]. "We were anxiously waiting for rain since the onset of summer as crops were withering due to soaring temperature.

Though we generally raise drought-tolerant crops, the rain will be extremely helpful to maintain moisture in the soil in the critical stage. The rain has improved chances of getting a good yield," says Aarayiammal.

However, the feel-good factor would not last beyond 10 days as the temperature had again gone up dramatically in the last two days.
India, 12 May 2014
There's a reason vegetable farmers and gardeners have a reputation for keeping an eye on the sky. Water-stressed crops like eggplant respond with paltry fruits, passing on the stress to farmers. For smallholders like Aarayiammal, irrigation isn't always a sustainable answer. It can mean trading fickle weather for debt and a falling water table. Meanwhile, ups and downs in production also stress out urban families budgeting for their trip to the market – which is why Indian newspapers talk about conditions in the vegetable fields almost as much as the farmers do.
In the case of eggplant, a sensitivity to water, temperature, soil and even wind are the result of a limited range of diversity. It's surprising considering how many shapes, sizes and colors of eggplant there are around the world, but when it comes to dealing with stresses all our eggplants are in one basket.
However, nature has other answers. The eggplant is able to interbreed, using conventional plant breeding techniques, with as many as 25 related wild species growing in Asia, Africa and the Americas. Many hold special resistance to environmental stress and to the numerous diseases and pests of eggplant. One is Solanum incanum, very similar to the species ancient South Asian farmers domesticated long ago to create the first eggplant. There are compelling reasons for a family reunion: some types of S. incanum grow in the deserts of the Middle East, and promise much greater tolerance for drought.
The common names of this ancestor – the Thorn Apple or Bitter Apple – give an indication of its appeal as a vegetable. When it's crossed with eggplant, the resulting half-wild hybrids aren't much more impressive, although they are very vigorous. The road from the first cross to a good drought tolerant eggplant is a long one that begins in a genebank. COMAV, which holds the genebank of the Polytechnic University of Valencia, Spain, has set out on such an eggplant "pre-breeding" project in partnership with the Crop Trust. They will create new lines using the many wild species in their collection and tame these, through repeated crosses, into ordinary-looking eggplants that breeders around the world will be able to pair amicably with their own local varieties. The result will be less stressed (and less stressful) vegetables in the field – with just a small wild streak.