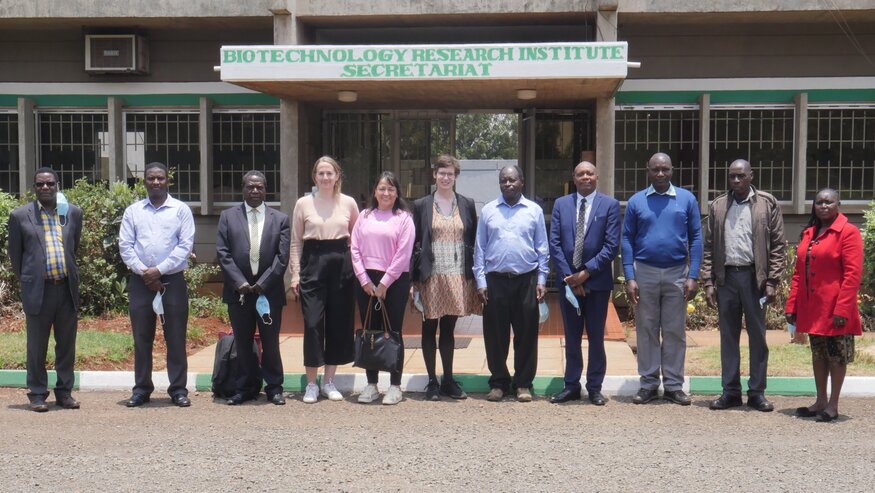 10 March 2022
Africa is facing the combined challenges of climate change, malnutrition and a rising population. Farmers on the continent urgently need access to crops that are more productive and nutritious, more resilient to unpredictable weather patterns, and more resistant to pests and diseases. Genebanks have a crucial role to play in this effort by conserving crop diversity and making it available, both directly to farmers who want to diversify and to plant breeders so they can produce new, better varieties.
The Seeds for Resilience Project, led by the Crop Trust and funded by the Federal Government of Germany through the German Development Bank (KfW), is supporting five national genebanks in Africa— in Ethiopia, Ghana, Kenya, Nigeria and Zambia—to strengthen their capacities to conserve and share their collections.
In September 2021, Freya von Negenborn and Sarah Luisa Senz, both portfolio managers at KfW, visited the Genetic Resources Research Institute (GeRRI) just outside Nairobi, Kenya, one of the Seeds for Resilience Project partners. They were accompanied by Nora Castañeda-Álvarez, the project coordinator at the Crop Trust.
These are some of their impressions from the visit.
Why is KFW investing in conserving crop diversity?
Sarah: This is a decision by the German Federal Ministry for Economic Cooperation and Development. Roughly a third of KfW's portfolio in 2020 was targeted at climate and environmental protection so conserving crop diversity actually fits well with our broad range of activities on behalf of the German government, which are aligned with the United Nations' Agenda 2030 and the Sustainable Development Goals.
Climate change and loss of agrobiodiversity are two of the biggest challenges facing smallholder farmers everywhere, but especially in Africa. Given that 70% of rural poor people depend on agriculture—especially smallholder agriculture—for their livelihoods, support for this sector has to be a high priority for development efforts.
Freya: That's right, we need to increase agricultural productivity, especially in Africa, if we are going to be able to feed our world, which will grow by 1 billion people in the next decade. Climate change will continue to significantly alter the conditions for crop production by, for example, introducing new plant diseases, increasing the frequency and severity of droughts, storms and floods and by shortening growing seasons in many places. We need crops that can withstand these challenges to continue feeding a growing population.
Why did you want to visit the Kenya Genebank in person?
Freya: We wanted to get a firsthand impression of the genebank's work in the early stages of the project and to get to know the partners personally.
Sarah: We also wanted to discuss their work plans for the coming months to become more familiar with their planned activities for engaging more closely with users—farmers and plant breeders among them—and for clearing the current genebank operational backlogs.
What struck you most about the genebank?
Freya: Our visit really brought home to us the vital role that national genebanks like GeRRI can play in making sure farmers have the crops they need.
In particular, genebanks often conserve a wide range of crops and local varieties of particular importance for the country's agriculture. National genebanks are also closer to the local farmers and plant breeders than international ones, and they really help make their diversity available to different users in the country.
Sarah: Our visit also helped us understand the work the genebank staff does in Nairobi and the challenges they face. They showed us how the project will help them safeguard the national collection of crop diversity long-term, strengthen the country's use of that diversity and have an overall positive impact on food security and farmer resilience in Kenya and beyond.
You mentiones the challenges that genebanks such as GeRRi face. What are these and how will the Seeds for Resilience Project help to address them?
Sarah: Genebanks in developing countries, especially in Africa, face many challenges—mostly owing to insufficient personnel and financial resources. This limits their ability to manage and protect their collections and to make them available to users.
For example, we saw firsthand how the lack of financial resources prevents GeRRI staff from regenerating seeds in a timely manner, which increases the risk of losing valuable crop varieties. The Seeds for Resilience Project will provide the financial and technical support these genebanks need to make sure that their collections are safe and available for the long term.
Freya: As part of the project, staff at the GeRRI genebank and at the other Seeds for Resilience partners are taking a critical look at every single aspect of their work, identifying ways to improve their processes and procedures to make the most of the resources that they do have.
In addition, they are establishing user groups, including plant breeders, seed multipliers and distributors, advisory services, farmers, and non-governmental organizations—all of them working together to evaluate the potential of the genebanks' crop diversity to enhance the resilience of farming systems.
Sarah: The staff told us about their plans for workshops and field days to build stronger links between the genebank and all these actors and to help identify and disseminate the varieties that farmers need and want. Maybe these are varieties that were used in the past, maybe they come from another region—either way, the potential is there to improve lives.
These and other activities will help to raise the visibility of the genebanks and their value to their communities, which we hope will eventually lead to increased political and financial support in the long term.
These plans are exciting and we are looking forward to the actual roll-out—and results—in the coming years.
What are you most excited about for the Seeds for Resilience Project?
Sarah: We are really excited about the great potential of genebanks becoming more widely known, and we hope to see more and more users take advantage of the incredible diversity housed there.
The conservation of agrobiodiversity is, without a doubt, critical in facing the world's current and future challenges. We are very much looking forward to continuing this work with the Crop Trust and these national genebanks.
* * *
The Seeds for Resilience project is funded by the German Federal Ministry for Economic Cooperation and Development (BMZ) through the German development bank, KfW.