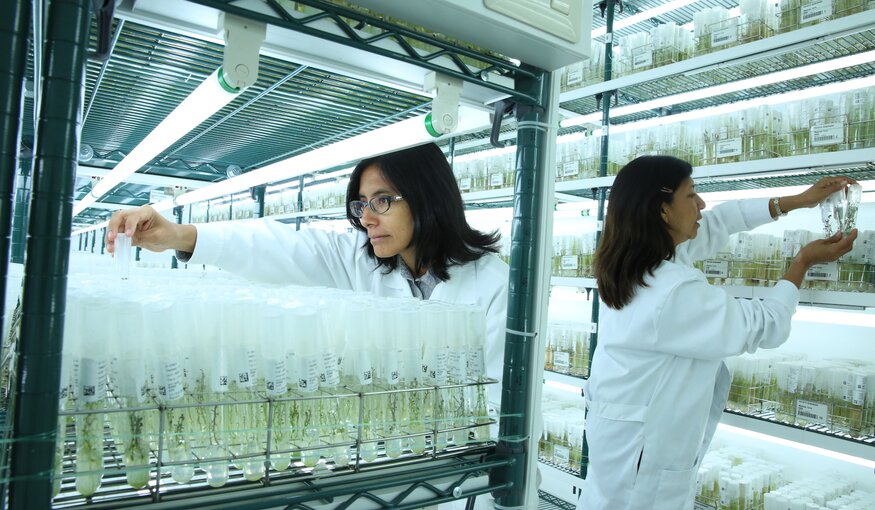 28 November 2017
Tapping into genetic diversity for food security in a 4 degrees warmer world
Lili Szilagyi, CCAFS and Cierra Martin, Crop Trust
While efforts are underway to mitigate emissions and adapt to a 2°C increase, it's important to explore options to transform agricultural systems in the face of greater temperature increases.
One of the targets of the Sustainable Development Goal (SDG) 2 on food security is to "maintain genetic diversity of seeds, cultivated plants, farmed and domesticated animals and their related wild species, including through soundly managed and diversified seed and plant banks at national, regional and international levels, and ensure access to and fair and equitable sharing of benefits arising from the utilization of genetic resources and associated traditional knowledge as internationally agreed."
As part of the Agriculture Advantage event series on the sidelines of COP23, experts discussed tapping into genetic diversity for food security in a 4 degrees warmer world, which is a plausible scenario. In her opening remarks, Margret Thalwitz from the International Center for Agricultural Research in the Dry Areas (ICARDA) shared her thoughts on the potential of genetic resources for climate change adaptation:
There is hope and there is an enormous amount of rethinking. What we have to do now is really anticipate what could happen in the next 10 years. There is a lot of information out there, but the challenge is to determine how to respond in terms of breeding. Can we continue to do incremental breeding or is a big systemic shift needed?"
"Agriculture must transform over the next 30 years to avoid mass famine; we need to produce 60% more food to make this happen. Adaptation of crops will play a major role in this," said Charlotte Lusty from the Crop Trust, who delivered her presentation about genebanks and their role in climate action. To make this agricultural transformation happen, we need to focus on plant genetic resources as they affect every aspect of agricultural systems from the state of soil, through water management to the state of ecosystems. "We don't know the full value of what we are conserving in genebanks, nor do we know the full extent of what challenges we will face in the future," Lusty continued. "Genebanks provide us with many options moving forward, no matter what the future holds."
It is in genebanks where we are able to conserve, research and develop better understanding of plant genetic resources. The CGIAR Genebank Platform aims to maintain and increase the level of genetic diversity of seeds and cultivated plants held in genebanks and promote their use and access. CGIAR Centers oversee approximately 2,000 requests for genetic plant materials every year distributing more than 100,000 samples annually, to more than 100 countries worldwide. Collectively these centers safeguard over 750,000 accessions, mostly in the form of seeds.
Climate change threaten esspential food crops around the world. While some crops will remain relatively stable, other agricultural regions will have to transform. For example, maize, beans and bananas are most at risk in sub-Saharan Africa, according to research presented by Andy Jarvis from the CGIAR Research Program on Climate Change, Agriculture and Food Security (CCAFS). Up to 30% of areas growing maize and bananas, and up to 60% of those producing beans are projected to become unviable by the end of the century. In some areas transformations of cropping systems will need to take place as soon as 2025. Breeding can offer solutions to these problems but it takes time; we need immediate action as the average crop breeding process can take nearly two decades.
Genebanks provide options to help adapt crops to changing weather patterns. Genebanks have, in most cases, thousands and thousands of accessions that need to be screened for the kinds of traits that can withstand heat and drought.
Jarvis shared some success stories, such as the El Niño bean. In Colombia, for example, a team from the International Center for Tropical Agriculture (CIAT) identified which bean is best adapted to the conditions of El Niño. Another example is the Drought Tolerant Maize for Africa (DTMA) project from the International Maize and Wheat Improvement Center (CIMMYT). Jarvis said that the combination of heat and drought tolerant maize has great potential for the future in terms of adaptation.
"We need an enabling environment on the policy side of things for these materials to be available and usable in breeding programmes," he added.
It was actually long before the Sustainable Development Goals that plant genetic resources for food and agriculture were internationally recognized as key to our future food security. Thomas Meier from the Federal Ministry of Food and Agriculture of Germany gave a brief history on agreements that aim to preserve the world's genetic resources. He highlighted the International Treaty on Plant Genetic Resources for Food and Agriculture (ITPGRFA) that consist of 143 contracting parties. The treaty aims to enable conservation and sustainable use of plant genetic resources for food and agriculture, and the fair and equitable share of benefits derived from their use.
Building on the previous presentations, Aly Abousabaa from ICARDA spoke about the challenges and opportunities in the dry areas in a 4 degrees warmer world.
ICARDA is working with partners in the CGIAR and national research partners to help advance work on crop improvement to produce high value and resilient crops, for yield potential and for abiotic and biotic stresses.
At some point in time, agriculture will not even be an option, so it is equally important […] for us to also look for alternative livelihoods."
ICARDA's genebank with 155,000 accessions includes wild relatives that are widely used in crop improvement programs.
The dry regions where ICARDA works are facing a real threat of climate change. While ICARDA is already preparing for this future, it can't provide all the needed solutions alone; therefore contributions from other centers are needed to tackle climate change in a warming world.
Aiming for future food security, the discussion during the event gave insights into how genetic resources for food and agriculture will play a key role in helping adapt to global temperature increases.
Watch the video recording of the event: