Jackfruit Burger with Jackfruit Seed Hummus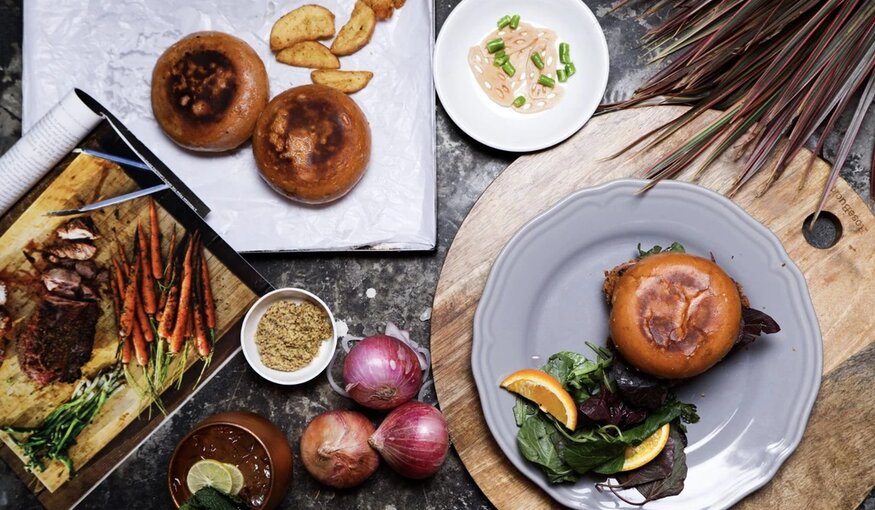 Chef Radhika Khandelwal's jackfruit burger is a meat-free, flavorful dish. Photo: Radhika Khandelwal
23 August 2022
This jackfruit burger by chef Radhika Kandelwal is a delicious no-meat meal. Read on to learn how to make it.
Pulled Jackfruit Filling
Ingredients:
1 jackfruit
1 tbsp sunflower oil
1 chopped red onion
4 cloves of garlic, chopped
Salt (to taste)
Tomato sauce
1 tbsp brown sugar
Green chillies chopped (to taste)
Coriander leaves and stalks
Black pepper
Juice of 2 limes
Directions:
De-skin and de-seed the jackfruit (preserving the seed for the hummus). Heat oil in a frying pan and cook the onion and garlic till soft and translucent. Add the tomato sauce, brown sugar, lime, green chillies and the jackfruit. Add water and leave to simmer for 25 to 30 minutes, covering the pan and stirring every 5 to 7 minutes. Uncover the pan and let the jackfruit cook for another 5 to10 minutes. Once dry, take the pan off the heat and pull the jackfruit with two forks.
Stir in the coriander stalks and leaves.
Jackfruit Seed Hummus
Ingredients:
1 cup jackfruit seeds
4 cloves garlic
2 tbsp tahini
1 tsp cumin seeds
Salt (to taste)
Juice of 2 limes
2 tbsp vegetable oil
Directions:
Prepare the seeds by boiling them for 10 minutes and removing their plastic-like covering. Add seeds and all other ingredients in a blender and blitz with oil until super smooth in consistency.
To assemble the burger:
Use buns of choice (I prefer Ragi or Kodo millet buns). Cut in half and toast. Spread the jackfruit seed hummus onto the halves, then add the pulled jackfruit filling. Fresh, crunchy vegetables like cucumber and carrots go exceptionally well with this burger. Assemble and serve!