Steamed Fish Wrap with Beetroot Fonio & Sautéd Asparagus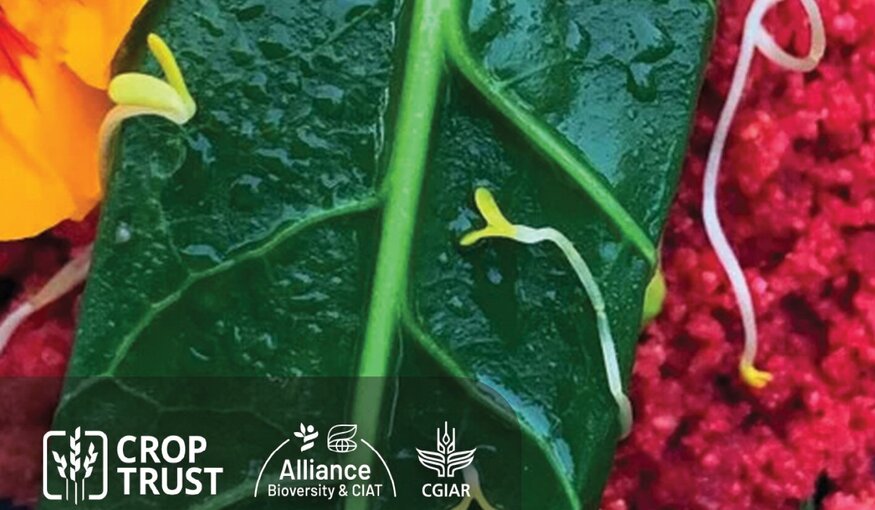 1 September 2023
On Sustainable Gastronomy Day, the Crop Trust linked up with its partners from the Alliance of Bioversity International and CIAT to cook up a menu of dishes based on beans and millets.
Ingredients:
1 cup fonio
1/2 cup beetroot purée
Pinch of salt
4 baby asparagus
1 teaspoon salted butter
1 small garlic clove, minced
1 small red bell pepper
3 dried chili pepper
2 cloves garlic
1/2 teaspoon black peppercorn
1teaspoon smoked paprika
20 ml water for blending
1 tsp salt
100 grams grouper fillet
1 large brussel sprout, washed
Olive oil for dressing
1 l water, for steaming
Method
For the beetroot fonio: In a small saucepan pour the half cup of water, and salt and allow it to simmer. Pour the fonio into the water, cover and let it simmer until the fonio absorbs all the water. Then add the beetroot purée to the fonio, stir and cover. Let cook for 3 minutes. Turn off the heat and flake with a fork until it's fluffy.
For the asparagus: In a frying pan on medium heat add butter, asparagus and minced garlic, and sauté for 4 minutes.
For the fish wrap: Pour 1 liter of water into a saucepan over medium heat and bring to a boil. Carefully place the leaves in the hot water and blanch them for a minutes (to make them malleable).
Put the red bell pepper into a blender, add red scotch bonnets, garlic, black peppercorn, smoked paprika, salt and water and blend into a smooth mixture.
Cut the grouper fillet into a rectangular shape and place each piece on the leaf. Then scoop a spoonful of the pepper mixture onto the fish, smearing it generously and wrap it with the brussel sprout leaf tightly.
Place a splatter guard on the saucepan with boiling water then place teh wrapped fish on it.
Cover with the lid and steam cook for 5 to 7 minutes.
Once the steamed fish wrap is ready, drizzle with olive oil and serve with beetroot fonio and asparagus.
Fun fact about fonio: Not many crops grow reliably in the semi-arid parts of the world, which tend to be remote, rural and harsh. Millets are an exception. The various species grouped under this name, in particular pearl, finger, foxtail and proso millets, grow across South Asia and Africa, as well as in parts Eurasia, North America and Australia. Fonio is especially important in West Africa, and teff in Ethiopia. These cereals are nutritionally rather special. They're high in micronutrients and fiber, have a low glycaemic index and are gluten free.