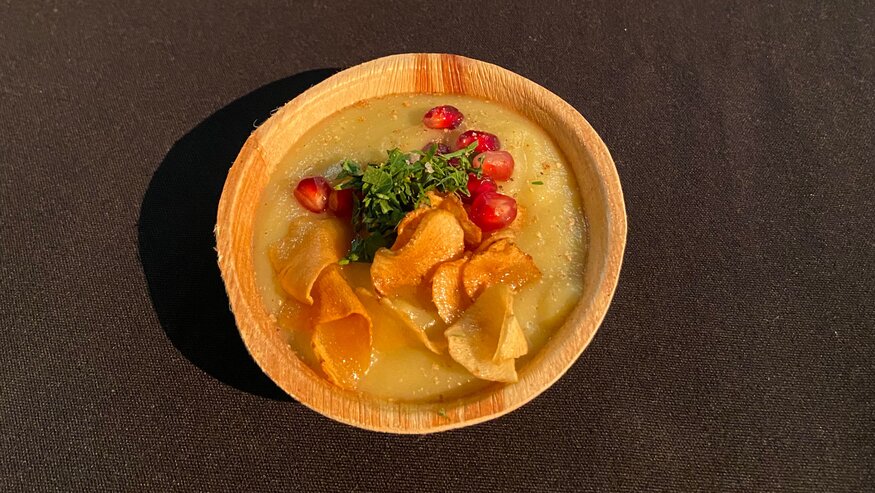 Chef Helenda del Pesco's sunchoke soup. (Photo: Cierra Martin/Crop Trust)
20 October 2022
This delicious sunchoke soup by Chef Helena del Pesco will warm even the coldest of days.
Ingredients:
1/4 cup unsalted butter
8 leeks, white and light green parts only, cleaned and sliced
2 medium russet potatoes, peeled and thinly sliced
5 pounds sunchokes (also called Jerusalem artichoke), scrubbed very clean
1 tablespoon coarse salt
6 cups chicken broth
1 cup heavy cream
Pinch of freshly grated nutmeg
Freshly ground white peppercorns
Fried sunchoke chips and pomegranate seeds for garnish
Method:
Melt butter in a large saucepan over medium heat. Add leeks and cook, stirring, until soft, about 10 minutes. Add potatoes, sunchokes, salt, and broth; simmer until potatoes are tender, about 30 minutes.
Transfer mixture to the jar of a powerful blender; blend until smooth. Add heavy cream and nutmeg; season with white pepper.
Return to stove and gently heat over medium-high heat until warmed through. Serve garnished with sunchoke chips and pomegranate.